Summary:
Ultra smooth 2 DVD package jammed with the biggest and hardest twink cocks! These monsters find their way to the freshest most tight holes available and then take it out on them with no mercy! Painful, but rewarding...smooth teen boys fucked by hung dicks! 3 Hours, YAY!
This title represent great value for money given the amount of quality content and running time. However, to ensure you don't waste money buying the same content twice, this compilation features scenes from the following titles:-
Scene 1:

Cast: Kamil Fox, Tomi Luck, Billy Jay
From: Raw Regret, Scene 1
Two hot young guys are driving down a desolate road when they see a cute young hitch-hiker. They stop and pick him up and after a short while he is fast asleep in the back of the van. He has a very pretty face and bleached blond short spiky hair. The driver pulls the van into a quiet countryside area and tells his friend that he is going to collect 'payment' from their passenger!! He climbs into the back of the van and roughly slaps his face to pay up!! The driver gets his already hard and erect cock out from his trousers and demands Blondie suck on it. He is very reluctant but the driver forces him to and soon Blondie is really going at it, loving every minute.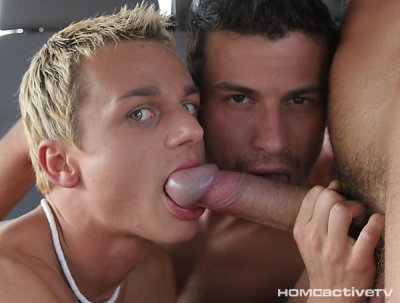 Seeing all this action taking place, the other guy gets into the back and releases his really thick cock which Blondie turns to and puts his lips around it - quite a struggle to get it in. The driver now wants more and decides he wants to fuck Blondie. He removes all of his clothes revealing a nicely toned body. With Blondie still sucking deep on the other guy's cock, the driver lowers Blondie's trousers to expose his nicely tanned, very firm arse and without wasting any time - pushes his cock deep in. Blondie soon gets used to the fucking and tells him to push harder. Blondie then sits on the other guy's thick cock, allowing it to slowly enter all the way, riding up and down on it. The driver takes this opportunity to get Blondie's cock into his mouth. The driver is the first to shoot - right into Blondie's mouth!! 3 hot loads enter with the rest hitting his face and Blondie suck's on the cock to make sure he gets it all!!
Scene 2:
Cast: Erik Lenn, Tomas Piers, Jack Roys
From: Bare Encounters, Scene 1
This stars a young lad that has already witness two guys having mind-blowing sex (bareback of course) getting into bed. He removes all his clothing apart from his boxers - showing a little bit of puppy fat, one really cute guy. As he is sleeping, he starts to dream...
Scene 3: Lucky Taylor, Max Fonda

From: Raw Rivals, Scene 6
Lucky Taylor wins the match!! With no rewards, no medals and no party it would seem like an empty win, but there's only one thing Lucky wants and that is Max riding his naked cock. Ending like all good porn films should, there's a hardcore fuck in the doorway and the close up view we get is amazing. Seeing every thick inch of Lucky slide in and out will make your jaw drop and cock bounce. Both boys flex their rippling abs as they build their way to an explosive orgasm, the look of ecstasy on their faces is enough to make you shoot there and then.
Scene 4: Rookie With A Big Cock
Cast: Brendan Redgrave, John Hill
From: Bareback Soccer Punks 2, Scene 4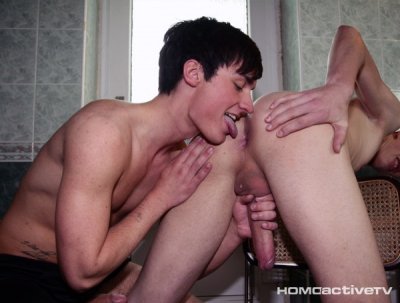 Fans of innocent-looking blonds will be well rewarded by Brendan Redgrave's performance here, as the young twink steps out of the shower and straight into the open arms of John Hill - who, in comparison, is a distinct veteran with over half-a-dozen flicks to his name. Needless to say, Hill is only too ready and willing to force his cock in Redgrave's direction; and to the freshman's credit, Redgrave shows little sign of inexperience, as he immediately drops to his knees and begins munching on his partner's offering. Introductions over, and it's time for Redgrave to be properly initiated into the team - which in this instance involves sitting on Hill's handsome rod and riding it to ecstasy. Not surprisingly, Redgrave's own meaty pole bounces up and down as he does so, as if to confirm his own luscious dimensions; but it's Hill's cum-shot (which hits the camera!) and Redgrave's own squirt into Hill's mouth that'll surely be best remembered.
Scene 5: Everybody's Horny

Starring: Daniel Wood, Robin Few, Jesse Shaw
From: Raw Speeds, Scene 2
Having been given the opportunity to prove how good he looks when driving a car that's almost as hot as he is, Robin Few takes on the dark, sultry delights of Daniel Wood - whilst new-boy Jesse Shaw watches (and wanks) from the sidelines. As anyone who's seen him perform before knows, Few is one hell of a dirty-minded slut, who will literally go to any length to get hard cock thrusting into his innards - and this occasion is absolutely no exception. Indeed, if anything, the realisation that he and Wood are being watched makes the lad even more of a whore than he usually is.
On his front, on his back - Few is a power-bottom in every sense, who's not content until every drop of jizz has been drained from Wood's balls. Even then, though, the sight of Shaw's monstrous cock - still quietly jerking off in the background - is more than enough to get the youngster wanting even more spunk. A wish that young Shaw is only too willing and able to see realised.
Scene 6: Ass Ramming and Spanking!!
Cast: Alexander Manchini, Sebastian De Long
From: Raw Service, Scene 3
If these two dark haired young studs don't get your blood pumping then nothing will!! Obviously really into each other, it makes the sex so much hotter and hornier, they can't wait to get each other naked. Great face fucking action Alex takes as much solid meat into his mouth and feeling it rub against his face makes Sebastian that much harder.


First class fucking sees Alex's ass get fucked senseless by Seb's huge meat sliding in and out, as deep as possible!! Great scene which can't be missed!!
Scene 7: Mike Sorrow, Billy Jay, Chris Ralf

From: For a Few Inches More, Scene 2
Craving hot action in the station toilets, cute Chris and his tall dark haired mate stumble across the truly monstrously huge dicked Billy Jay taking a piss next to them. Unable to let the opportunity pass them, they ask for a feel, and soon get much more than that!! Both guys take it in turns to drop to their knees and suck two cocks at once, stretching their lips around Billy's enormous meat. Chris gets spit roasted there and then, his mate giving it up the ass as Chris is still latched onto Billy, not that we can blame him!! Being loosened up, Chris is spun round to have his hole ripped apart by Billy's thick dick as he chows down on his mate, getting a final spunking from both lads all over his face.
Scene 8: Mao Cruise, Johan Volny
From: Bareback Thrill Ride, Scene 5
Johan Volny gets the pick of who he wants to fuck and Mao Cruise gets the honour of having his ass stretched by Johan's famously large cock!! Working his butt-hole like a real pro, he gets real deep and we get a fantastically cock tingling view of it going from tip to hilt over and over again. Both toned bodies work up a sweat before they explode in fits of spunk, with Mao Cruise licking Johan dry as anyone would jump at the chance to do!!
Scene 9: Clark Purple, Adam Hanks
From: Raw Heights, Scene 1
When these two horny mountaineers come across a small cottage, they take the opportunity to strip bare and fuck raw!! The stunning dark haired top has a delicious cock that our blonde bottom boy can't help but lick, suck and taste every inch before being bent double and fucked solidly. The smooth kid is a rampant, dirty little thing who is grinding down onto his mate, making sure he gets every bit of that thick dick inside his smooth butt before an amazingly intense orgasm.
Scene 10: Rough Sex in the Classroom!!
Cast: Dominik Day, Alex Stevens, Mark Zebro
From: Bareback Frat Pack, Scene 7
Alex Stevens makes a welcome return, his skinny young body now toned and defined, looking sexier than ever. Dark haired Mark Zebro with his huge stuff dick teams up with blond Dominik to give Alex a real ride of his life in the empty classroom. Slapping his dick across Alex's face, Mark watches as Dominik devours Alex's meat before prepping that famous ass of his, getting it ready for the real pounding we all know he's going to get, and love!!
Pushing his huge dick into Alex, he tries to get it all in, but it's not until Alex rides him that he slides all the down to his balls, feeling all those inches of solid meat inside him. Wanting everyone to feel his dick, Dominik is bent double and forced to take it, groaning as he gets two dicks shoved into him.
This title currently only appears to be available for download.