Summary:
Okay, so cock size isn't everything; but when it comes to getting our attention it sure fuck helps to be over-blessed by nature in the dick department. A fact that this collection of horny twinks appreciates more than most. Xavier Sibley, Tom Nutt and Kamyk Walker are just three of the schlong-loving beauties who quite literally live for cock; and who are pretty much creaming themselves with excitement when they cum face-to-face with some of the biggest and best fuckers in the biz. Guys like Jace Reed, Mike James and Joshua Levy – all of whom are mega cocked, mega loaded, and ready to bang them to ecstasy!

Compilation Gay DVD - 6 Scenes
Description / Review:

Scene 01: Sick Twink Gets A Boost Courtesy Of His Doc's Monster Dick!

Cast: Jace Reed, Tom Nutt
From: Raw Medics, Scene 2
Those from a more keenly medical background will automatically realise that if a doctor asks you to remove all your clothes and then starts examining your cock and balls - when you've only made an appointment to discuss the painful glands in your neck! - then something is seriously wrong. But, as always in porn, such blatant realities are never dwelt upon here. Instead, Tom Nutt compliantly takes to the examination couch; whereon Jace Reed promptly takes a close look at the young lad's genitals, before asking his patient to get on all fours so that he can stick a thermometer up his arse!
There's no denying that it's all very slightly comical; and you might be left wondering how the parties involved managed to conduct the show without bursting into laughter. To their credit, however, both Reed and Nutt are clearly well-horned by this point; with the doctor proceeding to slurp on the sick buddy's dick, before unleashing his own oversized schlong to compare to Nutt's handsome member. At which point matters take on a much more intense feel; with the patient immediately feasting on every inch of Reed's mammoth butt-picker, which we know with fucking certainty will soon be giving Nutt's hungry little ass a well-deserved stretching.
But first, however, the medic can't resist probing the said pucker with a plastic douche; before fingering the tight hole and then finally ploughing balls-deep inside. It's enough to make a grown-man's eyes water; and it's little wonder that Nutt is soon firing feverishly in all directions, before Reed wraps it up by blasting over his client's cute face!

Scene 02: Cute, Hot & Horny, These Two Little Raw Angels Start The Day With A Ball-Bustin', Flip-Flop Fuck!

Cast: Mike James, Matt Johnson
From: Raw Monster, Scene 4
Okay, so maybe you'll find the opening moments of this splendid early-morning bedroom scene between Mike James and Matt Johnson just a teeny-weeny bit saccharine, but given the divine quality of these two young hung beauties we're sure that most folk will overlook such sentimentality. Besides, it's a fleeting introduction; and before many moments both lads are wide-awake and stripped of their rather skimpy underwear, signalling the start of a much more hardcore outlook to proceedings.
Indeed, it's no time at all before this pairing is eagerly engaged in a very energetic 69-ing session, feasting mutually on each other's dicks like a couple of sordid little angels. If this doesn't get you watering at the mouth - not to mention other orifices! - then what quickly ensues will almost unquestionably do the trick, as both fellows rim each other's ass-holes before Johnson sinks his handsome love-stick deep inside his buddy's tight, but clearly very hungry hole!
Not wishing to be outdone, James is soon encouraging a flip-flop counter-move, so that it's then Johnson's pucker that's taking raw cock in return! The result is a tremendously horny show of boy-on-boy sex that'll surely have you tugging feverishly on your own knob-end in appreciation; all coming to a climax when James finally squirts the contents of his balls over his mate's hole and then sinks his dick back inside. Little wonder than Johnson is dumping his own pent-up load just moments on! All told, a very satisfactory start to any day!

Scene 03: Cute Blond Gets Worked On By His Mate's Sex-Toys & Oversized Raw Dick!

Cast: Kamyk Walker, Ivan Thundero
From: A Toy Story, Scene 1
To take a casual glance at Ivan Thundero you'd be forgiven for thinking that he was just your everyday, floppy-haired, slightly rebellious youngster. But delve into the confines of his closet and you'll discover a side to him that he doesn't usually divulge, save to his very closest friends.
Fortunately for us, young cutie, Kamyk Walker, appears more than capable of getting the fellow to show us his more secretive side, as Thundero reaches for one of the biggest boxes of sex-toys you're ever likely to see from a lad his age. Not that the guy has any intention of using the equipment on his own ass-hole. Instead, the introduction of a whole raft of dildos is very firmly directed in Walker's direction – and, let's be perfectly honest here, it's a move that meets with undeniable eagerness.
Indeed, Walker's soon taking toy after toy like a veritable pro; though the lad's ultimate ambition centres clearly on Thundero's oversized dick, and no fuckin' wonder! Who wouldn't want to be riding that beauty for all it's worth? That said, it takes a boy of Walker's calibre to give the beast the attention it deserves; first deep-throating it like a whore and then riding it like a total cock-slut! By the time it's firing cannon-like into Walker's open mouth you'll be totally blown away by the performance of both lads – so be warned, it's a definite Kleenex moment!
Scene 04: Coffee-Loving Newbie Gets Rimmed, Fingered, Fucked & Jizzed!

Cast: Joshua Levy, Jeffery LLoyd
From: Skin Contact, Scene 1
New boy, Jeffery Lloyd, is in the mood for a relaxing cup of coffee - but, as he very quickly discovers, there's no time to sit supping hot beverages when you're a STAXUS boy. Indeed, once Joshua Levy has finished his shower and slipped into some sexy, silky underwear, the focus is very quickly on what you'd expect in a top-notch porn scene; with both lads releasing the hard, handsome, uncut schlongs from their pants in anticipation of some clearly much-needed action. Mind, with the kind of equipment that they've both got stashed in their crotches is it really any wonder?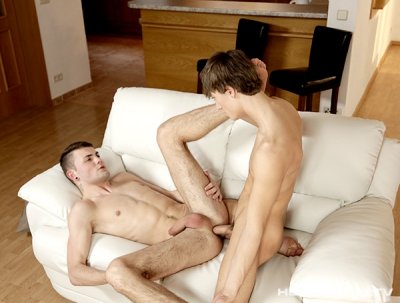 First Lloyd feasts on Levy's delicious ramrod - showing little if any first-night nerves as he does so - before Levy returns the favour on the rookie's nicely upturned shaft. But the action really starts to intensity once the buddies have enjoyed a nicely choreographed session of 69-ing on the sofa; with Lloyd stretching his legs akimbo almost as far as nature will allow, leaving Levy full access to his tight little pucker. No surprise, of course, that Levy takes full advantage of the opportunity to tongue and finger that hungry hole; before finally ramming his pole balls-deep into the crevice.
That signals the beginning of a terrific session of unrestrained sodomy, with Lloyd's sweet ass treated to a no-holds-barred stretching that quite literally leaves the boy purring in delight. Never one to disappoint, Levy then concludes his sterling performance by caking his new mate's hole with spunk, before licking and fingering the creamy residue. Little wonder that the cute newcomer violently erupts just a few moments later!

Scene 05: Sensual Beginnings Lead To A Hot, Breathless Fuck On The Raw!

Cast: Marc Sage, Marco Rivera
From: Bare B&B, Scene 4
You'd almost think Marc Sage and Marco Rivera had all the time in the world given the manner with which they open this excellent bareback vignette. Of course, the fact that they are still both so young does mean that they have time very much on their side; but considering the tempting packages that both lads are so evidently sporting in their underwear you might have expected them to show a little more impulsiveness.
Yet director John Smith is determined on a sensuous opening foray, as the two lads kiss and smooch like a pair of horny but inexperienced teenagers. All that said, it's not a situation that continues along such passive lines for very long. Before you know it the boys are gaining confidence and the atmosphere is becoming more electric - both guys taking turns to suck each other off, prior to Sage giving his pal a nice deep rimming.
That, of course, marks the beginning of the really hot, sweaty action for which this scene will be remembered, as Sage plunges his stiff, uncut dick deep inside Rivera's butt-hole, and then tops proceedings off by blasting a fine wad of jizz into the bottom's hungry mouth. But it's Rivera's own climax - a magnificent multi-shot blast from the crown of his mushroom head - that steals the show!

Scene 06: Oily Rubdown Results In A Hard, Spunky Flip-Flop Session!

Cast: Xavier Sibley and Josh Milk
From: Sunny Daze, Scene 2
When he's not working in front of the camera enjoying copious amounts of hard cock, young Xavier Sibley is a rather deft-handed masseur - a fact that has obviously not escaped Josh Milk's attention, who is only too willing to lie in the shade and take full advantage of the twink's skilful manipulations. What Milk doesn't realise - or, then again, maybe he does!! - is that his pal's idea of an "all-body" rubdown is quite literally that.
As a result, it's no time at all before Sibley's fingers have wandered away from the Spaniard's shoulders and back, preferring instead to concentrate on Milk's more intimate areas. What's more, the handsome stud encourages the fellow further by promptly rolling himself over onto his back, enabling the young Frenchman to concentrate his efforts on the straining rod of cock-meat in Milk's crotch! By this point, of course, the copious flow of massage-oil has ensured that things are getting decidedly slick and oily; with both fellows eagerly grinding themselves against each other like a pair of over-sexed alley-cats.
But the truth, of course, is that there's simply no stopping these two beauties now; and having sucked on Milk's shaft and allowed his friend to zealously finger his ass, Sibley has very quickly positioned his rump over the Spaniard's mast and is riding it for all he's worth! Cue a terrifically passionate set-piece that only ends when Milk decides he'd like to get skewered in return. It's a move that soon gets the dude from Madrid squirting like a fountain; before jerking Sibley off and snowballing the resultant stream of goo!