Summary:
Vanilla is good – but these lads want something with a little extra kick, and love nothing better than to wash their horny antics down with a heavy flow of the very finest twink piss! So get ready for some of the finest golden showers ever collected under the STAXUS label; as the likes of Yuri Adamov, Angel Lopez, Pyotr Tomek and Alessandro Katz wallow in the yellow nectar time and time again. Topped off with oodles of hot cum, delivered by the hardest uncut dicks!
Scene 1: Yuri Adamov Takes A Face-Load Of Piss – Then Takes His Mate's Thick Dick For A Raw Ride!
Starring: Roman Smid, Yuri Adamov
From Running Mates, Scene 4
After a hard session of cross-country running, is there any better way to clean off and relax than to strip right down and to take a shower? Certainly young Roman Smid doesn't appear to think so, that's for sure; although his time alone only lasts a few moments. That's because he's very quickly joined by the ever-adorable Yuri Adamov, who immediately lathers up and helps his buddy to soap down. All of this will obviously help Smid to wash away the grime and sweat of the run. What it might not do, however, is help the fellow wind-down – in fact, Smid's excitement levels are soon raised to fever pitch when his mate invites him to piss all over his face!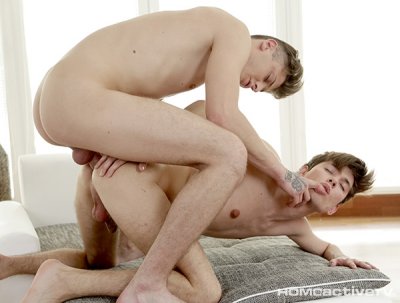 It's certainly not behaviour that's conducive to taking it easy; and it might go some way to explaining how quickly the two lads are enjoying a passionate raw fuck almost as soon as they've quit the bathroom together just a few minutes later. Indeed, there's no holding these two beauties back once they've located a mattress – Adamov is quite literally riding that long, meaty shaft of his mate's like a bitch in season before anyone really knows what's happening.
Not that you blame him the lad, of course. With a pole like that between his legs, Smid is surely everyone's idea of a welcome break; and it should come as no wonder to anyone that he's soon taking the handsome rod in a whole series of positions! All climaxing in a hands-free eruption whilst being duly buggered; before Smid seals the deal in return by busting his nuts at Adamov's welcoming mouth. Surely another shower is but moments away ...?
Scene 2: Filthy Flip-Floppers Enjoy A Piss & A Kinky Cum-Stained Shot!
Cast: Angel Lopez, Chris Jansen
From Rick Bitch, Scene 2
We've all known Chris Jansen long enough now to realise that he's a really filthy bastard, so perhaps catching him in the shower almost seems like the perfect introduction to this kinky little episode with the equally dirty-minded Angel Lopez. Not that any amount of soap could wash away his reputation, it has to be said; and it'll come as no surprise to anyone that the introduction of his buddy to the scene quickly sees his behaviour degenerate gloriously. Falling down onto his knees, he's soon revelling in every drop of piss that Lopez can muster – the kind of fabulous filth on which the young Dane has built his entire reputation! It certainly serves as a stupendous reminder of just how low this boy can go; and the great news is that the succeeding minutes do precious little to undermine that notoriety.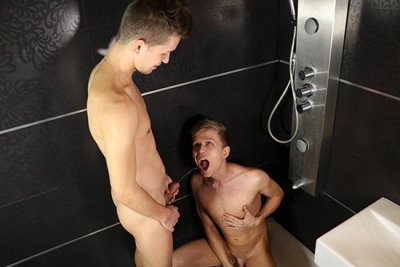 Of course, the fact that he's been teamed up here with a lad like Lopez – face of an angel, mind of a sewer! – helps matters enormously; and having taken the opportunity to sip a glass of wine, then suck on each other's cocks, the boys heap up the ante by Jansen burying his face into his buddy's hungry little arse in anticipation of a hard fuck to come.
But don't for one single minute think that this is all set to be a simple one-on-one fuck. No, these pretty little sex-pigs proceed to engage in a blissfully explicit flip-flop set piece; which culminates in Lopez rupturing his nads all over the two wine glasses. It's a divinely twisted finale that will surely attract and repulse in equal measure; but which leaves the viewer in no doubt that these beauts are as lewd as boys cum!
Scene 3: Dark Lusts Lead Hot New Boy To Titus Snow's Spunk & Piss Fest!
Starring: Andy Scott, Titus Snow
From: Give Me Wood, Scene 1
There's a distinctly Czech-noir feel to the opening moments of this horny little escapade, as the almost deranged Titus Snow creeps around a local wood trying to find someone to love. It's a bizarre concept for sure; but it gets even creepier when he stumbles upon new boy, Andy Scott, who's happily whiling away his time lying on the forest floor, looking up at the autumnal canopy. Suffice it to say the young newbie doesn't get to remain undisturbed for long; with Snow dragging the poor lad to his feet, smooching the unsuspecting fellow and then bustling him back to his lair – in this instance, his city apartment!
By this point, there's no denying that Scott is completely under Snow's spell – and with little wonder really given the eager manner with which the young Brit pulls the chap's cock out and begins to deep-throat him. After all, who in their right mind would refuse that kind of attention? Moments later and Scott is returning the favour – arguably even more enthusiastically! – with a blow-job on his assailant's totally hairless shaft that is completely at odds with his initial reluctance.
Anyone who's seen Snow in action previously, however, knows that what he really wants is the feel of Scott's handsome ramrod in his butt – an ambition he promptly achieves by mounting his newfound lover's lap and bouncing up and down on the fellow's rod for all he's worth. No surprise that Scott is unable to hold back for long – delivering a fine wad of cum on his hole, before pissing it away. Cue a frenetic finale of jizz and the golden yellow nectar that leaves both lads utterly soaked!
Scene 4: Cocktail Fun Shakes Up To Be A Spunk & Piss Soaked Fuck-Fest!
Cast: Alessandro Katz, Chad Johnstone
From: Fucking Pissed Off, Scene 1
Ever the excitable young pup, Chad Johnstone is only too happy to show off his bartending skills to Alessandro Katz; but his seemingly boundless energy only appears to increase yet further when he decides to make a pass at his friend by whispering sweet nothings in his ear. We never actually get to hear what's said, but suffice it to report that Katz's response speaks volumes. Before you know it the lad is down on his knees, reaching into Johnstone's shorts, and giving his mate's hairless dick a very tight embrace with his lips.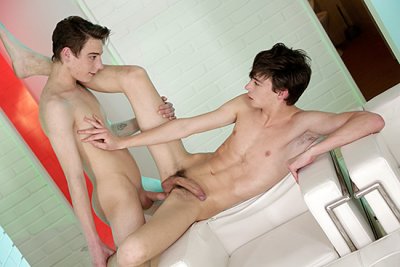 You could almost imagine Johnstone creaming in delight right there and then; but to his credit the horned-up beauty manages to contain his excitement for the moment and promptly returns the favour, gobbling on Katz's knob for all he's worth. Of course, anyone who knows this filthy-minded fucker by now realises that his restraint is purely self-serving. What he really wants, after all, is to get that perfectly preened cock of his deep inside his mate's arse-hole; and having taken a few moments to rim the hungry pucker in preparation, he proceeds to do exactly that, pushing Katz up against a full-length mirror in the process.
Cue a truly terrific display of raw fornication between these two gorgeous bastards; with Katz taking the chance to ride Johnstone's shaft cowboy-style in order to maximise the penetration. It's no great wonder, under the circumstances, that the cream is soon flying. What may come as more of a surprise is the fact that both guys are so hyped-up by the occasion that they both emit a tsunami of piss to accompany all their spunk!
Scene 5: Horny Flip-Flopping Massage Results In Loads Of Jizz & Piss!
Cast: Leo Beast, Pyotr Tomek
From: Twinks In Heat, Scene 3
Pyotr Tomek is fucking hot when he steps out of the sauna – in more ways than one! – but young masseur, Leo Beast, is a man who thinks he can help. If anything, however, the temperature in the room probably only increases once the fellow starts to work his magic on young Tomek's thighs; and the bulge of Tomek's erection under his massage towel only seems to underline the point.
Yes folks, these two lads are in heat real bad, and there's only one possible means of relief for either of them. It's something that new boy Beast appears to understand quite intuitively, diving down onto his buddy's handsome ramrod and teasing the crown with his tongue before taking it fully into his mouth. A move that Tomek himself is quick to reciprocate; before both pals lie down on the massage-table 69-style so that they can simultaneously feast on all the hard dick on offer. Just watching these two cherubs in action is surely more than enough to get most red-blooded viewers to the brink; but matters only intensify when Tomek finally turns his attention to Beast's tight little pucker, fingering it momentarily before energetically thrusting his hard shaft deep inside.
Never one to miss out on the pleasure that only cock can give, however, Tomek is soon insisting on role-reversal – passionately riding his pal's dick cowboy-style, getting off to suck it, riding it again, and repeating the pattern until his balls can quite literally take no more! It's a terrific, nad-busting performance; topped only by the sight of the two lads heading off to the sauna for a much-needed piss!
Scene 6: No Chance To Sleep Rough – Sam Williams Will Take You Home To Fuck You Raw & Piss You Down!

Cast: Sam Williams, Kevin Tod
From: Piss Whores, Scene 2
Hey, you have to give full credit to Sam Williams – a guy with a heart of gold. After all, he could've so easily just walked on by at the start of this scene, when he encounters young Kevin Tod crashed out rough on a park bench. As it is, however, he takes the fellow back to a warm, plush apartment and helps make him feel right at home straightaway. Of course, the more cynical amongst you will say that Williams' motive is purely self-serving and that the older fellow has but only one objective here – and, let's face it, these folk are unquestionably right! But when the outcome of such a scenario is as fuckin' hot and horny as what takes place here it's doubtful whether anyone will care.
All that really matters is that Williams has the opportunity to quickly strip away the last vestiges of resistance that Tod has to offer – quite literally in respect of the guy's clothes! – and is very quickly sucking on the lad's handsome ramrod. Not that Tod displays so much as a single ounce of resistance, it has to be said. In fact, given the satisfied look on his face as he lies back and enjoys his new-found buddy's attention, he's clearly enjoying every lip-smackin' moment of the encounter.
What's more, he's soon allowing Williams to eagerly rim his hungry little ass; before generously parting his legs so that the older lad can thrust every last inch of dick into his man-pussy! Suffice it to say that Tod acts the whore throughout – culminating in him letting Williams cream his ass, before taking a full facial of pent-up piss to wrap proceedings up. A total slut is born!