Summary:
Everyone knows it's important to keep fit – but with so many options to choose from, what method's best? Swimming? Cycling? Well different methods suit different guys, but for this bunch of horned-up buddies it seems the answer is two-fold: running, and hot, raw gay sex! Of course, time spent pounding the floor in their sneakers is always gonna come a poor second to time spent pounding pert ass; as new boys Boris Lang, Sivan Ozzi and Robin Rhea join horned-up favourites, Casey Flip and Connor Rex, for a cardio workout that will leave every one of them with a smile on his face and some very empty balls!
Scene 1: Ripped Runner Rewards Mate With An Ass-Load Of Hard Cock!
Cast: Boris Lang, Ezra Gibson
Also available: Athletic Ass Bangers 3 (Compilation)
Is it really any surprise that Ezra Gibson appears unable to sit down and relax? Why, the boy's quite literally little more than a bundle of nervous excitement – and when you realise that he's waiting for hunky new guy, Boris Lang, to get back from his run in the country you begin to understand his predicament. After all, who wouldn't find their emotions churned up at the prospect of welcoming home this sweaty beaut? Lang's a real handsome stud, after all – a fine example of toned, muscled athleticism. And suffice it to say that Gibson displays little if any reticence in making his intentions clear to his buddy right from the moment he returns; passionately smooching the fellow, and making an energetic beeline to get inside his pair of very skimpy shorts!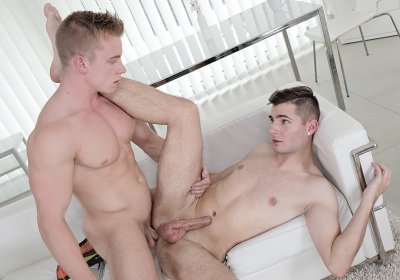 It's a fucking fine welcome if ever there was one – and suffice it to say that Lang makes the most of it, savouring the feel of Gibson's tongue as it first runs up and down every inch of his shaft and then darts up into his butt-hole. Little wonder that the hunk literally cannot wait to force his horny slut of a mate over the sofa so that he can ram his thick, throbbing weapon deep into that hungry arse; pounding away like a piston, and only pausing momentarily so that Gibson can incorporate a further heady slurp on his dick – all captured artfully (and beautifully) by John Smith's unforgiving lens. All of which leads inexorably to the sight of the hyper horny bottom riding Lang's knob cowboy-style, before taking on his back with both his legs strained apart like a bitch. Cue spunk in all directions – most notably over Gibson's face!
Scene 2: Competitive Rivalry Cums Up Trumps For An Ass-Jizzing Fuck!
Cast: Casey Flip, Johnathan Strake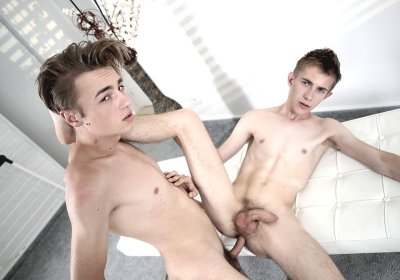 It's arguably no great wonder that Casey Flip and Johnathan Strake should be somewhat on the competitive side – after all, when you're racing together like these two buddies then it's only natural that an element of one-upmanship begins to take over. It's what drives both parties to perform their best, after all. Whether that level of competition should drive them to try and push each other over in the dirt mid-race is quite another matter, however; and the rivalry only continues when they're subsequently back home and dealing with the resultant laundry. Nevertheless, you can't help but get the impression that all this jostling for superiority is but a means of disguising the sexual frisson that clearly exists between these buddies; with matters finally coming to a head when the two lads tumble onto a padded massage table together, at which point Strake makes an immediate grab at Flip's now badly swollen cock and each mate is taking it in turns to feast on man-meat like it's going out of fashion.
Okay, so it's a rather convoluted introduction to the main action, but if anything it only makes the ensuing set-piece all the more energised; with Flip quickly turning his attention to Strake's ever-insatiable rump, which he promptly attempts to fist, before replacing his hand with his cock. Seconds on, and with jockstraps finally off, the two mates proceed to rut like a pair of animals – Strake riding Flip's shaft in a series of positions for maximum effect, before getting an arse-load of jizz as his due reward. Little wonder the fellow is soon jerking out a terrific wad of his own!
Scene 3: Buddy Gives His Running Mate An Ass-Load Of Hard Cock & Cum!
Cast: Connor Rex, Robin Rhea
Connor Rex may have found a new running buddy in the form of new boy, Robin Rhea, but the fact remains that he will always prefer pounding pert twink rump than pounding the pavements – a fact that he's only too eager and willing to display to the max here in this spunktastic duo! Indeed, it has to be said that the pairing give only brief lip-service to any sense of athletic prowess. A quick glimpse of the boys running through the woods, and before you know it they're back at their apartment doing exactly what they love best – smooching like a couple of lovesick pups, before Rex falls back on the bed and his mate takes full advantage to feast on the delicious man-meat that's stuffed inside his running pants.
As it happens, you quickly get the impression that young Rhea can't get enough of his mate's achingly delicious joystick; as he gobbles away in a series of positions, before Rex finally succumbs to his own inner urges and turns his keen attention to the lad's hairless little fuck-hole. At which point, of course, it becomes painfully obvious that Rhea's on-screen virginity is about to be cruelly bundled into history; with Rex's energetic rimming of the delicate pucker simply a soft introduction to the no-holds-barred fucking that ensues. Not that the hot newbie has reason for any complaints, of course. This curly haired beauty is a fine fuck for sure and clearly enjoys every second of sweet violation, which only ends when Rex finally creams his arse with cum, then felches the resultant goo. All of which is nicely topped off by Rhea happily spewing into Rex's open mouth!

Scene 4: Hot Athletes Get A Cock-Throbbing Workout With Oodles Of Cum!
Cast: Charlie Keller, Sivan Ozzi
With their fine, lean physiques and athletic prowess it seems almost natural that Charlie Keller and new boy, Sivan Ozzi, should be spending their time running together through the woods to keep fit; but if truth be known they would both prefer to be getting their cardiovascular workout much nearer home. A fact that becomes all too apparent when the two buddies find themselves back in town with time on their hands – the urge to run now clearly eclipsed by the urge to snog each other's faces off! Not that either of these two buddies are ever going to be content with just a kiss, of course. No, it's pretty obvious from the off that they've got a taste for a distinctly carnal training session; with Keller quickly making the most of the situation to give his tonsils a tickle by deep-throating his handsome pal.
That, of course, signals the start of what quickly proves to be a terrific set-piece; with Ozzi then replicating the oral gymnastics, before rimming his mate's hairless pucker and finally burying every inch of his meaty, uncut rod deep into Keller's guts. If the sight of two dark-haired beauts in full rut is your kind of mindless entertainment then you really are in for a treat, as Keller rides the newbie's shaft in a sweet succession of positions; culminating in the lad bouncing up and down on Ozzi's lap to a ball-busting crescendo that sees his dick explode like Mount Vesuvius! By this point, of course, there's every good chance you'll have long since ruptured; and surely seeing Keller greedily lapping away at Ozzi's knob as it yields its own sticky load will make that a certainty!