Summary:
He's the randy little cock-loving slut who really is never happier than when he's sucking the life out of some horny stud's cock or taking every inch of hard dick up his arse like a whore! Fortunately for such a wanton soul, STAXUS has been able to provide him with a constant line-up of twink-loving studs to help satisfy his near-epic craving. Guys like Kris Blent, Julian Fox, Tom Jacobs and a semi-anonymous showing from the mega-hung Jace Reed! All culminating in the ball-busting jerk-off that first (literally!) blasted the young hussy onto our screens!
Six Scenes - Compilation Gay DVD
This title represent great value for money given the amount of quality content and running time. However, to ensure you don't waste money buying the same content twice, this compilation features scenes from the following titles:-
Scene 1: Boy Meets Cock: Horny Lad Leads Masterclass in Dick-Worship!
Cast: Lucas Drake, Jace Reed
From: Super Big For Super Small, Scene 4
There are two stars in this scene - Lucas Drake, who everyone already knows is a totally horny slut who'll pretty much stop at nothing to get his arse stretched to breaking point, and a big, fat anonymous cock. We'll let you ponder to your heart's content as to who exactly is the owner of that handsome schlong - when you're as obsessed with dick as Drake is it's unlikely you're really too bothered whose knob it is! Instead, we'll concentrate on the wonder-whore that is Drake - a boy whose sexual magnetism is so great that he can hold a POV scene like this on his own and never once look out of place.
Initially the focus is very much on him - his gorgeous smile, his sleek physique, his closely trimmed crotch. But it doesn't many minutes before the attention shifts to how he will cope when presented with a mammoth schlong - a challenge, it has to be stated, that he manages to rise to with almost breathtaking ease. Indeed, if ever there was a young fellow who was made for the worship of cock then this is that guy; as he promptly feasts on every inch of flesh doled out in his direction, before turning around and exposing his pert little arsehole in readiness for submission.
What follows is almost a masterclass in how to handle a hard, uncut ramrod; riding the offering for all he's worth in a whole succession of positions, and ultimately exploding in excitement in the process. But it's the final few moments of this stunning display that really cements him as a bitch extraordinaire, as he slurps his faceless buddy to an equally sticky climax - eyeing the camera throughout!
Scene 2: Horny Athletes Run A Hard-Cocked, Face-Splattered Threesome!
Cast: Kris Blent, Lucas Drake, Ray Mannix
From: Keep On Running, Scene 2
When you're training for a big race it's important that you keep your eyes on the prize; but even so it's more than just a little understandable that Kris Blent and Ray Mannix find themselves distracted when they encounter young Lucas Drake running around solo in the woods. After all, who wouldn't find their heads similarly turned by the sight of this handsome young beauty in all his sweaty glory? Fortunately for them both, Drake's clearly more than happy to go back with them to Blent's apartment, where the exercise routine can happily continue - albeit in a very different form! Indeed, it's not the lads' legs that are getting a cardiovascular workout when these three horned-up buddies hit the sofa, rather the meaty, uncut cocks that promptly emerge from their running shorts!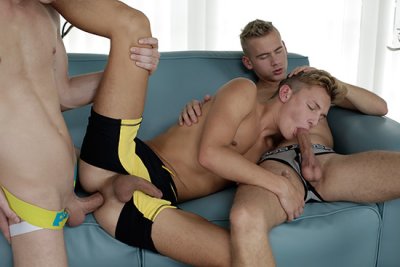 That's perhaps more than just a little understandable given the cock-lusty characters in question here - it's difficult to know which one of these boys is the biggest slut! - and it'll come as no surprise to anyone that all three lads spend the ensuing minutes gobbling away like it's going out of fashion. Ultimately, though, it's Drake who slowly emerges as the centrepiece of the action; with Mannix and Blent taking it in turns to rim his well-worked pucker, before then energetically ploughing that delicious, hairless hole for all they're worth.
The sight of Drake being tossed around and spit-roasted will almost certainly have you jerking off like crazy; culminating in both tops creaming his arse. All of which is topped off nicely by Drake splattering Mannix's face in return for a top-notch sticky finale!
Scene 3: Sad Little Beauty Gets Banged Back To Health By Muscled Stud!
Cast: Filip Bethsaida, Lucas Drake
From: Do Me Daddy, Scene 2
There's a distinctly thoughtful, even artful feel to the opening moments of this stunning little escapade between everyone's favourite twink slut, Lukas Drake, and butch strongman, Filip Bethsaida - the kind that rarely if ever makes an appearance in porn. In the depths of despair, Drake drinks himself silly and heads for the railway tracks to end it all, only for Bethsaida to serve as a knight in shining armour - or in this instance a rather trendy cardigan! - as he carries the forlorn young man back to his house to nurse him to health. Which in this particular instance clearly involves stripping the lad off, sitting him in the bath and showering him down.
It's a somewhat unusual means of rehabilitation given the circumstances, but it has to be said it certainly seems to lift the young boy's spirits; and before you know it Drake is laid out on his hero's laps and allowing Bethsaida to soap and finger his ever-hungry little arse-hole. Which in turn very quickly leads to both fellows taking it in turns to suck each other's now-straining cocks.
Of course, you don't need to be Sherlock Holmes to realise how matters are set to proceed; and it's really no time at all before the older stud is taking full advantage of the situation by ploughing deep into Drake's pucker with that handsome schlong of his. It's a move that the cute little twink appreciates to the max. So much so, in fact, that he's quite literally erupting mid-fuck; before falling to his knees and allowing Bethsaida to dollop a load of spunk all over his tongue, which he dutifully gobbles up. Has there ever been such a good boy?
Scene 4: Horny Twinks Find Eternal Bliss In A Hard Cock, Jizzy Fuck-Fest!
Cast: Julian Fox, Lucas Drake
From: Kneel & Pray, Scene 1
Father, lead us not into temptation - that's the prayer of many a young priest, who often struggle between the wish for spiritual purity and the desire for the pleasures of the flesh. Guys like Julian Fox and Lucas Drake, who would clearly much rather be having lots of carnal fun than reading the Bible and meditating on themes such as grace, redemption and temptation. Suffice it to say, it's not long before both these two boys have abandoned any pretence of being devout; smooching away in a private room, before promptly stripping away their priestly attire.
Indeed, young Drake's face is soon eagerly buried in Fox's crotch - giving his buddy's handsome cock some much-needed worship. It's an unsurprising move given the history of this wanna-be priest; and what's more Fox is quickly replicating the action, before bundling Drake over a table and rimming his pal's hairless pucker. You don't need to be a theological expert to know that this is not exactly the kind of thing that's expected from men of the cloth; but by this point neither fellow gives a fuck about their eternal prospects. All they want is a good old-fashioned raw fuck - and that's exactly what ensues when Fox finally buries his oversized schlong into Drake's hungry little rectum.
It won't come as any surprise to anyone that the bottom is soon consumed by lust - riding Fox's shaft reverse-cowboy, before literally having the spunk banged out of him with a hands-free climax. Unaware that they're being watched, Drake then calls it a wrap by slurping his mate's thick, aching joystick to a sticky, satisfying finale!
Scene 5: Dirty Twink Gets Fucked & Fisted To A Hot, Spunky Crescendo!
Cast: Lucas Drake, Tom Jacobs
From: Give Me Wood, Scene 3
Peeping Tom extraordinaire, Titus Snow, continues his travails in the woods - on this occasion taking time out to see what horny boyfriends, Lucas Drake and Tom Jacobs, get up to when they're alone together in their nearby cottage. It goes without saying, of course, that we don't catch these two young fellows passing the time with DIY or doing the cleaning! Instead, they're ensconced in the favourite room of any guys their age - the bedroom - playfully engaged in a sensuous game of tonsil-tennis; before newbie, Jacobs, finds he can no longer hold back from taking a close examination of what his pal has got stashed inside his jocks.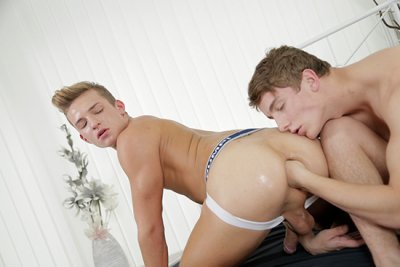 Seconds later and Drake's handsome ramrod is on full display; prior to Jacobs consuming the thick, meaty shaft courtesy of some energetic fellatio. Not that Drake is averse to giving head, as we already well know; and it will surely come as no surprise to anyone that he's soon replicating the act, with both lads rigorously 69-ing each other like a couple of cheap tarts. But Drake's never been one to resist getting the inches inside his guts for long; and fans who like to see him being speared in a whole variety of positions will soon be relishing his brutal deflowering.
That said, it seems that a meaty dick isn't quite enough for him on this occasion. Indeed, the dirty little bitch is soon crying out for Jacobs to provide him with a no-holds-barred fisting - literally stretching his arsehole to buggery and creaming him off in the process. A top-notch display that leaves Jacobs to cream his filthy mate's outstretched tongue for the finale!
Scene 6: Two Cuties Suck & Fuck; Then Hot New Beauty Jerks Out A Load!
Cast: Ray Mannix, Johnathan Strake, Lucas Drake
From: Sperm Term, Scene 3

Features Lucas Drake's Solo jerk off Scene
Oh, you lucky guys - it's two horny escapades for the price of one, beginning with a scorching duo between STAXUS favourite, Ray Mannix, and newcomer, Johnathan Strake; followed by a scintillating solo from doe-eyed novice, Lucas Drake. Matters get off to a teasing start with Mannix and Strake as they take time out to play with a pair of "Three + Two" briefs and a packet of Tuc biscuits - a rather unusual mix of foreplay toys, it must be said, and arguably unique to any gay porn we've previously witnessed. But it's not long before the two lads are making eyes at each other and are putting their accessories to one side- - preferring instead to concentrate on each other's young, handsome bodies.
And what a pair of fucking beauties these two lads are! Mannix, as gorgeous as he ever is; and Strake, as fresh-faced and cute-smiled as they come. It's almost enough to have you jizzing in your pants there and then; but there's plenty of cock-worship between these fellows to ensue to warrant restraint. Besides, the eventual sight of Mannix ploughing into his buddy - Strake dribbling with pre-cum as he does so - is the real climax of the action; culminating in the horned-up Mannix creaming his mate's arse and then cleaning it up with a biscuit.
Of course usually that would mark the end of proceedings; but, as we said before, here the action continues with a Drake jerk-off. A studio exclusive, this perfectly formed young angel works his hole with a handsome sex-toy; then ruptures his nads all over his tight, youthful belly, before licking the spunk off his fingers!
Popular Gay DVDs featuring Lucas Drake
You can find loads of content featuring Lucas Drake online at Staxus.com. See also: Lucas Drake Gay DVDs