Summary:
He's the donkey-dicked dude from the Czech Republic who never has any objection to sharing his mammoth-sized schlong with any cute, horny twink who cums his way!
Now you can enjoy some of his very best performances (with the likes of Sven Laarson, Johny Cruz and Brad Fitt), as he proves time and time again just how he likes to wing that wand into every hot, hungry hole he meets.
Suffice it to say, he's a very popular boy – and one glance at his horse-hung credentials will easily make you understand why …

Beschreibung:
Er ist DER Typ mit dem langen Schwanz aus Tschechien, der sich noch nie gesträubt hat, seinen überdimensionierten Pimmel mit jedem süßen, geilen Bürschlein zu teilen, der ihm vor seine spritzige Flinte läuft! Jetzt könnt ihr einige seiner besten Szenen (an der Seite von Sven Laarson, Johny Cruz und Brad Fitt) genießen, in denen er wieder und immer wieder beweist, wie gekonnt er seine zahlreichen Zentimeter Fickfleisch in jedes erdenkliche enge Loch stopfen kann, das seinen Weg kreuzt. Ein Blick auf sein ellenlanges Markenzeichen wird genügen - und jeder wird wissen, warum er so ein gefragter Mann ist!
Six Scenes
This title represent great value for money given the amount of quality content and running time. However, to ensure you don't waste money buying the same content twice, this compilation features scenes from the following titles:-
Scene 1: Johny Cruz Gets His Tongue Round Czech - Then Gets His Ass Round Jace Reed's Big Cock!
From Raw Tourist Trap, Sc.1 Johny Cruz, Jace Reed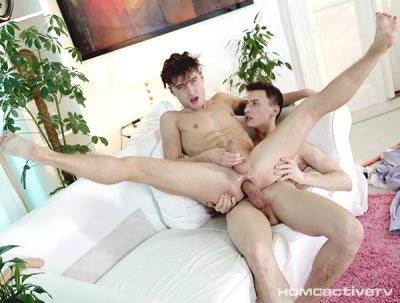 Learning the local language - or at least learning certain important phrases - is a very useful thing to do when planning a visit to a foreign country, as TV presenters Johny Cruz and Jace Reed are eager to demonstrate at the start of this tongue-in-cheek escapade. Whether you will actually ever utter the Czech equivalent of such phrases as "How big is your dick?" or "Fuck me!" in everyday conversation in downtown Prague is rather open to question, of course; but once filming is over and the two horny young devils are left to their own devices, it's clear that they're both keen to put the said phrases to good use! Cruz, in particular, as a German speaker, can't wait to get his tongue around the Czech language - or should that be Reed's cock? Certainly he appears to hold little restraint when directing his attention on his screen-buddy's crotch; and within a few minutes he's sucking the life out of Reed's shaft, whilst trying desperately to remember all that Czech that he's learned! It's a hopeless task, of course, given that by this point all he can really think about is getting his mate's oversized poker thrust deep inside his ass; but Reed is eager to tease out Cruz's pleasure with a little dildo play, before inviting the boy from Berlin to sit on his aching shaft and ride himself to heaven. An invitation that a horny power-bottom like Cruz is never gonna refuse! What follows is an energetic, sweaty, no-holds-barred session of raw sex at its best. Those Czech phrases? All long forgotten. But this spunk-soaked coupling will last long in the memory!
Scene 2: Big Dicked Military Buddies Enjoy A Deep-Throated Suck, Then Rim Ass & Fuck Red Raw!
From Dungeon Dreams 1, Sc.4 Jace Reed, Mike James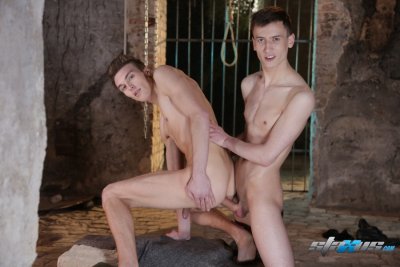 Is it any fucking wonder that young Jace Reed has a grin on his face from ear to ear when he unbuttons Mike James's khaki trousers to examine what lies beneath? For what he discovers inside is not exactly on the minimalist side - as anyone who's seen James in action before will tell you! And to his utmost credit, Reed does himself proud in response - deep-throating his military buddy's oversized dick right down to the root without the slightest hint of a gag reflex! But it's not just James who's been over-blessed by mother nature - as he himself discovers a few minutes later when he returns Reed's keen adoration. Indeed, given the mutual cock-rub that ensues it's clear that there's barely a few millimetres difference between these two lads; and James is soon feasting on his mate's generous ramrod with equal gusto, which is surely no less than Reed's gorgeous dick deserves! It's clearly a move that gets both lads in the mood for something even more intimate, and before you know it Reed is giving James's hairless ass-hole the kind of rimming that surely all of us dream about, before thrusting every solitary inch of his raw shaft deep inside James's guts. Perhaps not surprisingly, James visibly gasps at having to accommodate such a thick, wrist-sized beauty; but the lad's soon loving all that butt-pounding attention, culminating in him riding up and down on Reed's cock and then taking a fine wad of jizz in the face! Little wonder he can't refrain from jerking out his own load in response - something we're absolutely certain you'll be emulating!
Scene 3: Scorchingly Hot Jacuzzi Threesome Turns Into A Five-Dicked Suck-&-Fuck-Fest!
From Dive In, Sc.4 Starring: Mike James, Sven Laarson, Ryan Olsen, Jace Reed, Brad Fitt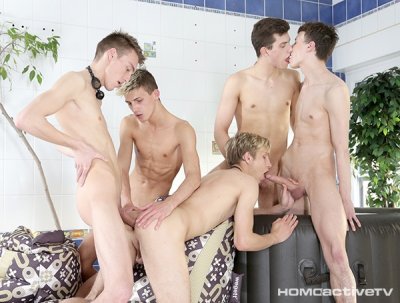 There are always those who complain that the youth of today are obsessed with sex and have absolutely no morals - to which we reply, thank fuck! Otherwise we wouldn't ever get to produce seriously hot escapades such as this five-guy Jacuzzi suck-and-fuck-fest and you horny wankers wouldn't get to enjoy them! Seriously, we defy anyone who enjoys gay porn not to get totally carried away by the antics here, which includes pretty much everything that you could ever possibly wish for. A horny threesome, some terrific spit-roasting, an almost unbelievable pile-fuck and copious quantities of jizz - which you'd no doubt have good reason to expect given that there's five pairs of balls to relieve at the end of the scene - are just some of the breathtaking highlights as Mike James, Sven Laarson and Ryan Olsen are joined by Jace Reed and Brad Fitt for a watery manifest of man-sex at arguably its very best. Indeed, if the sight of these five lads rutting like a pack of horny bitches in season doesn't get you reaching for your zipper and tugging on your dick then may we respectfully suggest that the time has probably come for you to give up watching hardcore action so that you can concentrate on alternative pastimes - knitting, perhaps, or walking the dog! Jokes aside, we predict spunk stains aplenty as ass after ass gets stretched to the max by raw dick, culminating in a circle wank and a terrific geyser-like eruption from every boy on-set. No question about it, this is gold-standard adult-only entertainment that your aching cock will surely never ever tire of!
Scene 4: Jace Reed Joins His Skiing Buddies For A Big-Dicked Threesome!
Snow Balls, Sc.4. Starring: Milan Sharp, Rokas Zilina, Jace Reed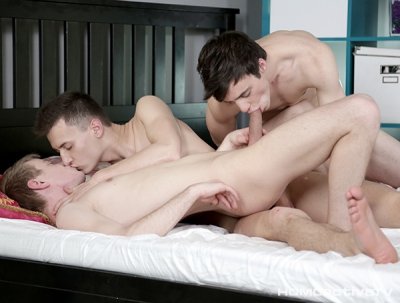 Milan Sharp and Rokas Zilina have made arrangements to meet up with Jace Reed for a morning's skiing session, but either they've forgotten or they just can't be arsed! Instead, they just want to enjoy a bit of time in bed together; and Reed would remain very much an afterthought were it not for the fact that the fellow turns up to find out where they are. At which point what would be a fantastic duo quickly transcends into a truly ball-busting threeway - much of the action centred (understandably) on Reed's unbelievably proportioned cock! Then again, what else would you expect? The boy is blessed with one of nature's wonders, and Sharp and Zilina jostle for position in a bid to slobber and feast on the monster! All things considered it's Sharp who gets the bigger share of the inches in his mouth - which is arguably a sign of things to come given that it's his raw ass that serves as the focal-point for action once matters have turned decidedly anal! Initially the guy takes a ride on Zilina's ramrod, as if to get him the mood; but it's painfully obvious that what Sharp really wants inside him is that humungous ass-stretcher of Reed's; and, having been banged on his back and then taken a momentary "rest" in the form of another bout of oral, he's soon riding the beast cowboy-style in a flagrant attempt to secure the most pleasure possible! Given the predicament, it's no small wonder that he's soon creaming himself silly; whilst Zilina spurts all over his face as he does so. That leaves Reed chance to knock out his load as his pals work his spurting crown!
Scene 5: Horny Dick Casey Gets Followed (Fingered & Fucked!) By A Faceless, Big-Dicked Stranger!
From Twinks Destroyed 2, Sc.1 Dick Casey, Jace Reed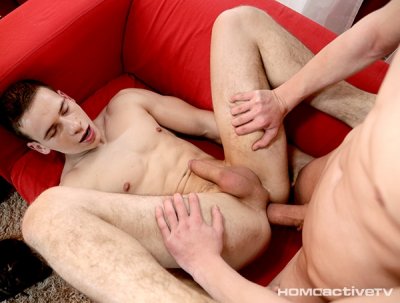 We've long since grown used to seeing gay porn presented as a couple of guys having sex in front of the camera - usually in wham, bam, thank you ma'am style! - but director John Smith takes a somewhat avant-garde approach with this coupling of Dick Casey and Jace Reed. For one thing, Casey is very much the single focal point of the action from beginning to end. For another, Reed never once shows his face. The result is a tremendously intriguing presentation that will (unquestionably) thrill some and off-put many others; but hats off to a director who has clearly thought outside the box and as a result provided us with a scene that all of us will surely want to comment upon. The entire of the action is filmed from the prospective of Reed, who follows Casey after the two guys alight from a tram in Prague, then subsequently invites him back to his apartment for a coffee. That, of course, is clearly a euphemism for something else entirely, given that a kettle never once makes an appearance during the course of the subsequent action. Instead, it's very much Casey's dick that's the centre of attention, as Reed gives it an oral workout that his guest will almost certainly struggle to forget! Indeed, the whole experience is very much a story of Casey's pleasuring, as Reed soon turns his attention to his new-found buddy's ass-hole, which he proceeds to finger and then fuck - ultimately resulting in Casey producing a volcanic eruption of jizz that will rival some of his best. That just leaves Reed to "anonymously" splatter the guy's handsome face with his own wad of pent-up nad-juice - exactly the kind of sign-off the scene deserves!
Scene 6: Cock-Mad Johny Cruz Enjoys An Unbelievable Triple Penetration!
From: Use Me Scene 3. Alejandro Alvarez, Xavi Duran, Johny Cruz, Jace Reed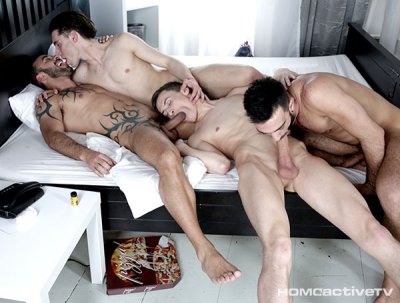 Some scenes are just so fucking wonderfully predictable that they almost don't need any kind of narration, and this truly amazing escapade - featuring Johny Cruz doing what he does best, i.e. being a total and utter man-slut! - is just such an offering! Indeed, if you ever for any reason thought that young Cruz was a fellow who might just have some element of sexual restraint, or indeed a degree of morality about him, then what you're about to see him get up to with Alejandro Alvarez, Xavi Duran and (eventually) Jace Reed will almost certainly leave you in no doubt that that's just not the case at all. Cruz is, in every sense, a young fellow whose last vestige of impropriety has been eclipsed by an almost obsessive desire for cock en-masse - and fuck, don't we just love him for it! In fact, he's pretty much on sexual overdrive from the moment that two hunky, tattooed pals (Alvarez and Duran) arrive in the bedroom to give him a good working over, just moments after he's placed a telephone order for pizza. Indeed, you might be even left wondering what aphrodisiac this boy is one as he guzzles on both dicks like his life depends on it. But it's what happens after the arrival of delivery boy Jace Reed - and his monster dick! - that really fires this escapade into the stratosphere; with all three fuckers now gagging for a piece of the gigantic shaft, before Cruz succumbs to the inevitable results of his hyper-charged libido and takes the dicks of all his co-stars up his ass simultaneously! It's an almost unbelievable performance; topped off by Cruz taking his buddies' spunk all over his face and in his mouth! In short, abso-fucking-lutely brilliant!!

Popular Gay DVDs featuring Jace Reed
You can find loads of content featuring Jace Reed online at Staxus.com. See also: Jace Reed Gay DVDs