Elite Male gay porn dvds feature the hottest hardest A-list models combined with top shelf packaging. Established gay dvd director Joe Budai also specialises in gay porn with real life twins.

BellBoys - Gay DVD - Studio: Elite Male

Here comes the gorgeous Visconti Triplets in Bellboys. Just when you thought you were in for an uneventful stay at some hotel again, the surprise of a lifetime is waiting for you - the Visconti triplets are your bellboys! You know with these brothers at your service they will help with more than just your luggage. Just ring the bell three times for full service from this group of hung and handsome staff!
Brotherhood Secrets (Visconti Triplets) - Studio: Elite Male

The gay world is about to change forever. While brothers have been a novelty in the past, they have been few and far between. Now Elite Male presents the Visconti Triplets!

Starring: The Visconti Triplets
College Daze - Gay DVD - Studio: Elite Male

College Daze features the magnificent Visconti triplets and they go to prove that college dormitories have been, and will always be, a magnet to non-stop action from their sex-crazed, young, lustful inhabitants. The Visconti triplets live in one of these infamous college dorms and the neighbouring room is not spared from their aching hunger for dicks, asses and mouths.
Confessions Of A Married Man - Gay DVD - Studio: Elite Male

You'll find out what's behind a married man's secret desires in Confessions Of A Married Man - and it's usually another man's thick cock. In Confession of Married Man by Elite Male, watch these studs escape from the grind of marriage and into the throws of anal pleasure. Every married guy has a dirty, secret fantasy. What if they threw caution to the wind and found a buddy of their own that they could fuck around with on the sly
Doing Hard Time - Gay DVD - Studio: Elite Male

What happens behind bars stays behind bars until Elite's cameramen reveals the mystery in Doing Hard Time. One of the Visconti triplets' mischief lands them in jail and, now joined with his brothers, he learns the hard way of how to take care of business behind bars. The result is hardcore sex all around that doesn't spare the asshole of one of the guards either. He gets fucked hard by the three throbbing dicks of the triplets.
Extra Long Shift - Studio: Elite Male

Extra Long Shift is all about muscular, masculine men, hot-assed daddy types, and younger dick-crazy guys - and they all have one thing in common. They love big thick and long dicks to suck down to their tonsils and fuck their greedy holes balls-deep! No love story here - just hot-assed long-dickin'! Man food - super-sized!
For Your Eyes Only (Visconti Triplets) - Studio: Elite Male

For Your Eyes Only is your welcome to the Visconti Triplets! They are Hungary's hottest export and the first triplets in the gay industry! From oldest to youngest, the 19 year old triplets are Joey, Jason and Jimmy. These Budapest-born triplets are identical, standing at a 6'1" tall, all buffed up and with 8" x 6" cocks.

Starring: The Visconti Triplets
Glory Hole Of Desire - Studio: Elite Male

Part of the thrill of gloryhole sex is never knowing who's on the other side of the partition. Glory Hole Of Desire is set in a vacant sex club, where the buff and beautiful patrons arrive dressed to the nines, looking like they just came from a business convention. With its cast of sexy models, Glory Hole of Desire scores points for suit and tie fetishists and, for hardcore gloryhole enthusiasts.
Hairy Fuck Fest - Gay DVD - Studio: Elite Male

Get ready for some shaggy hardcore in this Hairy Fuck Fest! Filthy dirty wet dreams lead to these hairy boys cruising for big uncut dicks. Loads of furry fucking with these Elite Males! Cast: Sergio Soldi, Rod Stevens, Ted Potter, Greg Wilson, Nico Blade, Wic, Others
Hard At Home - Studio: Elite Male

Rick Bauer and tattooed Mickey are Hard At Home. They wake up with stiff cocks - and proceed immediately to relieving them. Bauer, who is normally a bottom, gets to top the sexy Mickey in this fantastic flip flop fuck. The scissors position allows you to see Mickey's long limbs and torso, giving a stellar view of his well sculpted midsection.
Headmaster's Lessons- Studio: Elite Male

Follow the young twinks in Headmaster's Lessons as they discover the pleasures of man-to-man sex. The headmaster sees to it that his charges receive a full education, become well-rounded, open-minded, and he's dedicated on making it both a satisfying and memorable experience. Never before has learning been suck fun and everyone looks forward to the Headmaster's Lessons.
Heavy Industry - Studio: Elite Male

These are the boys who can handle the big tools! Watch these ripped studs go to work on one another, pumping some real iron. It's all in a days work!
Leather and Chains - Studio: Elite Male

Julian Vincenzo is a stunning sight onscreen in Leather And Chains, both for his handsome almost cruel features and his fat uncut cock, which is impressively long enough to delve deeply between Randy Jones thickly-muscled ass-cheeks. The fucking is expertly shot and provides many close-ups...
Logan Vs Dragon - Gay DVD - Studio: Elite Male

It's the battle of the century, ranking Logan Vs Dragon up there as one of the bigger battles of the tattoos that's been seen in a while. Tons of ink was spilled on co-cover models Jack Dragon and Logan McCree, and you'll end up spilling plenty of you own creamy ink after sidling on up to this blue-collar themed sexfest from director Joe Budai.
Man Behind Bars - Studio: Elite Male

Man Between Bars proves that Life in the big house has perilous twists and turns on a daily basis. Your appearance, size, and toughness might dictate your future sexual positioning. As the mansex tension builds, those throbbing meat sticks must be satisfied and a hole's a hole and a tight ass is just that! It isn't exactly date night, but these horny inmates indulge themselves by sucking, and taking a pounding up the ass.
Nature Calls - Gay DVD - Studio: Elite Male

You've all heard about the stories that happen during camping and when it comes to gorgeous young men and the outdoors, all bets are off. Every one of the stories in Nature Calls is true, and then some! It's not different with the Visconti twins - their hunger for sex in and outside the tents explodes literally in front of you. Non-stop fucking and sucking is guaranteed to entice you to head outdoors and re-live the experience!
Poolside Party - Studio: Elite Male

Eleven hung hunks in a series of horny outdoor sucking and fucking encounters.

Starring: Austin Rogers, Cavin Cage, Evan Rochelle, Glen Santoro, Luciano Veneziano, Lucio Maverick, Mario McCabe, Rogerio Mateo, Sebastian Bronos, Steve Hunter
Rush Vs Dragon - Gay DVD - Studio: Elite Male

Tattooed bodybuilder Jack Dragon takes on former Falcon exclusive Matthew Rush, and if you happen to dig either of these guys, or just get off watching two mega-bodied beefcakes rutting like dogs in heat, Rush Vs Dragon is a match you'll never forget.

Cast: Jack Dragon, Matthew Rush, Albert, Mickey Daniel, Romano, Simon, Tattoo Junior, Zsolt XXL
Shameless Boy Toys (Visconti Triplets) - Studio: Elite Male

The Visconti triplets are back and this time much looser than before. Jason, Jimmy and Joey are proving the fact that the power of 3 is the hottest power of them all!

Starring: The Visconti Triplets
Sweaty, Hairy and Hung - Gay DVD - Studio: Elite Male

In Sweaty, Hairy & Hun, buffed out muscle studs pound tight bubble butts until they're snug fuck holes are totally stretched out and gaping and begging for more. Watch these thick dicked studs cramp their fat cocks down the throats of willing bottom boys until they hose their faces down with creamy warm cum blasts.
The Bar - Gay DVD - Studio: Elite Male

These East European hunks are ready to show you a good time if you enter into the bar - sharing their huge cocks and greedy asses with you.

Starring: Ted Colunga, Cavin Cage, Antonio Carrigan, Ray Randolf, Julian Vincenzo, Claudio Antonelli, Rod Stevens, Fredy Costa, Lucio Maverick
The Cellar - Gay DVD - Studio: Elite Male

With no plot to speak of, there's still some great man-sex action in The Cellar! As every day is different from one day to the next, your tastes vary - some days you're into vanilla while on other days you might crave something much more exciting.
Trained To Obey - Gay DVD - Studio: Elite Male

For the Visconti Triplets, the journey of becoming immortal stars of the entertainment industry hasn't finished just yet. Oh no, it's just the beginning - and they know it! Getting better with each release, this third Visconti Triplets flick - Trained To Obey - features a great cast (with the boys of course looking more and more stunning), military disciplining, some very tasty oral cumshots....
Triplets Vs Twins - Gay DVD - Studio: Elite Male

Triplets Vs Twins? You better believe it! Together, the sexual prowess of the Visconti Triplets and the Mangiatti Twins took some major organizing and directing effort, but what came out of it is certain to make porn history. All the similar faces and bodies may seem confusing, yet you'll find it to be so exhilarating. Of course, their ever-eager friends help with the action to complete the recipe for one of the hottest videos in years. Enjoy this genuinely rare treat!
Twin Warriors - Gay DVD - Studio: Elite Male

If you like seeing double, the twins in Twin Warriors will be sure to make you reach for your sword! This war zone is chock full of hot warriors looking to strike at any moment.

Cast: Attila Lenart, Istvan Lenart, Lucio Maverick, Ray Randolf, Robby Stephens, Miklos Czidor, Alfredo Castaldo, Enrique Gardinelli, Julian Vincenzo, Claudio Antonelli
Vinnie Vs Dragon - Gay DVD - Studio: Elite Male

Who can suck and fuck the best - two guys go at it in a battle of the cocks in Vinnie Vs Dragon. Watch as hot guys Vinnie and Dragon go head-to-head in a battle of the sexiest!

Cast: Jack Dragon, Vinnie D'Angelo, Antonio Russo, Benny Long, Claudio Antonelli, Kevin Lucas, Nico Blade, Shanea
Welcum To America - Gay DVD - Studio: Elite Male

Welcum To America showcases sexual situations that the delectable Visconti Triplets found themselves in during their first foray stateside. It was quite the event (they attended the GAYVNS, as well as hooking up with the Fleshjack folks and became their first spokesmodels), so naturally it was commemorated on film.

Cast: Jason Visconti, Jimmy Visconti, Joey Visconti and others.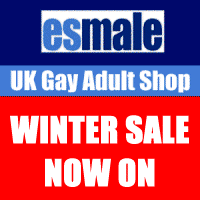 Esmale (UK Gay Adult Shop) sells a large range of gay adult sex toys including a range of fetish and restraint products, Cock and Ball play items, Whips, Paddles and Slappers, Blindfolds, Masks and Hood and are the UK stockist of Mr B leather and fetish products. They also sell a large range of men's designer underwear, condoms and lube, fleshjacks, jock straps and anal toys. Treat yourself!
Save an extra 10% on top of their already discounted prices with our exclusive code 'GAY10'. Click here to shop
See also: www.gayadultshops.co.uk