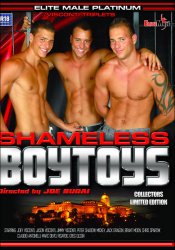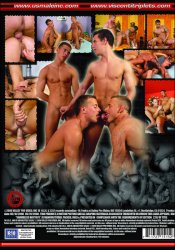 See also: Brotherhood Secrets
Summary:
The gay world is about to change forever. While brothers have been a novelty in the past, they have been few and far between. Now Elite Male presents the Visconti Triplets!
Description / Review:
Scene.1: Fabulous Tattooed Beefcake Coupling
It's no great surprise that tattooed beefcake, Jack Dragon, should be feeling horny. Not only is he surrounded by a bunch of the hottest Hungarians around, but he begins the movie by being blown by frisky twink, Brent Moon. Having been rudely been interrupted by the arrival of Moon's boyfriend, Pat Stevenson, Dragon promptly turns his attention to Claudio Antonelli, another fabulous hunk who's sleeping away like a baby in the next room. Not that he's left sleeping for very long! Before you know it the two musclemen are using the futon to 69, rim, suck and (ultimately) fuck like a couple of wild dogs on heat. All against a sumptuous backdrop that's almost as tasty as the guys themselves. Stunning! And proof indeed that you don't always need a twink to get fabulous sex!
| | |
| --- | --- |
| | |
Scene.2: Cute Pups Getting Hot & Horny
Having been abandoned to their own devices by Jack Dragon in the previous scene, Pat Stevenson and Brent Moon - a pair of divine-looking pups if ever there were any - continue with their sensual escapade, with only a leather sofa for company. Not that these lads need any help when it comes to enjoying the more sensual side of life, that's for sure. Least of all Moon, who's innocent charm disguises a personality that clearly lives for the next hard cock. Lucky for him, then, that he's met Stevenson, who really does have a shaft that could take someone's eye out if not handled correctly. Moon, however, knows exactly what to do. Riding the monster in every direction imaginable. Little wonder the two lads ultimately spurt like sperm whales at the scene's fevered conclusion.
Scene.3: The Visconti Triplets Strike Again!
Okay, the scene you perverts have all been waiting for, as the infamous Visconti triplets finally make their appearance - this time in the company of the unbelievably lucky, Chris Sparrow. Why, to have one of these east-bloc beauties in your bed would almost defy belief, but to have three of them - well, surely that's a dream come true in every single sense. To his credit, however, Sparrow never once appears to allow the occasion to overwhelm him. Rather he takes all three boys like a true professional, as the brothers rim, suck and finally screw him in time-honoured fraternal fashion. Whether such almost-incestuous antics are right and proper is a matter of debate, we're sure, but the Visconti lads clearly cater for a big fantasy for a whole legion of die-hard fans - and if you're one of them then consider yourself almost as lucky as the little Sparrow himself.
Scene.4: Hot Ride On A Black Leather Sofa
We know this isn't billed as the show-stopper, but there's still something incredibly sexy about this magnificent pairing: Peter Shadow, a slightly balding, cropped-haired top, and Latino super-bottom, Ricardo Shepperd. Is it the lush surroundings that gives the performance an extra buzz? Or the fact that they fuck like rabbits on a black leather settee? Possibly, of course. But we've a suspicion it's got more to do with the way Shepperd rides Shadow's thick, uncut shaft, cowboy-style, whilst Shadow himself curls himself over to suck his partner's knob-end. Sounds almost physically impossible we know, but these two beauties manage it with real pezazz! As for their eventual cum-shots, well who would've imagined that two sets of balls could produce so much cream?
Scene.5: Flip-Flop Bubble-Butt Banging Session
That cutie, Pat Stevenson, is a devilish young thing - the sort of guy who obviously thinks nothing of interrupting a pair of rutting lovers, getting himself blown to ecstasy and then leaving to carry on with his duties. Which is pretty much what he does here, the dirty bastard! As for Mickey and Marc Dievo, the lovers in question, the escapade appears to do little but encourage them into hotter and hornier things. Abandoning their initial cock-sucking frenzy for some real butt-banging ass action. And like a couple of real professionals, they each take it in turn to ride cock - which in Dievo's case really is a sight to behold, laid out as he is with his gorgeous bubble-butt wracked high in the air. Little wonder that handsome Mickey produces arguably the cum-shot of the show in the process.
For more gay DVDs featuring The Visconti Triplets see also:
Additional Information
Categories: UK R18 / XXX Gay Adult
Running Time: 90 mins, Year: 2009
Price: Around £30*
Starring: Joey Visconti, Jason Visconti, Jimmy Visconti, Peter Shadow, Mickey, Jack Dragon, Brent Moon, Chris Sparrow, Claudio Antonelli, Marc Dievo, Pat Stevenson, Ricardo Sheppard
Director: Jozsef Budai
Studio: Elite Male
Buy DVDs online at: Simply-Adult.com
Gay Video on Demand: Elite Male, See also www.gayvod.co.uk
Visconti Triplets - Official website
Country: Hungary, Language: Hungarian with english subtitles
Additional info: No Regional Coding