Summary:
We've all heard about sex in the back of a car – but these biker-boys are going one stage further, as they push their machines (not to mention their asses!) to the point of no return for the ultimate sexual thrill! Cover-boy Mickey Taylor sets the wheels in motion, accompanied by pillion-passengers Will Sims, Tristan Wood and the ultimate dick-magnet, Billy Rubens. So get set for the ride of your life, as the best team on two tyres after the Hell's Angels unleashes a legion of dick and a cascade of spunk to help clean out your exhaust!
Scene 1: Hot, Horny Biker-Boys Get Their Exhausts All Greased Up & Ready To Pump
Starring: Paul Ryan and Jaye Electra
Also available: Brexit Fuckers (2 DVD Compilation)
Is there actually anyone alive who can resist the temptations of a man in a biker jacket? Well, not these two horny bastards, that's for sure, as Paul Ryan and Jaye Elektra team up in their leathers for a sensuous coupling of gas-guzzling, hyper-octane proportions! Their co-star – for want of a better term – is a deliriously hot two-wheeled silver beauty that acts as a magnificent backdrop to the energetic cock-sucking that both lads employ in the opening few minutes; but it's not too long before both lads are very clearly in the mood for something slightly more intimate and decidedly more explicit.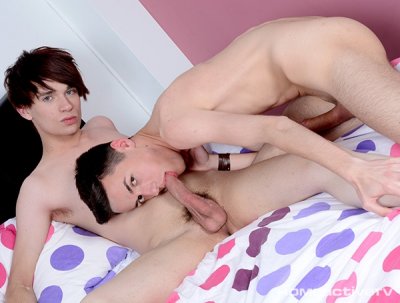 Hence the scene promptly switches away from the greasy confines of a bike workshop to the cleaner, plusher environment of a nearby bedroom, where both lads are free to take a less hasty attitude to their antics. Not that that should be construed as evidence of an inferior mindset from these two beauties. Far from it, in fact! Both guys are clearly keyed up to give the erotic performance of a lifetime; and, having engaged in a lengthy session of dick-sucking, the pair are shortly gearing up for the business-end of proceedings.
Hence Elektra is soon taking every solid inch of raw male flesh that Ryan can pound in his direction, working his own over-excited dick towards an inevitable crescendo in the process. For the bike may have disappeared but both these boys are still as horned-up as fuck, and it's no surprise that they should each end up busting their balls with the kind of full-on, top-notch gusto you'd expect from dirty-minded fuckers lads their age!
Scene 2: Repair-Shop Threesome Results In A Spit-Roasting, Nut-Wrenching, Cum-Firing Service!
Starring: Billy Rubens, Paul Ryan, Tristan Wood
Also available: Now That's What I Call Staxus 2 (2 DVD set)
We've all long-since grown accustomed to seeing Billy Rubens demonstrate his many "skills" on camera, but who'd have ever thought that one of those abilities included mechanics? A skill that he deftly puts to use here by servicing a motor-bike with the aid of a nut-wrench! As it happens, however – and as most of us who've watched this him in action prior to this point know – it's nuts of a very different nature that have always been his main interest; and the arrival of Paul Ryan and Tristan Wood quickly gives him the opportunity to hone in on that particular competence once again! Indeed, it's with characteristic flare that he has his dick out of his overalls quicker than you can go from nought-to-sixty!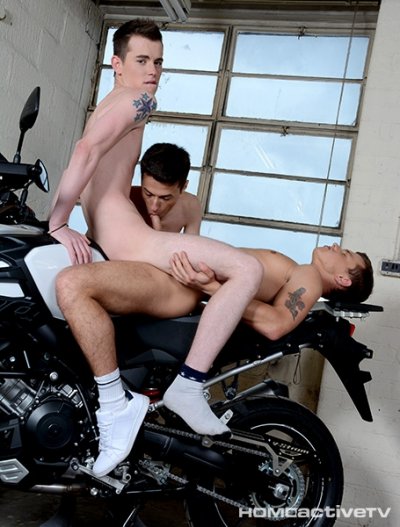 At which point young Wood is down on his knees to pay homage to that handsome phallus – as well as Ryan's aching manhood – with an eager, open-mouthed session that very clearly gets the entire trio firing on all cylinders. In fact, it's no time at all before Wood's been bundled forwards so that Rubens can take his hungry little ass from behind, whilst Ryan completes the spit-roasting from the other end!
Whereupon the threesome engage in a no-holds-barred display of ball-bustin' fun, which includes Rubens lying down on the bike so that Wood can have a ride on the machine like never before! Suffice it to say that the young bottom gets energetically shunted up the rear by both mates – ultimately resulting in him getting the spunk banged out of him, whilst Rubens dumps in his face and Ryan creams his rear for a garage-service that's out of this world!
Scene 3: Flip-Flopping Bikers Abandon Romance For A Ball-Bustin', Ass-Stretching Frenzy!
Starring: Mickey Taylor & Will Sims
Also available: Now's That's What I Call Staxus 5

Rightly or wrongly, bikers have a reputation for being hard-hitting, wild-living felons, who drive up and down the road network looking for trouble. But the truth is that even the wildest of biker boys – including members of the notorious Hell's Angels – have a softer side, and love nothing better than cuddling up on a sofa with a loved one. So when tattooed rogue, Mickey Taylor, arrives home to find Will Sims supping a beer on the couch, we shouldn't be too surprised that the boys are soon smooching away like a couple of love-birds.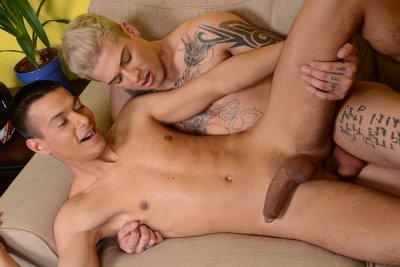 Not that the air of innocence lasts for very long, it must be said. Anyone who's seen Sims in action prior to this point knows that he's a lad who can't resist the temptation posed by a thick, swollen dick; and before you know it he has his face down in Taylor's crotch and is slurping away on the meaty offering that's nestled there! Not that Taylor's reputation for abstinence is any more convincing; and having returned the favour on his buddy's handsome ramrod, he's soon very eagerly prepping Sims' hungry little ass-hole with his tongue before finally thrusting his now rock-hard cock deep into the horny bitch's guts!
It's a rough, boisterous ride that follows; but it's one that's soon replicated in reverse, with the two lads flip-flopping positions (and asses!) in an energetic fuck-fiesta. As a result, any initial sense we had of romance between these boys is very quickly dispelled; culminating in a copious spray of spunk that's in keeping with the raw escapade!
Scene 4: Biker Boys Move Hard & Fast For A High-Revved Raw Fuck & A Very Full-On Facial!
Starring: Billy Rubens ands Jacob Daniels
Also available: Now That's What I Call Staxus 3 (2 DVD set)
Hey, we all know that bikers like to move fast – sometimes dangerously so – but Billy Rubens must be up for some kind of record at the start of this scene when he makes a move on young bottle-blond, Jacob Daniels. Why, the ever-horny Latvian has barely taken breath to sit down on his buddy's bed before he's slipping out of his leather jacket and smooching Daniels on the lips! Still, as any biker will tell you, there's no point hanging about – and before you know it he's openly fondling his mate's dick, before engaging in a very rigorous oral investigation of Daniels' most intimate quarters.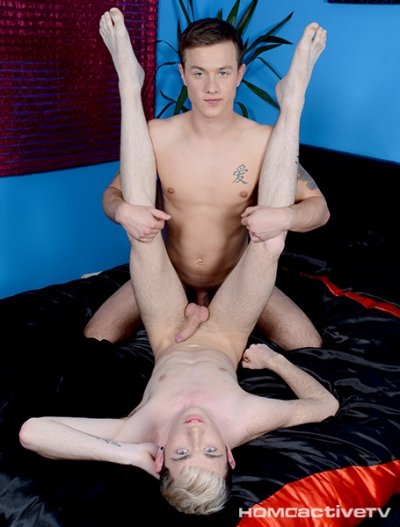 Unsurprisingly, it's a turn of events that very quickly has his mate feeling hyper-horny; and in no time at all the fresh-faced blond is eagerly returning the favour, feasting on Rubens' knob and (no doubt) getting all excited and wet at the prospect of enjoying the full length of that handsome and well-used phallus in his ass! A prospect that the youngster doesn't have to wait upon too long, it must be said. Not that that will come as any surprise given the speed with which Rubens made his initial move.
In fact, the guy from Riga is soon thrusting every inch of his dick deep inside Daniels' guts – a move that's clearly appreciated by the dirty-minded bottom, who then proceeds to savour a rigorous penetration in a whole succession of positions! And it's in keeping with the overall speed of proceedings that both lads are soon whipped up to a creamy crescendo; the highlight of which is almost unquestionably that of Rubens energetically creaming over Daniels' face!