Summary:
The ever-unresistable Brad Fitt takes the lead in this modern-day fable of love and loss, set in Slovakia against the backdrop of the Velvet Revolution and its aftermath. Too highbrow for gay porn? Don't worry, the inimitable talents of Justin Conway, Kris Wallace and a whole host of other cute, horny lads ensures that this is one chapter in history you'll want to replay over and over again. Big cocks, hungry asses and an almost unbelievable volume of spunk – not to mention director John Smith's eye for the downright sordid! – make this exactly the kind of ranch we'd all love to bed down in given half the chance.
Description / Review:

Scene 1: New Boy Gets His Arse Rimmed & Fucked Raw By A Horny Blond On A Park Bench!

Starring: Blake Hanson, Max Bishop
Also available: Eye Candy Films, Summer Affairs
Also available: Fucking Blonds (2 DVD compilation)
Young eagle-inked blond, Blake Hanson, has never been the kind of guy to turn down the attentions of a pretty face, so it's no surprise that his gun is distinctly primed when encountering new-boy Max Bishop on a park bench. Not that he dresses for the occasion, it must be said – a cowboy hat and the skimpiest pair of shorts imaginable are all he's wearing! – but of course that only makes it all the easier for Bishop to gain immediate access to the thick, veiny shaft that Hanson keeps stashed in his crotch!
And gain it he does – big style! Before you know it, Bishop's hungry lips are sliding up and down his pal's knob, feasting on all that hard flesh with the kind of gusto we love from our boys, and which is soon replicated by Hanson himself. But don't assume it's just cock-sucking that these two beauties are interested in. Soon Bishop is indulging in some rather enthusiastic tea-bagging, sucking on Hanson's low-hangers whilst laid out on the bench; before roles are reversed and Hanson returns the favour by eagerly rimming his mate's pucker.
No doubt about it, these lads are both as horny as fuck – a condition that's only confirmed when Hanson finally buries his dick deep into Bishop's ass-hole. What follows is a jizz-churnin', nad-bustin' fuckathon that sees the new guy banged in almost every conceivable position, and which only concludes when both lads spew copious quantities of pent-up boy-juice courtesy of mutual hand-jobs. Your own appreciative hand-job is nigh on guaranteed!
Scene 2: Outdoor Twink Reunion Sees Justin Conway Getting His Ass Stretched By His Biker Buddy!

Starring: Benjamin Dunn, Justin Conway
Also available: Open Air Sluts 3 (Compilation)
Benjamin Dunn and Justin Conway are almost the antipathy of each other. Dunn is tall and dark, and loves making tracks here, there and everywhere on his motor bike. Conway, in contrast, is blond and comparatively short, and is a fellow who enjoys nothing more than idling time away in his hammock. What, you may ask, could these two respective beauties have in common? The answer, of course, is fucking obvious – right from the very moment that Dunn whizzes into the scene on his two wheels and Conway jumps up to greet him with a firm hug and an even keener kiss.
Indeed, the manner with which these two beauties tear each other's clothes off pretty much confirms their mutual love of naked male flesh and raw hard cock – a penchant that is only underlined further as they take turns to trade blowjobs, before engaging in a sultry, rather energetic session of 69-ing on the grass! But matters only intensify when Conway lubes his lover's dick with spit and then proceeds to plonk his ass down on the thick, meaty member, riding the ass-splitting shaft like the veritable pro he's long-since become. It's a high-octane, explosive encounter from the very first thrust of Dunn's hips, interrupted on several occasions by Conway's desire to suck on his pal's knob; and concluded only when neither boy can hold back from the inevitable, resulting in a sticky, messy spray of pent-up ball-juice!
Scene 3: Horny Brad Fitt Gets His Ass Rimmed & Slammed By An Outdoor-Lovin' Muscle-Boy!
Starring: Brad Fitt, Rick Nielson
Also available: Eye Candy Films, Forbidden Games
Young Brad Fitt has always had a bit of reputation when it comes to handsome, buff guys, so it's no surprise at all when the lad goes all weak at the knees when confronted by the muscular Rick Nielson in the stables. Not that they exchange more than a chaste kiss amongst the horses; but believe us when we tell you that matters take on a much more intense, carnal nature once the two fellows have stepped outside.
Falling down to his knees on the grass, Fitt has his hungry lips wrapped tightly around his buddy's knob-head almost before Nielson appears to know what's happening, and it's no fucking wonder that the stud's eyes are soon rolling in appreciation of the dedicated oral workout that Fitt unleashes in his direction. Stirred up in response, Nielson is soon making up half of a breathtaking session of 69-ing in the sunshine; before the cute little twink (donning a ginger tone to his hair) enjoys one final slurp on the muscular adonis's dick, then gets down on all fours to part open his fuck-hole.
It's a truly explicit invitation – and, not surprisingly, it's one that his pal takes total advantage of, slamming his swollen ramrod straight into Fitt's eager pucker and giving the horny little bottom the kind of no-holds-barred ass-stretching that the lad probably dreams of most nights! It's certainly no surprise when he spews a delicious wad of jizz whilst riding Nielson's cock cowboy-style; before lapping at his buff buddy's erupting bell-end to mark a terrific finale to this superb scene!
Scene 4: Army Officer, Sven Laarson, Gets A Proper Milking From Horny Farmhand, Xander Hollis!

From: Sven Laarson, Xander Hollis
Also available: Eye Candy Films, Unbound Pleasure
There's a belief in some quarters that country boys are somehow naive and not adept at the ways of the world, but that sure as fuck doesn't come across here when farmhand, Xander Hollis, encounters army officer, Sven Laarson, in the stables. The reality is that the young dark-headed lad appears to know exactly what he wants from the fellow in uniform, and it's no time at all before he's got his dick out and pushing it down Laarson's throat.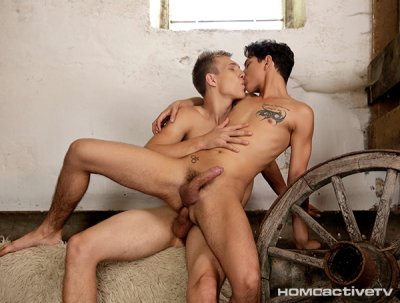 That, however, is but a little appetiser to his real intentions, and, having worked the soldier into a sense of high expectation, he's soon returning the compliment big style. Fact is that this is a boy who clearly loves cock and who will stop at nothing to enjoy every aspect of pleasure that all that hard flesh can provide him; so, having feasted on Laarson's dick big style and rimmed his ass, it's little wonder that he's soon puckering himself up for the fucking of a lifetime. Why, this boy can't wait to get the visitor's ramrod up his ass, and before you know it he's riding every inch of that monster like a total whore.
Cowboy-style, from behind, missionary ... this guy doesn't care so long as the dick in question is pounding away at his fuck-hole like there's no hope of tomorrow! No surprise that his own knob is soon squirting a generous spray of jizz in appreciation; before Laarson wraps the action up by blasting Hollis's cute little face in return. Kinky, hot, sweaty – this scene grabs you by the balls and doesn't let go till you've blown every last drop!
Scene 5: Boris Orla & Kris Wallace Get Embroiled In A Duel Of Red Raw Sperm Warfare!
Starring: Boris Orla, Kris Wallace
Also available: Young Dumb and Splattered in Cum Yet Again (6 scene compilation)
Army life can be extremely intense at times – after all, who's to say that you won't be gunned down by some enemy sniper at any moment? – so it's perhaps not too surprising that soldiers like to take whatever opportunity comes their way to express their carnal instincts. Which helps explain the antics of Boris Orla and Kris Wallace in this brilliant, open-air escapade – a pair of over-sexed conscripts who are soon putting their guns to one side in favour of weapons of a completely different (and far more appealing) nature.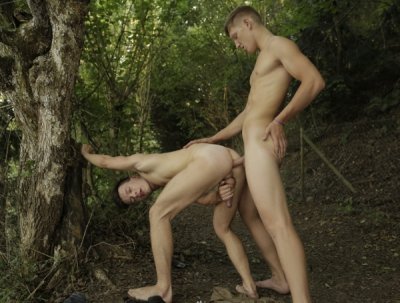 Fact is that neither of these beauties appear to show any hesitation when it comes to ripping off each other's clothes and feeding off each other's dicks. Nor does it take Orla long to literally lift his colleague off the ground, gently lay him down in the dirt and then promptly rim and subsequent fuck Wallace's hungry little hole for all that it's worth! What ensues is a magnificent display of man-on-man rutting that'll have you working your own hard meat like fury, with the cute Polish bottom-boy taking every stiff inch that Orla can muster like a veritable pro.
Then again, of course, we've seen enough of his lad already to know what he's capable of, and it certainly comes as no surprise when (having been reamed raw in a series of uncompromising positions) he finally spews his wad mid-fuck. A display that's only topped by the sight of Orla creaming all over Wallace's face barely a few moments later. As army recruitment goes, could the military do any better?