Summary:
Director, John Smith, takes his band of hot and horny cock lovers to Italy, for a blisteringly hot vacation that none of them (or you!) will ever forget. Not that the likes of Connor Levi, Brad Fitt or everyone's favourite stallion, Rudy Bodlak, ever get much chance to enjoy the sights and sounds of the Mediterranean. With so much poolside ass and dick on offer they're all far too busy sucking and fucking to venture far. Their loss, however, is most certainly your gain; as the horniest holiday of a lifetime turns these boys into Italian cum-crazed sluts!
Description / Review:
Scene 1: Connor Levi's Bareback Pool Adventure Proves Scorching Hot As He Sucks & Fucks Hunky Pal's Dick!
Starring: Rudy Bodlak and Connor Levi
Also available: Now That's What I Call Staxus 2 (2 DVD set)
If it's never occurred to you what a complete and utter slut young Connor Levi is, then now's the time to re-evaluate your perception. Faced with the vision of hunky Rudy Bodlak taking a dip in the pool during a summertime trip to Italy, the ever-rampant Brit boy just can't resist the urge to pull on his dick in voyeuristic appreciation. Not that anyone could possibly blame the guy.
Bodlak, after all, is built like a Greek god, with a magnificent cock and sac to match such an analogy. Who in their right mind wouldn't want to wank given such circumstances? But, of course, as we all know, a boy of Levi's disposition isn't ever gonna be content with a furtive hand-job. Nor is a fellow like Bodlak going to turn down the offer of a twink's pert ass to fuck. As such it's very much a marriage made in heaven, as the two chaps commence a heavy session of poolside cock-sucking and ass-rimming that'll have you jerking on your own rod in no time at all.
Don't nut too soon though. What follows is a truly terrific coupling that sees Bodlak give his twink-buddy the kind of raw, uncompromising buggering that a boy like Levi is crying out for, eagerly cementing the bottom as one of the hottest fucks around in the process. A reputation only enhanced yet further when he laps up Bodlak's wad as part of the post-fuck jinks, feasting on the hunk's jizz as if it were honey. No question, this is as fuckin' hot as it gets.
Scene 2: From Venice With Lust – Brad Fitt Gives His Blond Lover A Raw Table-Top Fucking!
Starring: Tim Walker and Brad Fitt
See also: Open Air Sluts 3 (2 DVD set)

Who could visit Venice and be unmoved by the raw romance of this amazing city? Not Tim Walker and Brad Fitt, that's for sure – having experienced the delights of the pearl of the Adriatic and enjoyed the pleasures of a fine Italian red wine together, the two boys decide to sign the day off by savouring a little carnal knowledge. And who the fuck can blame them?
Beginning with a gentle smooch, that very quickly unfolds into something much more passionate, with Fitt sucking his mate off over the table! Indeed, it's clear from the start of their encounter that this particular piece of dining furniture is going to be put to some very good use in this scene, as is highlighted when the lads engage in a superb session of 69-ing right across its length! And needless to say it also features as the basis for the ensuing fuck, when Fitt finally forces his meaty, uncut shaft deep inside Walker's pucker during what proves to be a very energetic, almost primeval session of open-air fornication.
The delicate line between pleasure and pain is clearly etched on every inch of Walker's face throughout. What's more, there's no disguising Fitt's relief when he finally spews all over his mate's butt-hole, or indeed any denying the chemistry between both guys in the lingering final kiss. Has sex in the sun – be it in Italy or elsewhere – ever been hotter?
Scene 3: Brad Fitt Gets Oodles Of Jizz In His Ass Thanks To A Balcony-Fuck From A Hot, Horny Stud!
Starring: Brad fitt and Rudy Bodlak
Also available: Bareback Rookies, Big and Hard

Is it just the Italian air or do Brad Fitt and Rudy Bodlak wake up feeling this horny every morning? Truth is it's probably a little bit of both – but there's no denying that both lads are as rampant as fuck in this truly unforgettable scene! The ever-spritely Fitt quickly kicks proceedings off by falling to his knees to give his buff mate's meaty shaft a clam-tight suck on their villa's balcony – a move that Bodlak is only too eager and willing to replicate in return.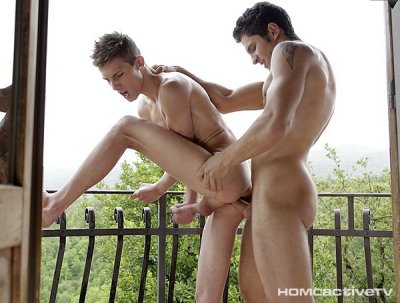 That said, it's clear early on that the muscular stud is eager for a hard piece of Fitt's pert ass; and having rimmed the fellow's hungry little pucker he's soon cradling the twink against the railings and giving his mate the kind of no-holds-barred fucking that the beauty deserves. What follows is an absolutely terrific open-air coupling that'll have you jerking on your dick like a being possessed, with Bodlak ably cementing his role as one of the top dogs in the biz at the (happy) expense of Fitt, who rides that handsome, upturned knob like a bitch on heat!
By the time Bodlak has quite literally buggered the lad in every possible position, Fitt's ass is gaping wide open; and it's only right and proper that the stud cums all over the now-overworked hole and then pushes the spunk deep inside. Then Fitt, now dripping with jizz, tosses himself off by means of a spectacular cum-volley. If all this doesn't cream you over the edge (several times!), then what the fuck will?
Scene 4: Horned-Up Blond Twink Quits His Music To Give Zac Todd The Suck & Fuck Of His Life!
Starring: Adrian Smallwood and Zac Todd
Also available: Now's That's What I Call Staxus 5

Adrian Smallwood loves his music and dreams of being a singer. But, as quickly becomes apparent when he realises that Zac Todd's in the room, he doesn't love it quite as much as he loves getting his cock sucked! Well let's face it, that's the only reasonable explanation that you can come to given the manner with which he tosses his music-player aside in the opening couple of minutes of this scorching little number.


Still, whilst the lad's singing voice is certainly not the worst that you've probably ever heard, we've a reasonable suspicion that it's not the part of him that you're keen to see exercised! As such, the immediate revelation of hard cocks from both lads will almost certainly be greeted with no small sense of relief from you, our ever-horny and demanding fans; and suffice it to say that we're extremely confident that what follows will not disappoint.


Both Todd and Smallwood are clearly well up for some intimate play, feasting on each other's dicks top-to-toe, before Smallwood eventually moves his attention to his mate's balls and ass-hole. It's a signal, of course, that both guys are more than eager and ready to copulate for your pleasure; and before you know it Todd's getting his gaping love-chute stretched in a succession of positions. It's no wonder then that he's soon literally getting the spunk banged out of him; before Smallwood calls it a wrap by spurting all over his pal's expectant face!
Scene 5: Connor Levi Solo