Summary:
Aussie sensation, Jaxon Radoc, leads the pack as a collection of the hottest, horniest athletes ever assembled gets on their marks for the fuck of their young lives. These boys just can't wait to be given their starters orders so that they kick off their running vests and begin the kind of full-on, no-holds-barred exercise routine that'll have you unzipping and jerking off in no time. By the time these young beauties have crossed the finished line you can rest assured they'll have given up every drop of hot teen cum in pursuit of racing glory!
Description / Review:

Scene 1: Terrific Outdoor Threesome As Horny Running Trio Take Turns To Take It Up The Ass!
Starring: Jaxon Radoc, Jake Zhang and Kamyk Walker
Also available: Now That's What I Call Staxus 3 (2 DVD set)
Cross-country running has always carried the risk of injury, so it's perhaps no surprise that Kamyk Walker comes a cropper whilst out on a run with Jaxon Radoc and Jake Zhang. What may come as a bit of an eye-opener, however, is the remedy that Radoc and Zhang adopt in the wake of such a mishap – as does the speed with which Walker recovers in response! All that said, would we ever expect anything different from these three horny beauties?
After all, these boys are as horny as fuck whatever they're up to, and the opportunity to indulge in a little carnal pleasure whilst exercising in the great outdoors is unsurprisingly grabbed with characteristic enthusiasm! Indeed, Walker is soon sucking on the cocks of both his running mates almost before he has chance to catch breath; before Radoc and Zhang return the wide-jawed compliment. By which point you'll probably be wondering who of these fair-faced wonders will be serving as the focal point for all the inevitable fucking that's clearly going to ensue.
It's a very reasonable question, of course, and one that yields a somewhat surprising answer. For having first enjoyed the sight of Radoc being spit-roasted by his buddies, we're soon savouring seeing both Zhang and Walker take turns as bottom – and it's a genuine conundrum as to which lad warrants the greatest acclaim. So pick your personal favourite; then relish Walker being splattered in the face twice, prior to knocking out his own hefty wad of pent-up teen-cream!
Scene 2: Horny Twinks Head For The Woods For A Raw, Uncompromising Suck & Fuck!
Starring: Ethan White and Rhys Casey
See also: Open Air Sluts 3 (2 DVD set)
If you go down to the woods today, as the song says, you're sure of a big surprise. Except in this instance it's not so much teddy bears enjoying a picnic that you're gonna be seeing as hot, horny twinks in full rut! Ethan White and Rhys Casey head for the wild outdoors for a forage amongst the trees, but needless to report it's not the flora and fauna they're interested in. Rather it's each other's meaty, uncut dicks that are the focal point for all their attention, as they quickly make the most of the opportunity to take turns in sucking cock like a pair of randy vixens on heat.
For young blond, Rhys Casey, however, that's clearly never, ever going to be enough to dampen his sexual ardour. He won't be content until his hungry ring is being given the stretching of a lifetime, and it finally comes as some relief when his mate eventually bundles him against a tree and thrusts every hard inch in his arsenal into that pert little butt. From which point Casey proceeds to ride dick like the veritable pro he obviously is, eventually sitting on White's lap and allowing his rump to savour the feeling of being filled to the max.
Given the intensity of the encounter, it's not exactly surprising that it doesn't take long for Casey to quite literally have the jizz banged out of him; before the youngster gets down on his knees and allows White to fire the entire contents of his nads all over his sweet, expectant face!
Scene 3: Daniel Prince Gives Jaden Fox More Than Just A Massage!
Cast: Jaden Fox, Daniel Prince
Also available: Fucking Blonds (2 DVD Compilation)
Blond beauty, Jaden Fox, is feeling rather stiff – and not just in his crotch! It's a good job, therefore, that he has the healing hands of Daniel Prince to help soothe his troubled back; though it has to be said that it's not long before the young, dark-headed masseur is turning his attention instead to what Fox has stashed in his jockstrap. At which point – as if by magic – Fox's back problems are quickly forgotten and the whole escapade takes on a much more carnal aspect.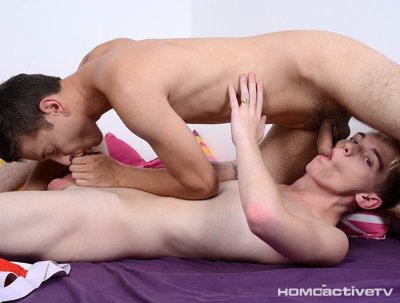 Still, what else would you fuckin' expect from these two over-sexed cuties? It goes without saying, of course, that the removal of Fox's pants – and the revelation of the lad's hairless groin – signals the start of a sensuous session of dick-crazed fellatio, with both boys exchanging slurps on each other's cocks; before Prince cajoles Fox onto the floor and rims his mate's tight little pucker for all that it's worth in anticipation of the red-raw fucking that he's now clearly got planned. And Fox doesn't have to wait long for the plan to become hard reality!
Before the fellow seems to know it, his ass is playing host to every swollen inch of Prince's knob – something that he enjoys so much that it's no time at all before he's sat on his pal's dick and riding it like a bitch on heat! Little wonder that the guy is soon on the brink of ecstasy, jerking out a heavy wad of jizz. But it's the sight of Prince squirting over Fox's face that serves as the ultimate boon!
4: Horny Cross-Country Runners Stop Off For A Hot Flip-Flop Fuck In The Open!
Starring: Blake Hanson and Lewis Taylor
Also available: Brexit Fuckers (2 DVD Compilation)

As pretty much everyone knows, regular exercise can help reduce stress and increase life-expectancy, so it's arguably in their own self-interest that Blake Hanson and Lewis Taylor take the time to enjoy a run together in the local woods. Of course, even the briefest of glances at this pair of handsome dudes should be enough to suggest that they probably get more than enough aerobic activity when they're alone together in the bedroom, but when you're this young and this horny the urge for sex can take you whenever and wherever and you simply have to go with the flow.
That's certainly the attitude that these two beauties adopt as they quickly disembark from their clothes in broad daylight and begin to feast on each other's dicks. It's almost as if they don't care who might stumble upon them so long as they get their share of raw sex; and before you know it Taylor is being taken from behind courtesy of Blake's meaty, uncut love-rod. Unwilling to miss out, Blake is soon on the receiving end of an equally demonstrative fucking, riding his mate's knob with unquestionable gusto and totally without shame.
No doubt about it, these are two of the most brazen cock-fiends you're ever likely to see; and by the time they're both taking turns to unload generous wads of jizz over each other there's every good chance that you'll have ruptured an equally fine squirt of ball-batter in appreciation. Sex in the open has rarely looked so totally uninhibited as between these raw fuckers!