Summary:
It was the ancient Spartans who first advocated the idea that an army of soldiers who were lovers was a better fighting force than your typical everyday militia – a notion that director John Smith is clearly keen to explore with the assistance of the likes of Rudy Valentino, Marty Love and Zack Hood. New recruits Justin Conway and Rudy Bodlak are soon discovering what this unique philosophy entails, as their pert twink asses are stretched to the limit by some of the hottest recruits in the ranks. The result? Oodles of hot Czech jizz from the boys in khaki that'll have you tossing off volley after pent-up volley...
Description / Review:

Scene 1: Rookie Gets Measured For Hard, Outside Fuck By Horny Officer!
Starring Kevin Ateah and Rudy Valentino
See also: Open Air Sluts 3 (2 DVD set)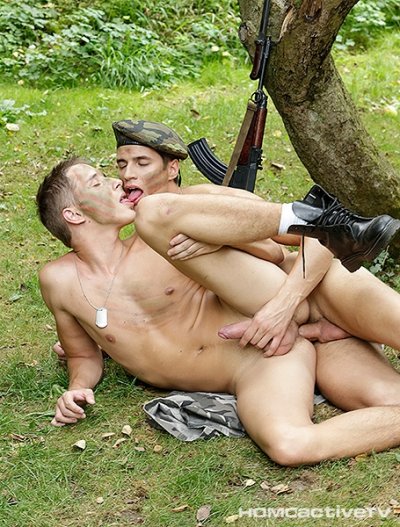 Taking the inside-leg measurements of young army rookies is surely everyone's idea of a dream job – especially when the cadet in question is horny Czech twink, Kevin Ateah. So it's not surprising that officer Rudy Valentino makes the very most of his position within the ranks, recording the dimensions with utmost care and attention. Valentino's keenest regard, however, is unquestionably for Ateah's crotch – and it's not long before the fellow has pulled the newbie's stiff cock from his khakis and is providing the thick, pulsing shaft with the kind of attention that such a beauty deserves. The action then immediately continues outside, with both boys exchanging sensuous blow-jobs on each other's ramrods; before Valentino takes Ateah across to the officer's bunks for the fucking of his young life. The sight of Ateah with his booted feet in the air whilst Valentino pummels his ass with raw cock is one that we just know is gonna get you jerking off big-time. As will that of seeing the lad subsequently fire a huge wad of jizz in the process! But arguably it's Valentino spurting over Ateah's ass and then shoving his cock back inside that serves as the scene's crowning glory!

Scene 2: A Tight Hungry Ass
Cast: Jude Finch, Rudy Bodlak
Also available: Khaki Cummers (6 Scene Compilation)
It's no fucking wonder that young Jude Finch watches Rudy Bodlak taking a shower with a distinct twinkle in his eye and a whole stack of wood in his crotch – after all, there's simply no mistaking the fact that Bodlak is one hell of a sexy guy, with his fine physique, tribal tattoo and the kind of ass-straining uncut cock that'd get even the dullest of libidos into a fine lather!
Indeed, it's pretty clear from the off that Finch has only one objective in mind in this scene, namely to give that said shaft a real good ride, and it's with a distinctly provocative air that he welcomes his pal from the shower-room and proceeds to give him the kind of blow-job that wet dreams are made of. In return, Bodlak is soon spreading Finch's muscular legs apart and ramming his raw knob deep inside the fellow's guts.
Cue a stupendous set-piece of animalistic rutting that sees Finch take every bare inch that his brother-in-arms can thrust his way and which will leave you (we're quite sure) desperate for more! A sentiment shared by Finch himself – if his fabulous, pumped-up cum-shot is anything to go by. In short, if you haven't spunked by close-of-play then maybe porn's not for you!

Scene 3: Three Horned-Up Recruits Enjoy A Double-Cocked Raw Fuck!
Cast: Rudy Valentino, Marty Love, Justin Conway
Also available: Spunk-Lovin' Spit Roasters 2 Compilation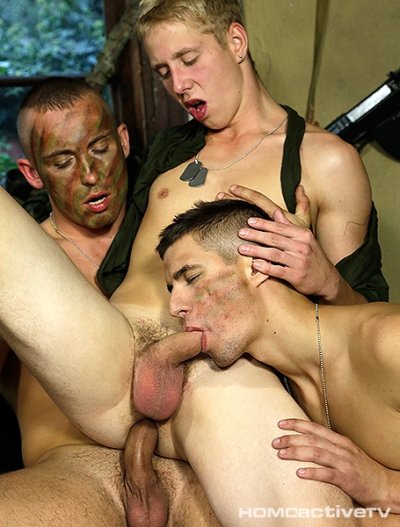 Life in the army can sure be exciting – as Rudy Valentino and Marty Love discover when they're out on patrol in the Czech countryside. Content to take it easy with a cigarette, they suddenly become aware of the unwelcome antics of young Justin Conway, donning a balaclava and clearly up to no good. After a brief but dramatic chase, they then bundle the blond newcomer into a nearby office, where (you've guessed it) the two tops proceed with a very thorough and exacting investigation. It's the kind of investigation that horny bottoms around the world have wet dreams about, as Conway is pushed and pulled in every direction whilst Love and Valentino take turns to force their hard, uncut cocks down his throat. It's pretty obvious, however, given the reputation of the two studs, that a good old-fashioned spit-roasting is on the cards for the kid, who's laid down on his back over a table whilst the two army guys take turns to fuck him raw. But the highlight of proceedings comes when Conway sits himself down on Love's hard chopper cowboy-style. Little wonder that Valentino spurts like a whale in appreciation; before Love dumps his load all over Conway's face!

Scene 4: Cute Blond Twink Gets The Raw Fucking Of His Life From Muscle God!
Cast: Brad Fitt, Zack Hood
Also available: Fucking Blonds (2 DVD compilation)
He might not be quite as young as he was, but there's no questioning the fact that Zack Hood is still very much a major player in front of the camera, with the kind of physique that most of us would surely die for. Certainly Brad Fitt, a horny blond twink, finds himself completely overawed by Hood's overbearing personality, immediately falling into line the moment that Hood barks his orders and pushes the sweet, pert beauty into a session of sweaty, hard-hitting exercises.
It's at this point that you first begin to recognise and appreciate the contrast between these two guys, with Fitt proving as delicate and fresh-faced as Hood is robust and thick-set; and we defy anyone not to be overcome by the sight of Hood pushing his partner onto the bonnet of his jeep so that he can rim the boy's hungry, hairless pucker.
Needless to say it isn't at all long before Hood's tongue has been replaced by his thick, raw bell-end, signalling the start of a stupendous session of outdoor fornication that ultimately sees Fitt spurting like a geyser mid-fuck and Hood squirting merrily over the twink's pretty face. If all that doesn't get you pumping a load of hot jizz then we don't know what will!