Summary:
Cute twink Jason is staying in a gay hotel and hoping to find some action. Little does he know one Saturday afternoon in the hotel bar will turn into the fantasy of his life as five hot rough lads have their way with him right in the bar!
Description / Review:
Imagine the scene. Director, Michael Burling, decides to bring together a group of mega-horny youths for a whole day of hardcore fornication with one unrepentant man-slut. Advertisements in the UK press bring an array of applications, of which the most promising five are eventually gathered together in a local bar and told to do their worst on the young whore's hungry arse! An invitation that all of them grab with the kind of gusto you'd expect from boys their age, and the results of which we know you're gonna love big time!
Needless to say this isn't the kind of escapade that will appeal to anyone looking for something with a romantic lilt. With two of the guys sucking each other's faces off in the bar's toilets and the other four dudes putting the venue's furniture to imaginative use, this is a decidedly brusque foray into the antics of Generation Sex. Indeed, it's not very long at all before the initial encounters have been transformed into a succession of hardcore cock-sucking gambits.
It almost goes without saying – although it won't go un-noted – that all of the lads featured are sporting the kind of engorged boners that one comes to expect in a movie of this nature, and indeed there isn't one of them that you wouldn't mind finding tucked up in your bed at the end of a long, tiring day. Thick, meaty, totally uncut shafts bound from the screen with gay abandon, and it seems little wonder that every boy there is soon slurping away on hard flesh.
Having feasted on one another's dicks, the central orgy then ensues when all six lads are finally together in the bar – each eager for the kind of scorching ass action that'll have you reaching for the remote and a big box of tissues! A nearby snooker table is put to very good use; whilst cock after cock brutally spit-roasts the over-exuberant bottom, leaving little to the imagination in the process. It can only end in one thing, it seems – and so it proves as the twink is finally thrust to the floor and encircled by five of the crazies dick-hounds going!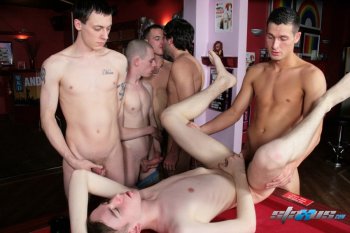 By the time every sac in the room has been well and truly unburdened – as it happens, all over the young pup's face and chest! – we have every reason to expect that you horny fuckers will have replicated the spunk-fest several times over. After all, let's face it, what more provocative sight can there be than having five beefy, thick-veined knobs spurting over a cute, expectant face? Okay, maybe six cocks – but maybe that's just a thought we can leave with director Burling as he considers the possibility of a suitable sequel to this catalogue of filth and debauchery.
In short then, it's a must-see for anyone who's ever fantasised about being done over by a gang of over-sexed scallies or who just likes to watch the underclass as it quite literally fucks itself! With some of the hottest na'er-do-wells on the circuit and a director who clearly doesn't want to miss a second of the cum-splattered, spring-time frolics, this is exactly the kind of unadulterated filth that'll fit nicely into the collection of porn aficionados young and old. Fingers crossed for a return rematch – Everyone Does Jason Again! anyone? – though judging from the action that the young fellow's rump sees here it's hard not to conclude that the runt's instinct will be to avoid a quick repeat.