Summary:
Hannibal still can't help himself! He loves eating hot twink dick and ass - and then butchers them!! How many twinks must die before he's caught? Prepare yourself for the continuation of the most exciting and terrifying big-cock-humping, hot-waxing, bondage-fucking, piss slurping murder-fest of your life!
Description / Review:


Scene 1: Denis Reed, Mike Cage
With Hannibal now firmly under lock and key, awaiting trial, detective Denis Reed decides to make it his life's mission to investigate every possible avenue in the quest for evidence against Nicolas Cruz – which in this instance means hauling young Mike Cage into his office to give the lad a real hard interrogation. No point in wasting time asking questions though. Instead, Reed quickly whips out his thick, uncut cock and thrusts it straight down Cage's throat.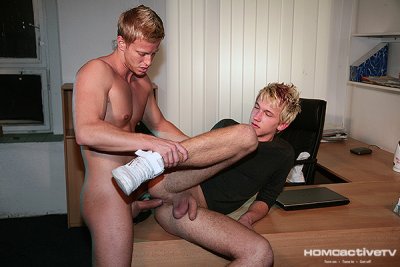 It's a sight that's gonna get all you blond fans into a real frenzy; and the excitement will only increase when Reed turns his attention to Cage's ass and pushes every single hard inch through the poor lad's ring! With the inspector eager to make sure that his "investigation" stretches his subject to the limit, he proceeds to dump a really generous load of jizz all over Cage's innocent-looking face; then gives the lad a good old-fashioned fisting to help unburden those young, tight balls for your pleasure!

Scene 2: Extremely Cute Young Face
Cast: Marty Love, Tod Garner & Jon Roz
Also available: Fuck 'Em Till it Hurts (2 DVD Compilation)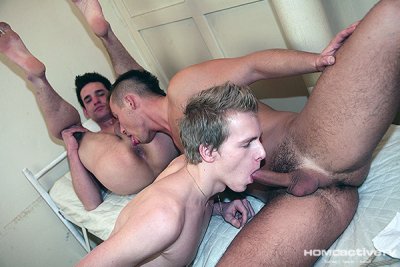 Prison's not usually the first place you think of when you imagine nice places to be, so it's little wonder that young Tod Garner's something of an unhappy soul at being incarcerated with fellow felon, Jon Roz. The arrival of prison guard, Marty Love, however, soon seems to bring the fellow out of his depression – and no small wonder because Love is a pretty gorgeous officer to say the least. So after a little arse-thrashing play on Roz, it's a case of the two twinks getting down to satisfy the rather amorous Love, who (if truth be known) can't wait to get his thick raw shaft deep inside Garner's tight little hole. An ambition he achieves with somewhat remarkable ease, and which leaves Roz yearning for a slice of the action himself. So it is that we're soon treated to the sight of Garner bouncing up and down on his cell-mate's shaft, whilst Love blasts arguably the finest bolt of cum you'll ever see all over the twink's extremely cute young face! All concluded with oodles of piss for an undeniably kinky finale.
Scene 3: Nicholas Cruz, Nick Gill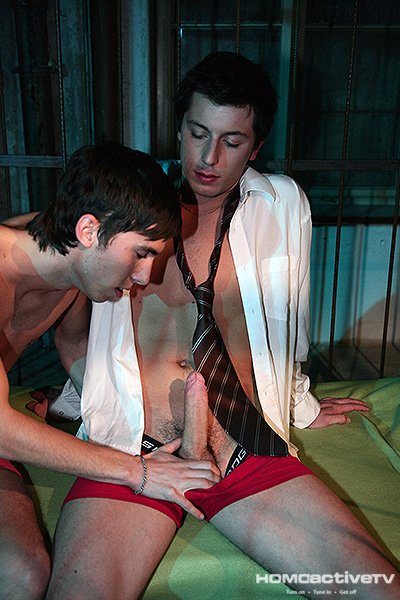 He may be behind bars, but Hannibal can still fuck with your mind – not to mention your ass! – as young guard, Nick Gill, discovers to his cost. Charged with the job of keeping the fellow under lock and key, it's not long before Gill is completely transfixed by the site of Nicolas Cruz laid out on his bed having a wank! Seconds later and the officer is jerking on his own shaft and fantasising about what it would be like to unlock the cell door. Cue a superb, ball-tingling session of cock-sucking, 69-ing and raw flip-flop fucking that'll have you tugging on your own knob-end in much the same mesmerised state! The actual climaxes to the action, however, come once the daydream is complete; as Cruz responds to his captor's reactions by thrusting his stiff, aching shaft through the bars so that Gill can take Hannibal's pent-up load on his face – a favour that Gill is only too eager to return. It's an incredibly sexy and unforgettably hot conclusion; and one that the warden doesn't live long enough to regret!

Scene 4: Nick Deniels, Luis Bigdog, Marty Love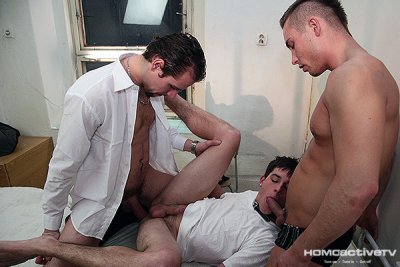 The abuse of power and authority has always had a certain hold upon the imaginations of producers of gay porn – and so it proves once again here, with a fabulous threesome courtesy of police officers, Luis Bigdog and Marty Love, and young Nick Deniels, who in this instance is strapped into a straightjacket and completely helpless when it comes to the task of fighting off their unwanted attentions. Bigdog begins proceedings – his aim clearly being to get his swollen cock imbedded into Deniels's ass as quickly as possible! – but it's not until the gorgeous Love enters the cell that the abuse reaches fever-pitch. Before Deniels knows what's happened he's being relentlessly spit-roasted by these two fellows, who flip-flop him around time and time again in pursuit of their own sexual high. Not that he seems to seriously object to their attentions, spurting over his own belly in the course of proceedings and then taking Bigdog's wad in the face and Love's load up the ass! Given the level of abuse portrayed it should all feel very wrong, but the sight of jizz dripping everywhere is hot, hot, hot!!!

Scene 5: Pavel Lindr (Daniel Wood), Nicolas Cruz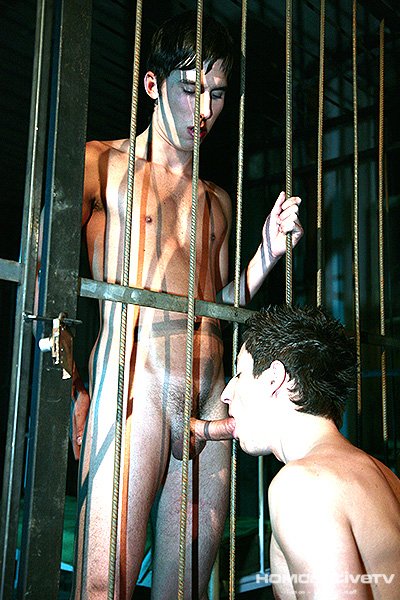 The authorities should have known better, of course – after all, Daniel Wood has never been known to be the sort of guy who can shun the attentions of an attractive, horny stud, and leaving him in sole custody of Nicolas Cruz, aka Hannibal, was always gonna be asking for trouble. But leave him they do – and before you know it Cruz is making all the advances, stripping off Wood's crisp white shirt and reaching for his swelling crotch! Indeed, before the guard really knows what's happened, Cruz is down on his knees giving Wood's already thick, aching shaft the suck of its life – the very last, as it so happens! Not that Wood has care for anything by the time Hannibal is rimming his pert little ass, save how he's gonna get Cruz's dick inside him through the cell bars – a task he ultimately achieves with remarkable ease. Little wonder the fellow's soon dumping a huge, sticky load over the floor; leaving Cruz to cream his ass-hole, before proceeding to strangle his captor and make his escape.
Additional Information
Categories: UK R18 / XXX Gay Adult, Download Gay DVDs
Running Time: 97 mins, Year: 2011
Price: From around £15*
Starring: Luis Bigdog, Mike Cage, Nicolas Cruz, Nick Deniels, Tod Garner, Nick Gill, Marty Love, Denis Reed, Jon Roz, Daniel Wood
Director: Vlado Iresch
Studio: Staxus
Buy DVDs online at: Homoactive, Simply-Adult.com and Radvideo (USA)
Downloads on Homactive: Staxus Titles
Gay Video On Demand: Staxus, See also: www.gayvod.co.uk
Download: Staxus
Member site: Staxus.com
Member site: Staxus.com
Country: UK, Language: English
Additional info: No Regional Coding