Summary:
They should be studying hard and trying to make the most of their education, but it's hard to put an old head on young shoulders – especially when the lads in question only have cock on their minds! Indeed, any thought of stretching the old grey matter is forever eclipsed by the idea of stretching tight, hungry arse. So get ready to enrol with Jaro Stone, Mickey Rush, Tony Conrad and hot new pupil, Roman Black, for the STAXUS Baccalaureate - a top-notch qualification of achingly stiff cock action, topped off with oodles of hot spunk!
Description / Review:

Scene 1: Dirty Little Bath-Time Buddies Get Coated In Oodles Of Spunk!
Cast: Alessandro Katz, Bjorn Nykvist
Alessandro Katz learns the dangers – or maybe that should be the benefits? – of trying to study whilst taking a piss in this terrific set-piece, which sees the ever-popular Bjorn Nykvist inviting the lad to take a shower with him when Katz makes a bit of a mess of the bathroom as a result. It's not rocket science to understand what Nykvist's motives are, of course – these are a couple of hyper-horny lads in their prime, after all! – and within a few moments of Katz stepping into the bath his mate is taking full advantage of the situation by soaping the fellow down in all his most intimate places.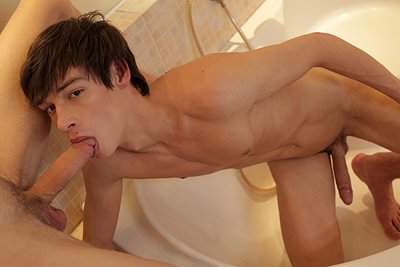 Of course it has to be said that just the sight of these two handsome beauties as they play with each other in the water is almost enough to get the majority of us into quite a lather – excuse the pun! But the temperature is set to get pushed even higher when Nykvist falls to his knees and proceeds to gobble eagerly away on his mate's oversized schlong – a move that Katz is only too eager to replicate a few moments later.
Nykvist's efforts to secure his pal's presence in the bath weren't designed to get him just a blow-job, however. No, this is a boy who wants Katz to seriously focus on that hungry little pucker of his – and suffice it to say that he's not left disappointed! Before long Katz is thrusting that mighty sword of his deep into the fellow's guts – at first on the side of the bath, then down on the bathroom floor; which not surprisingly soon results in both guys producing such a furious volley of spunk that another dip in the water (and maybe another fuck!) cannot be ruled out!
Scene 2: Horny Twink Hits The Glass Ceiling With His Flip-Flopping Buddy!
Cast: Bjorn Nykvist, Mike Cole
Also available: Flip Flopping Fuckers 2 (Compilation)
Pity young Mike Cole. He really is trying his damn hardest to study, but all to no avail. Fact is there's just too many distractions to keep his head in his book – as opposed to his hand in his pants! – not least of all the African statuette with a big, black dick. Valiantly he decides to take a piss and a shower in one final bid to maintain his resolve – only to find himself promptly interrupted by none other than his good buddy, Bjorn Nykvist. At which point, of course, any remaining hope of maintaining his resolve is finally destroyed.
That said, having clearly abandoned himself to a much-needed session of carnal debauchery, he gives in to his urges in a very big way; diving down onto his knees so that he can suck the very life out of Nykvist's handsome ramrod. It's the kind of reception that surely anyone would appreciate – Nykvist arguably more than most – and it will no doubt come as any surprise to see that the handsome blond is very quickly returning the favour by eagerly rimming Cole's hairless little pucker. That move is but a prelude to the main feast, of course; with Nykvist taking full advantage to slam every inch of his thick, meaty salami straight into the Spaniard's hungry fuck-hole.
Cue a stupendous, no-holds-barred flip-flop session that sees both lads take dick like they were fucking born to, and which makes the most of the plush surroundings – not least of all the section of glass floor. All of which soon results in Nykvist blowing mid-fuck; and Cole hosing his buddy's ass with such a tidal-wave of boy-batter that the clip has to be re-wound to watch it all again!
Scene 3: Delirious College Boy Gets An Sticky Arse-Load Of Cock & Cum!
Cast: Vitali Kutcher, Will Banks
Vitali Kutcher has been studying just that little bit too hard, it seems. With his head in a book, he drifts into what can only be described as some hideous, surrealistic nightmare; before being rescued from his subconscious terrors by none other than Will Banks, who immediately comforts the boy with a hearty hug and kiss. It's a move that quickly meets with Kutcher's approval; and in just a few moments the two lads are smooching away with real gusto. Indeed, any fretfulness that the young student was experiencing at the beginning of the scene is quickly forgotten; as Banks removes his shirt, and Vitali responds by promptly diving into his mate's jocks so that he can feast on the handsome roll of meat that's nestling inside.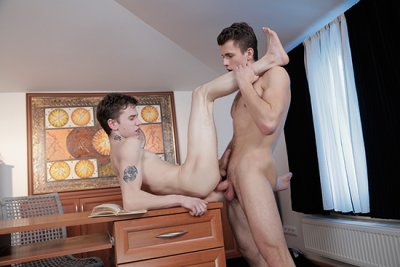 It's a bold move that a fuzzy stud of Banks's proud calibre is bound to replicate, of course; and so it proves, with the manly beauty taking full advantage of the situation to slurp on his mate's salami, prior to eagerly rimming the boy's arse and finally slamming every inch of his own thick sausage deep into Kutcher's guts. What's more, the cock-hungry pup takes it all like a professional slut, pushed up against a table whilst moaning and groaning for all he's worth.
Given the warm reception that his dick receives, it's little great wonder that Banks is quickly brought to the point of no return; with director John Smith beautifully capturing the moment that the young twink gets his hole creamed with a torrent of hot jizz. Kneeling to gobble at the spent dick, Banks finishes things off nicely by jerking his own creamy wad across the floor!
Scene 4: Student Life Proves Its Ball-Busting Best For These Hot Buddies!
Cast: Chad Johnstone, Mike Cole
Also available: Long Schlongs (6 Scene Compilation)
University life isn't all about drinking, socialising and having sex. If adopted in a serious way it presents a young person with fabulous opportunities in return for a period of really hard work – and clearly Chad Johnstone is determined to be as studious as possible, given the fact that he's reading text books in bed rather than just idling the time away. Unfortunately, Mike Cole – whose commitment to the scholarly life is self-evidently more questionable – has other ideas.
That's good news for those of us who want to see this pair of handsome young college boys rut like a couple of animals, however; and suffice it to report that it doesn't take very long before their relatively innocent smooching has been eclipsed by a mindless desire to slurp on each other's hard cocks. By which point, of course, any thought of cerebral exercise on the part of Johnstone has no doubt been totally erased from his memory; as the ever-horny student pushes Cole onto his side and thrusts that thick, meaty schlong of his deep into his mate's tight little fuck-hole.
From which point onwards, of course, the handsome Spaniard is like a dog in season; getting into a succession of positions for his long-dicked buddy so that he can savour every sweet inch of rock-hard man-meat to the max! No fucking wonder that his pucker is soon gaping wide open in response; and that his own shaft is soon yielding a fine wad of hot cream as he rides Johnstone like the total bitch we all know he is. Leaving the lad the final pleasure of stretching his mouth to breaking point, as he blows his mate to a much-deserved climax!