Summary:
Using BOTH hands we gathered together our freshest, most gigantically gifted talent and packed this dick dripper till it's absolutely overflowing! These beautiful young carefree cocks are raw, hand picked and perfectly pieced together with amazing asses. They deliver dick fast and hard to every tight hungry twink ass in their path. Nothing is left unexplored OR unplowed as memories are burned AND buried deep and RAW into these smooth, smoldering cock connoisseurs.
Scene 1: Something In Mind
Grayson Lange & Sam Truitt are two strapping, red-blooded boys who, like most of us, occasionally get riled up & downright randy after a long dry spell. The attraction is instant and the two twinks share a mutual urge to find the nearest place, or in this case, tree available. After a brief embrace, Grayson drops to his knees to service Sam and his long, half hard cock. Sam is beyond pleased by the opening suck session and pulls up the sexy stranger to check out his backside. By now it's clear that this is a meeting that deserves a more comfortable setting to slip into. Once inside Grayson's apartment, the clothes begin to come off as the two engage in some hot & heavy flip-sucking before Sam's craving for booty takes over and he buries his tongue into his new friend's perfect little behind. He devours the delicious derriere before young Grayson can no longer wait and turns to the big boy to make his needs known. Don't miss a minute of this beautiful & exciting bareback booty call and find out just exactly what these two hot & horny hotties have in mind.
Scene 2. Selfie Seduction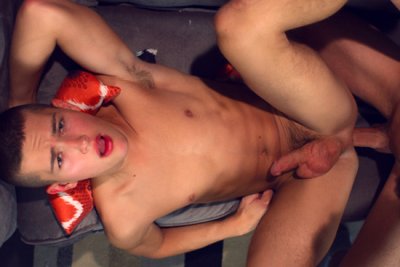 Self assured and cock sure Sean Ford is super sexy and he knows it! Getting hot and bothered snapping a few selfies, Aiden Garcia saunters up behind him to join in on the self love. "If you ain't gonna love yourself, how in the hell you gonna love somebody else?!" And love each other they DO! Aggressive Garcia orders the golden boy to bend over immediately for an up close ass inspection. Using only his spit after a tongue punching taste test of Sean's neither regions, Aiden plunges his perfect pecker all the way up in Sean's bangin' back seat. Sean sends shivers up Aiden's spine as he taste tests his own ass from Garcia's giant jackhammer. Super HOT! Open and ready, Sean sits right down on Aiden's bare boner and rides that horse dick like a jockey at the Kentucky Derby! Needing to dig a bit deeper Aiden flips Ford on his back and plunges away until both boys bust! Aiden's horse cock crosses the finish delivering a huge cream pie photo finish to Mr. Ford. Definitely deserving of a blue ribbon!
Scene 3: Perfect Fit
Calvin & Logan couldn't keep their hands off of each other. From fondling to fingering, Calvin Banks wanted his bottom so bad that he followed Logan Cross into the bathroom in order to get his balls rolling. Back in the bedroom, loud & wet lip-suckling lead to brief muscle worship before Logan's longing for Calvin's cock could no longer be postponed. The sword swallowing was beautiful from first taste to hands-and-knees finger & face fucking and when he was ready return the favor, Banks made sensual mouth love to the rock hard member & sweet hole of his young twink bed-buddy. Don't miss a minute of the raw-dogging dick down and more as the great fit of Calvin Banks & Logan Cross cross paths again.
Scene 4: Takin' It Raw
Logan Cross is one lucky boy! One of the hottest guys on the Helix roster, Ryan Bailey is giving every inch of his full attention to this rippling, tight assed twink!
The boys both get riled up as Ryan tastes every square inch of Logan's tight torso before they each swallow one another whole with some serious deep throat action. Ever the perfect top, Bailey then buries his face in Logan's beautiful bubble butt. He knows to prepare his work area for the serious raw dicking the kids about to get.
Bearing down and holding on to a chair, Logan braces himself for for Ryans righteous, condom free cock! Taking the kid on a tour of multiple positions, Ryan realizes this isn't Logan's first time at the rodeo so he spices it up a bit with a reach-around. Its always good to know your friends are willing to lend a hand. Cock crazy Cross cant get enough so he ads an extra finger or two of his own. The kids got skills!
After Cross creams, Bailey soon follows and blasts the boy right in his pie hole. Lusty Logan lunges down on the piece once more, sucking out every last drop. Yum.
Scene 5: Big Dick Playdate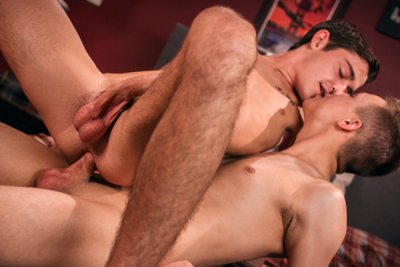 Rough housing with a lil' game of slap & tickle up in their room as young guys tend to do, Grayson Lange and Jacob Dixon let their hormones get the best of them. What started out as innocent horsing around between two young buddies quickly goes from zero to full throttle, pedal to the metal fuck fest! Dixon took a small 2 year break from porn but the boy is DEFINITELY making up for lost time! He inhales Grayson's huge hog with a look on his face that says, "damn I've missed this!" Grayson has of course heard talk around the studio of Jacob's legendary lengthy loin and can not wait to see for himself! Like a kid on Christmas morning, he unwraps Dixon's package and sees for himself this kid is definitely gifted. Smiling like it's his birthday Lange lavishes love on the length as well as Jacob's low hangers. Mr. Dixon orders the boy to "give me that ass." Grayson sits right down on Jacob's face and gets spread apart and eaten like groceries. Dripping wet and open for receiving, Lange lays his ass right on top of Jacob's big bare back giant and gets the ride of his life! Once he gets Lange and his back and legs in the air Jacob is able to jam his entire DIXON! This kids cock is LONG and Lange loves every long lick, letting out lustful moans for more. Lang launches long spurts of liquid love. They cover his toned stomach and run through the cuts in his six pack like several sexy rives of raunchy goodness. The sight of that (and Lange's ass clenching as he cums) is about all Jacob can take! He pulls out to drench Lange's ass with a thick pure white appreciation.
Scene 6: Here Cums Corbin Corby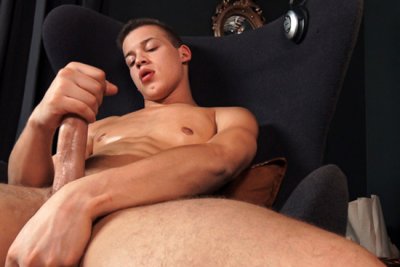 Finding a masculine pretty boy is like finding a big horned unicorn. Thankfully multi-talented actor/director Max Carter is a bit of a bloodhound when it comes to cock. Uncut, oiled up and manly in a big beautiful way, we present Corbin Colby. Corbin has a youthful cocky confidence mixed with manly braun and a HUGE dong! Max does his best to keep from salivating as he films the stud's solo session. Breaking the fourth wall (and probably his zipper) Max allows us to live vicariously through his lucky ass! Then he reaches out and gives this fresh piece of meat some baby oil, a hand and the perfect "bend over newbie" direction. Every inch of Corbin is explored including those nice full lips. In the best use of director power EVER, Max face fucks the star's hungry mouth till it overflows causing an epically creamy chain reaction. Sometimes a boy just needs some protein ya know! This video may have started out with the intension of being a solo, but will deliver way more than one happy ending for us all (including the director!)