Summary:
Great new DVD installment of The Lake House series by Helix! this twink porn tale brings together a bunch of THE most beautiful boys, letting loose in a shared house for a carefree, cock heavy vaca. With all these gorgeous, young, Helix hottie's hangin' in the same house, it's bound to get spicy! The fire hot flirting ignites immediately, with "fuck me eyes," and horny hints; which, these lusty lads are unable to resist, and, they succumb to every tantric temptation. The boys even invite their crazy hot, country boy, booty banger, of a naughty neighbor to join in on the fun! The cream filled climax really kicks into high gear, with a five dude, dick down that'll leave twink lovers breathless, spent, sticky, and severely satisfied. So, take a little time off, and go with the gorgeous guys on this gooey- good getaway!
Description / Review:
Scene 1: Garrett Kinsley, Reece Jackson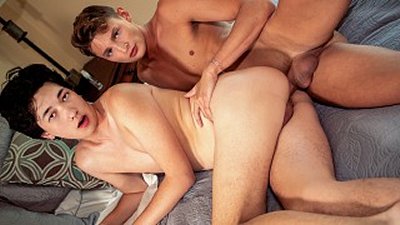 Our series "The Lake House" was so popular, and delicious we HAD to give you another installment; and naturally we're going even harder this time around! "The Lake House" series always brings together a bunch of THE most beautiful boys letting loose in a shared house for a carefree, and cock heavy vaca. In this episode, Garrett Kinsley arrives with his fine friend, meets one of the owner's boys, then eventually finds a room he THINKS is unoccupied. Just then, a randy Reece Jackson busts in the door, letting Garrett know the room is his. But, our boy Reece is horned up, and hot as hell for well cocked Kinsley. The pretty pair end up lip locked, and groping engorged groins as they tear their clothes off! Hungry hottie Jackson makes a mighty meal out of Kinsley's king sized cock, before Garrett gives him an ass eating for the ages. After prepping his work area, Kinsley pulls the twink back, hard by the hips, and stuffs his stiff shaft inside that epic ass, using only spit as lube. Girthy Garrett takes Jackson on a tantric tour of the bed in several salacious, porny positions, beating that booty up bareback every step of the way. Once he has the boy on his back, gorgeous Garrett lends a helping hand to bottom boy's hog to get him there; then, Reece reaches down and brings it home himself. The creamy load covers the dude's even creamier skin. Next, Kinsley pulls out and adds a big blast of cock to the creamy, cum puddle. He slaps his sizable slab against Reece's rod, then goes in for a sexy, sweaty kiss. It looks like this "Lake House" vaca is off to the perfect start!
Scene 2: Garrett Kinsley, Dallas Preston, Silas Brooks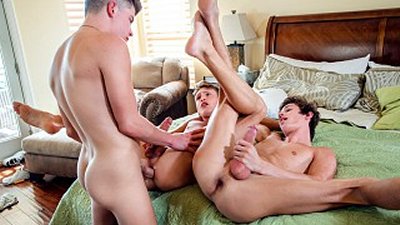 Settled in, and anxious to check out their surroundings, Garrett Kinsley, and Dallas Preston decide to take a walk around the "Lake House." It isn't long before they spot sexy, Silas Brooks, and throw some serious tag team game on him. Naturally, Brooks winds up back at the pretty boy's pad, kissing, caressing, anxious to get some dick. Raunchy roommates, Garrett and Dallas take turns sliding Silas' supersized schlong down their throats. Then, Garrett takes the rod thrusty reigns and double duties both dude's dicks down his gorgeous gullet. Next, the thirsty thrupple form a train, and Dallas gets that delicious derrière eaten out ferociously. Once he's got his work space wet and ready, Silas slams Preston's perfect posterior like a pro, while our brunette beauty gorges on Garrett's gargantuan groin. The thrusty three go gang busters, porning one another out in every perfect, pervy position before banging the bust out of each other! Horny housemates, Garrett, and Dallas wind up doused in dick, from a well earned, and ASKED for facial from their new fuck boy buddy. Brooks load is extra large, and he fucks those perfect faces up like a pro, painting them with a gorgeous glaze of giant groin goo.
Scene 3: Spencer Locke, Dallas Preston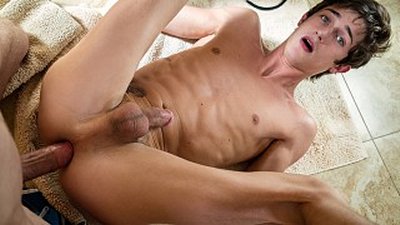 It's party time at "The Lake House," and the boys are feeling playful, as they concoct some cocktails, jump in the pool, then take the kayaks out for a spin. While the rest of the gang frolic on the lake, Spencer Locke, and Dallas Preston catch some rays by the pool. After a little flirting, Preston formulates a plan to get Locke alone in the house. He offers to rub the lucky boy down with aloe; and, Locke returns the favor, with fuck on his mind. Naturally, their red hot hormones take over and the sultry rub down turns into a deep, dick down! Preston falls to his knees, wet worshipping Spencer's supersized schlong, choking, and gagging along the way. Then, Locke lifts the lad up, pulls his speedos down, and gets to work. He looks up at Dallas with the dude's dick lodged in his throat, and is met with moans of pleasure. Dallas pulls Locke up by that beautiful mug; then, let's him know, he's about to get fucked. Dallas doesn't hold back on the delicious dirty talk, as he demolishes his bottom's beautifully, smooth butt. Next, Spencer takes control; and, Preston gets pummeled as he bounces like a birthday boy on top of Locke's long boy. Next, dirty talker Dallas suggests he get smashed on his back. Spencer is more than willing to supply a surplus of dick. He ays the lad till Dallas detonates liquid dick all over his tanned torso. Locke is next to let loose, and he launches an epic load, coating his cutie's cock, taint, torso, and freshly fucked hole with fresh, hot cum, before plunging back in to give his guy every ounce of his ooze.
Scene 4: Silas Brooks, Reece Jackson
The boys are hanging out by the pool at the lake house, soaking their feet, gossiping, and putting lotion on one another. It's obvious Silas Brooks is catching a crush on Reece Jackson as the pretty pair swim, race, and get wild in the water together. Reece takes a break to chat with the other guys. But Silas won't leave him alone for long. He whispers something in Reece's ear, then disappears into the house.
Jackson must have liked what he heard because he follows the frisky fella into the house. The too cute twink twosome tangle tongues in an instant. Randy boy Reece can't control his urge to suck Silas' schlong, and is on his knees in an instant. Brooks is thirsting for cock as well, and gives the gorgeous guy a knockout knob-job. Then he orders the beautiful brunette to, "ride this dick."
Jackson is jacked to jump on that juicy jock, and rides that pole like a pony. The dicknamic duo switch it up and Reece gets rocked on the table. Our infamous cock-cam catches all the bareback, ass banging, action from every erotic angle. Watching Silas slam his sizable staff, using his bangin' bubble butt muscle into the boy is a beautiful sight to see. Next Reece gets rammed on his back, spread eagle, and enjoys every sexy second of it, moaning and panting with pure pleasure.
Brooks keeps banging away till the beautiful boy busts, painting his smooth stomach with spooge. The oozy sight sends Silas over the edge and he unloads ALL over Brooks, blasting past his nips and all the way down to that delicious dick.
Scene 5: Spencer Locke, Garrett Kinsley, Dallas Preston, Silas Brooks, Reece Jackson
It's the guy's last night at the lake house and they're all looking to make it count! Splashing around in the pool and flirting up a storm! Anxious to stir up another kind of fun, Spencer Locke and Silas Brooks start to get busy in the main area of the house, where anyone could walk in….at any time. After a hot, summer make out sesh, Spencer delivers a gold medal knob job on Brooks' big boy. Then their porny plan kicks in.
Reece Jackson walks in and joins the tasty twosome, sucking down Silas' sizable shaft with sloppy, superstar style. Brooks brings Spencer's supersizer into his mouth for a beautiful blowjob train that turns into an ass eating, cock sucking event! Brooks breaks into Locke's back door with his big beast, as Silas slurps on Jackson's juicy jock.
Then Garrett and Dallas enter, completing the gorgeous guest list. The frisky five-some fuck like freaks, sucking, pounding, licking, and sticking in every imaginable, hole stretching configuration. Garrett Is the first to get gooey, all over Spencer's smooth stomach, then Dallas unloads luscious, liquid dick all over Locke's lusty mug. Next, the boys flank Kinsley and Preston's pretty faces, and feed them a mighty meal of twink spunk. At the tail end we hear the guys making plans for, "same time, same place." We are all definitely looking forward to it!