Summary:
Being an athletic, in shape teenager can cause stress on tender young muscles. Here is a cock stroking collection of ten Helix hotties and their buff young buddies who are willing to lend a hot oiled, helping hand when that happens. Their not shy about working all the kinks out with warm mouths, tight asses and huge cocks to ease the pain and get at those hard to reach areas. Get rubbed the right way when these tasty, deep tissue teens splash happy endings all over their best buddies beautiful bronze bodies.
Scene 1: Message Therapy
A good massage is always great for loosening up tight muscles; even better for loosening up tight asses. Brawny Brad Chase is willing to lend a helping hand to red blooded hottie, Josh Brady. Rubbing each rippling muscle the right way, Brad works every inch of Josh's tense body. Relaxed and grateful, Josh offers his buddy a RAW ride over-the-river and through-the-woods! Always a dedicated driver, Josh goes the extra mile delivering a hot cream pie as a delicious well deserved dessert.
Scene 2. Twink Touch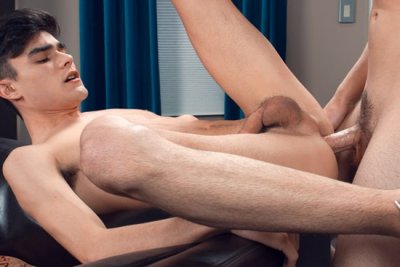 Alex Killborn & Corey King make out deep & passionately in the middle of the room. Both beautiful young men, the two boys slide their hands over each other rubbing, squeezing & at times suckling over their partner's most intimate areas. Only half naked & unsatisfied, Corey lowers himself to his knees in order to expose Alex's super-sized semi. He takes the swelling cock into his boyish jaw and immediately begins to suck and stroke the massive member to increased stiffness. Back on his feet, the two twinks continue their lip-lock as Alex begins to paw & finger his buddy's perfect little booty. He's beyond anxious to fuck and pushes his prey onto the black leather sofa. He pushes the lovely lads smooth, fit & slender stems back towards his bottom's head and buries his face between the cherub's cheeks. He begins to dine deeply, lapping & savoring the sweet hole before moving onto the prince's prick. When he can no longer stand the wait, Alex advances between Corey's thighs, and climbs on top of him. Don't miss a minute of the action as young Master Killborn claims his prize and delivers the raw goods to the boy King.
Scene 3: Teen Rubdown
We've all experienced them. Those days after you first return to the gym in which parts of your body feel like they hate you. On it's own, a very understandable reason to want to skip the day's workout, but coupled with the opportunity to couple with Zach Taylor makes it the only workout that Tyler Hill will see on this day.
Scene 4: Ready & Willing
For a hot, red-blooded young hunk on the prowl, looking just right can be very important to a big night out. For young dreamboats like Brad Chase, however, hot boys flock to him not matter what. Don't miss a minute of the action when blonde, beautiful & super sexy Noah White becomes a sizzling distraction and can't keep his hands to himself!
Scene 5: Rubbed Raw
Every now and then you need to lend a friend a helping hand. Adorable Logan Cross is in desperate need of a good "helping" of big-dicked Christian Bay. Logan's muscles are super tight in more ways than one. Cross knows Bay will bring the heat! Like a hot stone massage, Christian works out all the kinks with every finger before diving into deeper territory. He makes sure every muscle is well oiled and ready to accept some natural healing. Therapy can be hard to take, but Logan is willing to put in he work like he's at a Ricci retreat. Raw and ready, Cross accepts every inch of Christian's healing and the ripple affect will be felt deeply for eons.
Scene 6: Raw & Tight
They say absence makes the heart grow fonder, for super hot hook up buds Brad Chase and Wes Campbell it also makes the dick get harder! The guys haven't seen one another in a bit and can't wait to get their hands on each other. Making it to the bedroom in the nick of time before one of them creams their jeans, they immediately get down to business. Wes Campbell is a fresh faced, tall super model type with a super sized cock and a bubble butt that would make a bounce house jealous! And he is DEFINITELY not timid! Vocal and confident, he and Brad ASSassinate every inch of each other before Campbell plunges his bare dick deep inside Brad's back door. Peaches and cream Campbell mixed with a caramel Brad Chase is a delicious combo that will tickle your taste buds and satisfy every hunger. And for dessert? Why cream pie of course! Campbell is DEFINITELY mmmm, mmmm good!