Summary:
Special guest director Colby Chambers filmed these four bareback, fuck filled, football fantasy scenes with all your favourite Helix hotties. These sexed up scenes are stuffed to the bursting point with football boys bareback banging their tasty teammates till they score seed splashing touchdowns!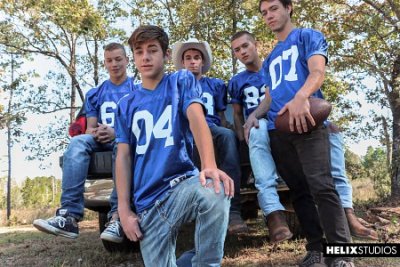 This sport lovers fantasy has it ALL, with two scenes of twosomes and the others scenes are stunning indoor AND outdoor orgies packed with the biggest boned twinks and hottest bubble butts we've got! These country dudes are all on the same team and always initiate newbies nasty and naughty. Jailbait Joey Mills soon finds out when the footballers ALL ball HIM in the back of a pick up truck in a fuck filled field! Several other superstars are on this dick heavy dream team as well like: Sean Ford, Zach Taylor, Colton James and colossal cocked Corbin Colby, who tops AND bottoms in this epic epic lust letter to jock lovers everywhere. Fucking is DEFINITELY a team sport for these fantasy football boys! Ultra hot gay twink bareback DVD!
Scene 1: Corbin Colby, Colton James and Sean Ford
Special guest director Colby Chambers takes the reigns in this football fantasy starring several horny Helix hotties. The sight of our boys in football jerseys is one big time boner bonanza! The guys are all team players even after the big game! All that ball tossing and ass slapping has the boys horned up and three star players are in need of a release. Hugely hung Corbin Colby and cocky Colton James are sucked off by sexy Sean Ford who looks more than a bit at home double fisting two cocks. Colby's cock isn't the only ample asset he possesses, the boy has a big ol' booty and loves to have it licked. He finds out two tongues are better than one when both his buddies double team his beautiful bubble. Wet and ready, Corbin welcomes Colton's condom free cock inside as Ford gets at his fuckable face.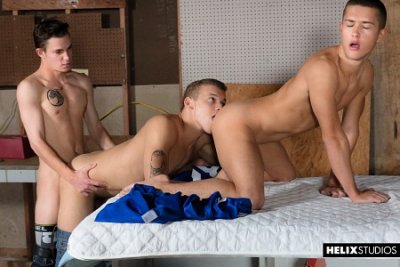 Sean's sphincter needs a little love too; he plants his perfect pucker back where his cock just came from and gets cozy with Colby's kisses. Knowing the kid is primed and ready, Colby climbs inside his hole with his gigantic pole. James jumps at the chance to complete the train and be the cock caboose continuing his love affair with Colby's derriere.
In keeping with the football fantasy, we even get treated to a few spankings along the way! Ford trades center with Colby, loving the attention at each end. These wide receivers have all played a great game and each one scores a sticky touchdown. Cum whore Colby takes TWO for the team, one in the face and a cream pie in the end zone!
Scene 2: Zach Taylor and Joey Mills
Special guest director Colby Chambers is back with the highly anticipated second scene from "Tight Ends!" Footballer Zach Taylor catches a glimpse of jailbait Joey Mills hot ass while changing and within an instant has the pretty boy bent over the washing machine. Talk about a heavy load, Mills takes a balls deep pounding from Taylor's thick, uncut cock from the get go! The tight young muscle baller takes the twink on a fuck tour, utilizing every space in the room! Joey gets jammed with cock on the tub, on the floor and all the while calls out for more fuck from the sexy stud!
Once he has the boy on all fours acting out his quarterback fantasy, Taylor picks up the pace, rocking Joey's end zone like a touch down king. He pulls his thick uncut monster out and blasts Joey's butt with his football funk, then milks the monster for every last mouth watering morsel. Knowing Joey likes cock in his can when he cums, he drives the thick beast inside once more as Mills scores all over the bathroom floor!
Scene 3: Joey Mills, Colton James, Corbin Colby, Sean Ford and Zach Taylor!
The third installment of guest director Colby Chambers series "Tight Ends" is a ball slapping, ass bangin' FIVE way outdoor orgy starring Joey Mills, Colton James, Corbin Colby, Sean Ford and Zach Taylor! A pick up truck filled with jersey clad cowboys pulls into a field and then they all pull out their cocks! It's time to initiate the newest member, Joey Mills to their "pack." They absolutely do "grow 'em big" in the country, as Joey soon finds out as his four teammates whip their fuck sticks! The kid in on his knees in no time servicing his new teammates. The boys put the pickup to good use by filling the back with hot ass and then filling the ass with raw country boy cock.
Fucking is definitely a team sport for this fabulous five-some as they switch hit and pass players to one another going long and deep with each one. Using every move in their playbook, the fucktastic footballers make sure no hole is left unattended.
The team completes Joey's initiation with a photo finish all over the twinkie teammates pretty face. Mill's makes sure to suck every last drop of dick before blasting his own nut bust. Touchdown!
Scene 4: Sean Ford and Zach Taylor
The fourth installment of guest director Colby Chambers footballer fuck series "Tight Ends" pairs Sean Ford and Zach Taylor together for some fierce fucking! Taylor DEFINITELY has a "tight end" and Sean gets right in there, tackling the kid's hindquarters with a terrific tongue lashing. Zach returns the favor with some ferocious fellatio before climbing on top of his football buddy for a bareback butt blasting! Taylor works his big round tight ass like a pro, spreading his pretty cheeks so we can enjoy the view as Sean spanks them!
Ford has been working out hard and it SHOWS, his hot bronze body ripples with young muscle as he power fucks Zach doggy style, leaving the bottom biting the pillow and begging for more. Ford whips the raven haired hottie around and slows down for a uber hot passionate plowing. Slow and sultry our top builds his speed back up and the anticipation drives Taylor crazy in the best of ways till he looses control AND, looses his hot load! Ford whips out and milks his member all over our "tight end."