Summary:
This collection captures real life boyfriends before, during, and after their relationship. From the passionate beginnings of Calvin Banks and Troy Accola falling for eachother on screen to the smoldering intimacy of former lovers Evan Parker and Andy Taylor in a rare role-reversing flip fuck. Some couples pick a friend to share their skills with in a threeway frenzy while Cooper Steel has enough on his plate worshiping the monster cock of boyfriend Dalton Briggs for their one year anniversary. Cum along for the ride in this sizzling hot jizz-filled celebration of young romance!
Scene 1: Evan Takes His Ex's Creampie
Cast: Evan Parker, Andy Taylor
Sadly, Evan Parker and Andy Taylor didn't work out as boyfriends, but we all know sexual chemistry was never the problem. And sometimes, it's hard to resist jumping back in the sack with an ex for old times' sake. Rediscovering that intense passion for someone who once knew just how to make you cum—well, it's like riding a bike. Speaking of riding things, did someone say "flip-fuck"? It's true, Evan saddles up and takes Andy's throbbing dick as well as a thick creampie from his ex in a rare on-camera bottoming.
Andy's bubble butt likewise gets its share of vehement pounding from Evan's perfect cock. We can't help feeling a little nostalgic for one of our all-time favorite power couples. But it's great to see the spark hasn't faded, nor are there any lingering hard feelings between these two Helix megastars. Hard dicks on the other hand? Most definitely.
Scene 2. A Year Together
Cast: Dalton Briggs, Cooper Steel
On November 10, 2014, soon to be real life boyfriends Dalton Briggs and Cooper Steele made love for the first time. Helix was there to capture this young couple's initial copulation.
One year, two months and ten days later on January 29, 2016 we revisited the incredibly sexy sweethearts by the sea to find that time has been good to the boys bond, as you will see first hand in both love and lust.
Scene 3: Window Shopping
Cast: Casey Tanner, Blake Mitchell, Grayson Lange
For young American twinks like Blake Mitchell & Casey Tanner, a long weekend wouldn't be complete without a little retail therapy. This time, however, the super cute couple got more than they bargained for when something as innocent as window shopping lead them to the discovery of the perfect partner in 3way play, sweet & sexy Grayson Lange.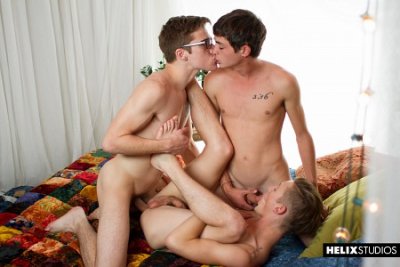 When they got their twinkie from the window home, they tossed their newly discovered treasure onto the bed eagerly and with ease. Grayson grinned from ear to ear and the three boys kissed and groped each other as they undressed, but before they could stripe down completely, Casey took young Grayson into his mouth. The boy's cock grew quickly and the two love birds laid Grayson down onto the bed. They took turns servicing their newly found fuck boy to the sighing and grunting of all. Next, Blake Mitchell released and began to feed Grayson his massive 9 inch trouser snake and shortly after, young Casey Tanner would do the same. Hungry for helmet, Grayson bobbed on the boys' boners as they took turns playing with him and each other.
A dominant top, Blake then ordered the two beautiful bottoms to turn over and assume the position and only after admiring and tongue testing their adorable assets, he let them decide who went first. Just how lucky is that twinkie in the window? Find out this and much much more in this extra sexy menage a trois!
Scene 4: First Time Flashback: Troy Accola
Cast: Troy Accola, Calvin Banks
Losing ones virginity is one of the most sacred and celebrated rites of passage in the life of a young man. Join us as Troy Accola recounts in delightfully detailed description, his first time knocking boots with another beautiful boy. In this fun & filthy deflowering flashback, the role of the dashing deflowerer is played by dominant & sexy stud-muffin, Calvin Banks.
Some say sex should be saved for that one true love. Others think sex is like pizza, even when it's not great, it's still pretty good. All in all, whether it's good, bad, happy or sad... Don't knock it 'til you try it.
Scene 5: Twinks & Recreation
Cast: Evan Parker, Tyler Hill, Logan Cross
It's a sunny summer day in the park and Logan, Tyler and Evan take advantage with a fun game of frisbee! The boys eventually work up a sweat; glistening in the sun they rub sunscreen on each others hard, young bodies. Evan steals looks at the other boy's asses flexing under their shorts. We quickly cut to a stylish living room where we find Logan on his knees practically drooling as he works the couple's cocks with his skilled hands. Once those two cocks are released from their ever tightening shorts he gives the pair a yummy tongue bath.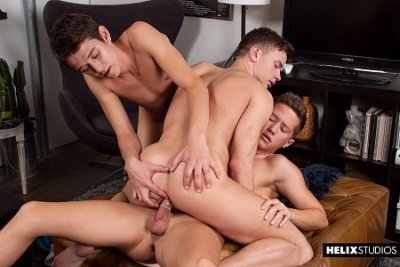 Tyler Hill is absolutely beautiful. He confidently steps his perfectly proportioned body between the two boys demanding attention to his bubble butt as well as his nice piece which is a delicious caramel color, just like the rest of his body. He then asks "Do you wanna fuck me?" The boys are happy to oblige so Tyler gets on his back spreading his legs wide open as Evan plays with his tight hole. Evan teases his boy with a impressive cock before slamming it balls deep as Tyler moans with pure pleasure. While this fuck fest is happening down below, Logan has been filling Tyler's mouth with his young, hairless dick.
Next it's Logan's turn to be stuffed with cock, so he lubes up his perky tight ass & sits down on Tyler's dick. Evan takes the opportunity to fuck Tyler's face, and Tyler devours cock like a hungry animal. The real life couple spit-roast Logan, filling each end full as he jacks his rock hard cock. The boys give a lil' dirty talk while spreading Logan's hole as wide as it will go with dripping dicks and wet fingers. Finally Evan plugs his boyfriend's hole bareback putting the boys in a complete train! Cock to ass, and ass to cock! Chew-chew!!! Here we get a great close up of Tyler Hill's perfectly round ass & beautiful dick both being worked HARD! This makes Evan cum. He blows his load all inside his BF's ass, quickly pulling out to show cum dripping out of Tyler's tight hole. A bit more nipple play and Logan spits his hot load all over his own smooth, ripped stomach. His ass muscles clenching, Tyler into orgasmic ecstasy! Tyler nuts all over Logan's smooth ass, dripping down his cheeks in long thick streams of young man cum.
Themes: Twink, Big Dick, College Guys, Masturbation / Jerk Off, Anal Sex, American, Blowjob, Uncut, Brunette, Cum Shots, Rimming, Tattoos, Kissing, Boyfriends