Summary:
Devin Holt passes his time with buddies he's only met online, including Brian Gibson, Jacob Hansen, Jace Myers and Garrett Kinsley. Kinsley decides the guys need to meet in person, so he offers up his parents incredible lake house. Find out what happens when they all get together for a weekend of delicious debauchery in "The Lake House."
Scene 1:
Cast: Garrett Kinsley, Devin Holt
Devin Holt passes his time online with buddies he's only met on Twitter, including Garrett Kinsley. Kinsley decides the guys need to meet in person, so he offers up his parents incredible lake house. Devin arrives first, and Garrett greets him at the door. Meeting someone you've only met in cyberspace is always a bit weird, but Garrett makes Holt way more comfortable by dropping to his knees before the others arrive!
Kinsley has his work cut out for him with Holt's huge hog, but the boy has some serious skill. Soon enough, Devin's uncut dick is knockin' against the back of the his throat, as Holt sheds his shirt. When Kinsley finally comes up for air, Devin takes control. He tears at the twink's clothes to get at that D, then eats cock like a cannibal, looking up at Garrett every now and again for approval. Kinsley enjoys the boy's skills so much, he sneaks up on the bed and throws that ass in the air for an eating. Holt buries his face in the boy's butt, cupping and spreading Kinsley's cakes as his tongue goes to work. With that ass wet, warm and ready, Holt heaves his heavy artillery in that ass. He thrusts slowly at first, allowing Garrett to adjust to his big beast. Then Kinsley throws ass back at him, and Devin knows it's time to dick the dude down. After annihilating ass doggy style, Devin does some delicious damage with the boy on his back. Kinsley plays with his colossal cock as he gets fucked, enticing Holt to hop on for a ride. He straddles the slender sexpot, then eases his ass down on that dick. Garrett goes into high gear, thrusting his hips up hammer hard, and smacking Devin's derrière hard enough to leave a hot hand brand. Next, Garrett gathers his guy, manhandling him onto his back where he bangs the brakes off the boy! Holt grabs his uncut cock and jacks the giant till it spews. Ready to rumble himself, Kinsley cranks out a splatter of spunk that nails his naughty new friend in the neck! The pretty pair kiss just as the doorbell rings. The trip is already starting off with a bang! Be sure to catch the next episode of "The Lake House" to see who joins the guys for some fun!
Scene 2:
Cast: Jacob Hansen, Jace Myers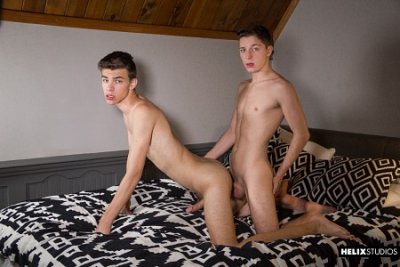 All the guys have arrived and they're settling into the lake house. All except Devin Holt, who's a bit of an introvert. The group notices the shy guy and do they're best to bring the sexy brunette out of his shell. And, nothing helps a shy guy out like five, half naked dudes playing chicken in a swimming hole! Crushes are already forming, and the flirt game is real. Jace Myers and Jacob Hansen heat up the swimming hole with a cock stiffening connection that brings the boys to a private bedroom to explore this vaca crush DEEP. The bedroom boils over with severe sexual tension, as the guys kiss and shed their shirts. Hansen pushes his hottie down on the bed, and drops to his knees. He pulls Jace's shorts down like a man on a mission. Then, he opens his mouth to accept Myers mammoth, meaty member. Knowing he's done well, Hansen straddles Jace's face to receive his reward. Jace envelopes the juicy jock while Hansen helps him out with a hand at the back of his head, heaving hog down that thirsty throat for an epic face fuck. Straddling Myers' mug, all Hansen has to do is ease that beautiful butt back a bit, jump on Jace's giant jock, and take that rig for a raw ride. After a butt bangin' bounce session, Myers decides to even things up a bit. He gets on all fours and accepts every inch Hansen has to offer deep into his hole. Hottie Hansen hits so hard, Jace crumbles into the mattress, giving face down ass up. However, Jacob wants to nut with Myers' meat stuffed in his butt; so, the twink's turn the tables once more, and Hansen gets hammered out on his back, while jacking his junk. Myers pounds the pretty boy till he busts, blasting nut all the way to his nipples. Ready to join him, Jace hears Jacob say "on my face," and that's all he needs to loose his load! He plants himself right next to the naughty boy's beautiful face and fires, catapulting creamy cum high into the air. The tasty treat splatters all over Hansen's cum whore face, getting in his hair, his eyes, and his mouth when he milks out every last drop from Jace's jock.
Scene 3:
Cast: Jacob Hansen, Brian Gibson, Garrett Kinsley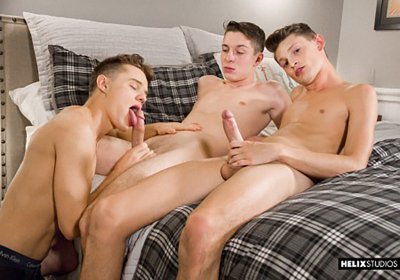 A game of Never Have I Ever brings out the beast in the boys, sending Brian Gibson, Garrett Kinsley and Jacob Hansen into a hellishly hot threesome! Kinsley sets the ball rolling by daring his two new friends to make out, then joins in on the fun as the guys shed their shirts. Bold beauty Brian orders the boys onto the bed, then drops to his knees. He starts tuning up Hansen's tripod, while Kinsley drops trou, displaying his tremendous talent which is in desperate need for oral attention. With a cock in each hand, Gibson goes between both boys, stuffing his mouth full of massive meat, before jumping on the bed and shoving his schlong in Hansen's hungry mouth. Jacob does the dude one better, backing up behind him to get a taste of that beautiful bubble as Kinsley stuffs his cock down his throat. Then, Jacob jumps up and jams his juicy jock in the boy's freshly eaten ass. Garrett is next to take a ride on Hansen's rod before Brian takes over and Kinsley crams his cock in their new bottom's mouth. Housemate Devin Holt strolls by the thrusty thrupple and takes in the sexy sight, then takes his cock in hand. Uncut, overachiever Gibson gets got by both giant cocks in a doubly delicious-DP dick down that leaves his hog heaving with porny pleasure. His two tops spank it in unison, creaming all over their fresh young flesh, and ending in a three way kiss, before deciding to join the other boys. What delicious debauchery will go down on the next episode of "The Lake House?" Stay tunes to Helix to find out!
Scene 4:
Cast: Jace Myers, Devin Holt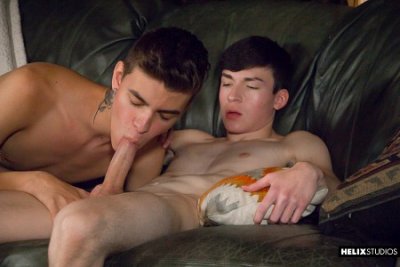 Devin Holt checks on the other guys at the lake house, only to find the boys caught in an ass smacking threesome! When he comes back rock hard, Jace Myer offers to take care care of him, and shy boy Devin finally opens up, and happily accepts. Myers muscles down the dude's drawers to get at that uncut, meaty monster, then downs that dick like a thirsty demon. Needing to satisfy his hunger, Holt drops to his knees to wrap his lips around Jace's giant. He bobs up and down on that D before straddling Myer's massive meat, and taking it for a raw ride. Then, Jace asks for a fucking, and Devin is more than happy to oblige! But first, he can't resist taking a taste of that sweet ass. Once he's got Myers moaning like a bitch and begging for some fuck, Devin eases that uncut cock in with Jace's arms slung over the back of the couch. He pipes the pretty boy down doggy before Myers goes back in that beautiful butt to finish what he started. The smash fest continues with Holt on his back, knees in the air, and Jace pumping every thick inch deep inside him till he explodes. He covers his six pack with a nice coat of cum before Jace joins the party and shoots spunk clear up to the naughty boy's neck. Fresh from their threesome, the others come out and catch the pretty pair in the act. What will happen next on "The Lake House?" Catch all the action right here at Helix!
Scene 5:
Cast: Jacob Hansen, Brian Gibson, Garrett Kinsley, Jace Myers, Devin Holt
With only a couple hours left in their wild weekend, Brian Gibson, Jacob Hansen, Devin Holt and Jace Myer meet up in the lake house living room to thank Garrett Kinsley for his piping hot hospitality. Cock hungry Kinsley says exactly how he'd like to be thanked, and soon enough all five guys are gettin' it on gangbang style! Every combination of cock sucking, hole licking, dick thrusting debauchery goes down between the fab five, ending with an explosive climax of gooey greatness that has the guys planning their next naughty get-together!
Themes: Bareback, Twink, Big Dick, Double Penetration, Anal Sex, Blowjob, Uncut, Blonds, Brunette, Rimming, Threesome, Kissing