Summary:
Three is definitely NOT a crowd in this slam pack collection of Helix's hottest three ways. These delicious dirty boys share every inch of each other and get stuffed with cock at each end! Rock hard rumps get licked and rocked raw as dick is driven down thirsty throats. With three throbbers in every scene, there's more than enough dick to go around and these hungry whores are fine with sharing, in fact they prefer it! Every cum filled ending is three times as happy as gallons of gooey goodness gush from gargantuan groins in to, and onto bouncy bubble butts and splash across these gorgeous guy's fuckable faces!
Scene 1: Two Good to Be True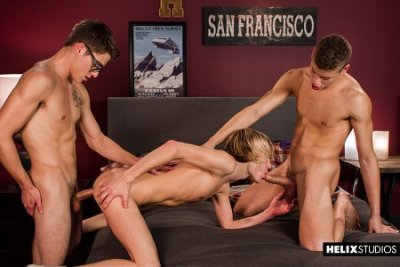 Big dick buddies Corbin Colby and Blake Mitchell are at an outdoor cafe exchanging war stories when they spy Helix cutie Kyle Ross across the street. Having enjoyed his videos on a molecular level it goes without saying the guys are super fans. The dynamic duo invite Kyle to their table and probe the kid with porn questions. Next thing he knows, Kyle is bent over getting probed with more than questions by two of the biggest dicks in the biz! Back arched and open at each end, Kyle's got his mouth full and the boys take turns tasting his tender young tush. Bare back Blake breaks in the kid's back door first. As Kyle pulls him closer to get as much of that big dick in as he can we notice Mr. Mitchell has been working out! Lookin' good Blake! Swapping spit AND positions, Blake and Corbin tag team the twink. Watching Corbin do work is a beautiful sight to behold. He plows Kyle like a lion and the lucky lad loves every long lick. Little Kyle Ross is quite adorable; so tiny, smooth and cute. You wouldn't think he could fit two of the BIGGEST cocks on our roster in his hole at the same time; but as they say, big things cum in small packages! The boy's ass is like a magicians hat! Making the scene even more magical, Blake blasts the kid right in the kisser and Corbin helps lap it up! Sensing Kyle is still thirsty, Corbin kindly quenches the kid's throat with a load of cum. This scene gives you EVERYTHING plus tax!
Scene 2. Ready For my 3-Way
ustin Owen, Blake Mitchell and Logan Cross are in for one hot threesome and you can tell as the boys primp to their prettiest. They towel dry their tight asses and flex their rippling muscles in the mirror with lust in their eyes for the camera. Justin happens upon luscious Logan touching his tender torso and you can tell he means business. He's rock hard, ready, and can barely contain himself as the two get right to business. Blake soon joins and the threesome take turns on their knees satisfying their salacious hunger for cock.
The two bigger guys lead tight little Logan into the other room and place him on a bed, treating each end of the twink like a treasure. The hot young tops take turns tasting bottom boy Logan's perfectly smooth pink pucker and filling his hungry mouth with dick. Like a hot relay race Blake and Justin pass trophy boy Logan across the bed to each other and all the while some HOT dirty talk takes place! Logan is the perfect fuck boy, taking everything the boys are giving and remaining rock hard without ever touching his tool.
All this hot dicking has obviously worked Justin into overtime as you can tell when he climbs on top on Blake's cock and rides it hard while his buddy Logan finally gets his dick wet in Blake's mouth! Ever the people pleaser, Logan gives Justin a handy before he himself climbs on top of this totem pole; connecting all three buddies in the most tantalizing train fuck.
Naturally all this hot action brings all the boys to the brink. Blake and Justin aim their dicks right for logan's open mouth and shoot. Logan has never looked hotter than when covered in cream. Milking the boys for every last drop and keeping both cocks in his mouth is all Logan needs. He launches a load all over his smooth torso. The three boys end sweaty, satisfied and covered in spunk, just like we did!
Scene 3: Horseplay 3-Way
For many boys, the idea of being carried off to bed by two smoldering young studs like Kody Knight & Evan Parker would be a dream come true. So when the two hella fine fornicators set their sites on precious and playful Grayson Lange, the twinkalicious teen gave up the goods without resistance. After a rousing & arousing tickle attack, that is. Watch as Kody & Evan work over their sweet & blushing prize booty and as they tickle Grayson's pink, he loves every minute.
Scene 4: Stuffed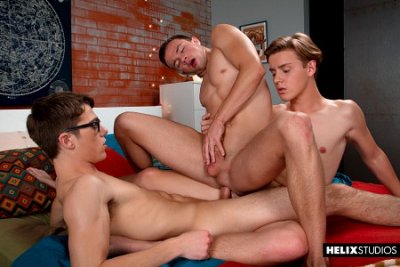 Little Logan Cross has THE cutest laugh ever; which is why his buddies Blake Mitchell and Wes Campbell have him pinned to the bed in a rip roaring tickle fight! Pretty soon the guys are tickling each other's pickles and lil' Logan is serviced at either end by his more experienced friends. It's definitely service with a smile as Blake's big beast dangles at Logan's lips while Wes is buried in the back end eating Logan's little hole. The guys go IN on Logan's super smooth sphincter, swapping spit and taking turns grooming the tight hole for an EPIC condom free ass fuck. Logan is in a pure state of lust, stuffed at each end by his best buds and their bionic boners. The guys take turns pounding their pal, tenderizing his tush before pushing another cock in there.... at the SAME TIME. This naturally makes the guys wanna nut but they'd rather go the distance. They rearrange in order to last longer (lucky US!) What follows is an amazing spit-roast that any pig would be happy to be part of! Logan's happy holes BOTH wind up filled with sticky sweetness. Delicious!
Scene 5: Double Bubble Butts
It's late at night and the moons are full. Tonight is extra special and the love light is shining down brightly on the hard, horny & smoldering hot young stud puppy, Justin Owen. This ripped & ready, hunky horndog has the distinct honor of mounting two of the rightest rear ends in the industry. Watch as this resident Helix Studios ''drill sergeant'' piles on the smooth physiques & fit perfection that make up the truly twinkalicious pair of Brad Chase & Ian Levine in a scene that will make any HS fan howl.
Themes: Anal Sex, Bareback, Big Dick, Blowjob, Cream Pie, Cum In Ass, Hunks - Studs, Jock on Twink, Kissing, Latin, Rimming, Tattoos, Twink