Summary:
Two dicks are better than one, but three are even better! Over stuffed with thick dicked, ass smashing, THREESOME action, this double dipping collection of triple trouble delivers times THREE!
Scene 1: Double Dipping
Cast: Josh Brady, Tristan Adler, Ashtin Bates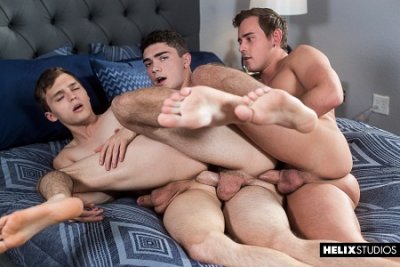 Tristan Adler and Ashtin Bates are hot, horny twinks, hungry for cock; and, Josh Brady is more than enough man to give it to them BOTH! A throbbing thrupple kiss fills Brady's bone to rock hard capacity which brings the tasty twosome to their knees to put a serious sucking down on the dude's D! Alpha jock Josh has the skills to return the favor times TWO! He goes between the gorgeous guys, servicing their rocked up rods and hot holes with his talented tongue. Once both boy's back roads are open enough for his beefed up whopper, Brady gives each ass a turn, tenderizing their tight tunnels with deep strokes. Feeling closer than ever as fuck friends, our boy bottoms head up a train, taking turns in the middle so each of them can experience the full feeling of giving and taking at the same time. Naturally, alpha ass master Brady is the cock heavy caboose on this twink train, and our man takes the raw ramming responsibly VERY seriously. The triple train takes the thrupple to the threshold of pleasure. Tristan and Josh jump up and hose tattooed new cummer Ashtin down with a double dick splashing facial, flooding the boy's fine face with a lusty loaf of fresh funk. Cum whore Bates laps it up, then blows his own big load all over his tight, tatted torso! Tristan goes in to taste of the nut covered naughty boy, while Brady massages their man sized loads into Ahstin's sinewy fuck boy frame.
Scene 2: Triple Cream
Cast: Johnny Hands, Riley Finch, Zach Letoa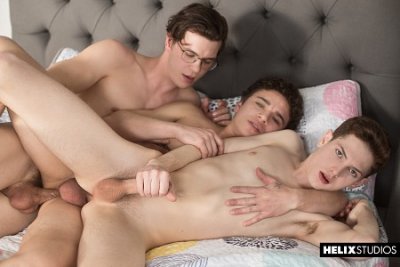 Flanked by tasty twinks, Riley Finch, and Zach Letoa, super stud johnny Hands handles the young bucks like a boss, dishing out swarthy sexiness in a cock stretching triple kiss with his hands overflowing with ass. The triple tripod of trouble strip one another down till the screen fills with cock. Then, the twink twosome work in tandem, tag teaming Johnny's giant jock with deep throat abandon, before Hands bends both boys over and heats up a double helping of fresh young hole with his talented tongue. After priming the pretty boy's tight puckers, top dog Johnny lays down and lets Finch hop on. The boy fills his hole with Hands huge hog, and his face with Letoa's large loin, before hopping off so his buddy can try out Johnny's juicy joint. Hands heaves cock into the boy's beautiful back door while he's on his back, giving Riley ample room to get at that raging rig of his. After slabbing Zach's knob, he stuffs his Lateo's with phallus, then takes a seat right on it. He rams his beautiful butt down on his buddy's face like a beast, then gets his comeuppance in a slobbery good spit roast, where Zach takes topping duties, while hands fucks that pretty little face. In a final blow your mind moment, the sexed up thrupple form a train, smashing one another's asses on the side for optimal viewing pleasure. Zach gets the five and take middle position, while Hands hammers his hole in the cock heavy caboose, till he busts a naughty nut all over Lateo's load hungry hole. Zach keeps pumping, ramming Riley's tear end till cream pie number two fills the screen. Not to be outdone, Finch stands up and fires a fuck load directly down Zach's thirsty throat; and then, the thrusty thrupple collapse into a cum covered three way kids. HOT X 3!
Scene 3: Sex Therapy
Cast: Ian Levine, Tommy Defendi, Tyler Hill
Any long term relationship can use a little professional help sometimes. The spark fades, daily life inevitably gets in the way, trust issues and lack of sex are what bring boyfriends Tyler and Ian into the office of sex therapist Tommy Defendi. As it turns out Dr. Defendi knows a few creative exercises to put the magic back into their sex life, most of which involve putting his unrelentingly giant cock inside both of their smooth, sex-deprived bubble butts. A dose of excitement in the form of a hot threesome may be just what the doctor ordered to get Tyler and Ian's relationship back on track.
Scene 4: Lusty Three
Cast: Andy Taylor, Ashton Summers, Jacob Hansen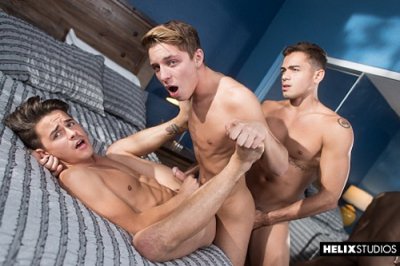 Ashton Summers, Andy Taylor and Jacob Hansen are a thirsty thrupple with insatiable appetites. After a sensual three way kiss, the two twink's feast on Ashton's Puerto Rican piece before the Latin porn prince lays a licking down on the two delicious, young morsels. Hot and horny, Hansen hops on Summers' stiff staff with an assist from Andy who helps the hottie spread his incredible ass to drive that dick in deeper. As a raunchy reward, our hot helper gets his knob polished by Ashton as Jacob jumps for joy on that juicy jock. Returning the favor, Summers spreads Hansen's smooth seat so Andy can get a taste of his freshly fucked hole before plugging it up with his rocked up rod. Ashton and Taylor work in tandem, tenderizing Hansen's horned up holes at each end, spit roasting the gorgeous guy till his eyes roll back. Andy's ass needs filling and he isn't shy about asking. Jacob jumps at the chance; and, he delivers dick HARD! He tosses in a little love choke for good measure before Summers saunters up behind him and cocks his caboose at the tail end of this torrid train. Hansen hops up and shoves his schlong in Taylor's mouth, giving him a taste of his own ass in the process. With a cock in his mouth and Ashton bangin' his back door blissfully, Taylor is a ticking bust bomb! After a hearty wank from Summers, Andy grabs his junk and spews a healthy stream of spunk all the way up his beautiful bronze body. The sticky chain reaction sees Summers fill Andy's ass with cream; then, Jacob juices his jock right into Taylor's waiting tongue. Three is definitely a charm in this epic ass banger!
Scene 5: Introducing Oliver Saxon
Cast: Tyler Hill, Joey Mills, Oliver Saxon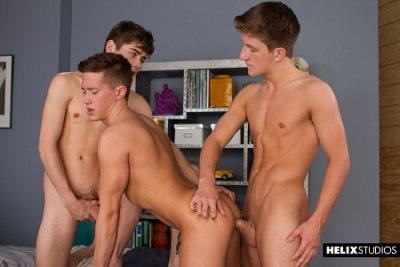 Fresh meat lands in the hands of Helix hotties Tyler Hill and Joey Mills in the form of Charlotte North Carolina college dude Oliver Saxon. The torridly hot twosome grill the newbie, getting all the goods on his college life and why he wants to do porn before bringing the boy back to their room for a deep probing initiation. The new kid is scalding hot, young, smooth, muscled and HUNG! The veterans tag team his tremendous appendage as he eyeballs Joey's growing crotch, entranced and salivating anxiously waiting for a taste. With a cock in his mouth and another mouth on his cock the new kid is in heaven and sucks dick like a absolute CHAMP! The boys haze his hot hairless hole together with probing tongues. Saxon returns the favor to Tyler's tush, upping the ante with FOUR thick fingers! Tyler explodes in ecstasy, covering Joey's pretty face with a gorgeous glaze. Tyler takes a licking and keeps on ticking, immediately climbing on top of Mill's massive member while Oliver plugs the boy's mouth. Joey's hole is begging for attention and the newbie is more than happy to fill that need with his Carolina cock. Tyler tickles Joey's tonsils completing the absolute smoldering spit roast! When its time for the new guy to initiate his ass, it's Joey's giant that gets the honors first and the dude takes to it like a duck to water! The three hung hotties switch positions and every cock combo is given a whirl. Busting at the seams, the boys big boners belt out BUCKETS of cum, covering Mills in a mouth watering bukkake finale that will leave you sticky and breathless. This is one hell of a hot threesome and Oliver Saxon sure knows how to make a first impression!
Additional Information
Categories: UK R18 / XXX Gay Adult
Running Time: 153 mins, Year: 2020
Price: Around £32*
Starring: Johnny Hands, Riley Finch, Zach Letoa, Tyler Hill, Joey Mills, Oliver Saxon, Ian Levine, Tommy Defendi, Josh Brady, Tristan Adler, Ashtin Bates, Andy Taylor, Ashton Summers, Jacob Hansen
Director: Helix Studios
Studio: Helix Studios
Buy DVDs online at: Simply-Adult.com, Homoactive and Radvideo (USA)
Video On Demand: Helix Studios, Member site: HelixStudios.net
Country: USA, Language: English
Additional info: No Regional Coding

Summary:
Hot, young, and horny as hell, these boys are all at peek physical perfection! These porn perfect specimens are all gifted beyond belief, sporting rock hard bods, tight, fine, firm asses, and king sized cocks that just won't quit! With generous gifts in the front, AND back, it'd be a shame not to utilize each orgasmic attribute it's porny potential, while pushing towards cream gooey, ecstasy! Every sex soaked, bone busting, boy bang is an incredible flip fuck, with a cum flooded climax that'll leave you breathless.