Summary:
There are certain nights when the air is saturated with a melange of magic. Those good times, when you and your best boys are taking the town - young, hung, full of cum, and looking for some fun! As the evening winds down, the only thing missing is some big, bad, brand-spankin' new, crazy -hard cock. Sexy superstars Kyle Ross, Blake Mitchell, Shane Cook, and Sean Ford can relate.
Their wild night turned salaciously sloppy in the best possible way, while crazy-hot cock lovers look for lusty late night hookups that inevitably end with gallons of hot spunk splattering on fresh-fucked bodies. Lean back, get your cock out and enjoy the "Hot Mess" these sexy cum fuckers made during one very horny night. Now on gay XXX DVD!
Scene 1: Body Language
Cast: Cameron Parks and Wes Campbell
We've all been there before.
As you enter the club there's something in the air tonight. You feel open, ready for whatever. A sexy stranger catches your eye. Next you're grinding with him on the dance floor, your hands exploring his body for the first time.
You get a little carried away. Maybe you drink a little too much. Your lips lock and you don't care who sees you. You lose yourself to the pulsating music under the flashing neon lights. What began as an ordinary night out turns into a wild ride full of uninhibited fun and unforgettable sex from what you can remember.
Filmed at the legendary Rich's Night Club in San Diego, Helix Studios presents "Body Language", our ode to getting lost in the moment.
Scene 2: The Price Is Right
Cast: Blake Mitchell & Sean Ford
When Blake Mitchell runs into the chiseled & smoldering Sean Ford on one hot summer's night, the adorable boy next door make an awkward first move, but makes up for it in the end.
Don't miss Mitchell & Ford show as they show that the key to a good hustle or pickup is always in the delivery.
Scene 3: Hot Mess
Cast: Josh Brady and Cameron Parks
It must've been a great night at the club because we catch up with Josh Brady and Cameron Parks after having WAY too much fun! The guys play through the night dancing on street lamps like strip poles, running the deserted roads, tackling each other and flirting hard! You can tell we're in for one uninhibited, balls to the wall, good time bang-a-thon! Back at the house the guys slip into something more comfortable.... their COCKS! They gobble one another's knobs with wild abandon, slurping on schlong like it's last call. Brady's big beef stick is beckoning to plow Parks with bareback pleasure.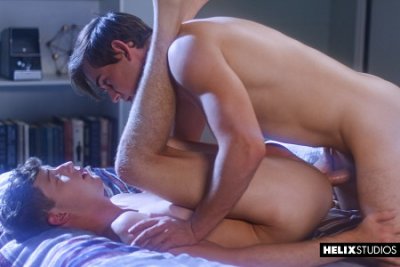 Cameron's caboose gets cocked gloriously while his own heavy hammer swings around like a baseball batt. Josh jackhammers Parks smooth pucker, pounding his prostate with the pure pleasure that a big dick like brawny Brady's can bring. Our bottom boy showers his appreciation with thick white wads of wonder worthy of his ginormous rig. Josh has been entranced by pretty boy's perfect complexion and fuck me face all night long.
He adds his thick thanks to Cameron's cum-plexion with his own fresh batch of boy that oozes down Parks pretty face and into his hungry mouth.
Scene 4: Priorities
Cast: Kyle Ross and Shane Cook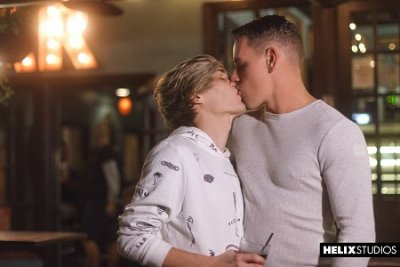 Spend some time chinnin' with Helix hotties Cameron Parks, Kyle Ross and Shane Cook as the guys hit the town. Twink superstar Kyle is hitting it off with man candy Cook. Being the good wingman he is, Cameron catches on and gets to Grinding on his phone then heads out to let his boys play. Shane is a big beefcake, mountain of a man from Missouri that our pretty blond boy can't wait to climb. He starts at the bottom on his knees and finds out fast that Cook's cock is just as impressive as the rest of him. Ross works the beer can thick dick like a kid on Christmas morning, unwrapping the uncut monster with wide eyed wonder and quickly getting to work. Shane slaps his ballooned up boner onto Kyle's wet, waiting tongue. The pretty boy opens wide but still can't fit the entire fat phallus all the way in; but, Kyle is no quitter! This is a gold star suck job if we've ever seen one! Shane strips his boy, bends him over, slaps his ass and gets to eating. Ross's ripe plum is begging to be plucked and Cook enjoys every bite of butt before sliding his super sized schlong between the twink's tight cheeks.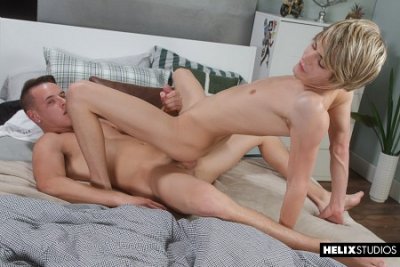 Kyle tells our Adonis to go slow for a sec, but soon his dick pig spirit kicks in and he's getting slammed like a screen door in a wind storm! Both boys are gifted at each end and the cock cam catches every inch from underneath as Shane's muscle ass works with his wide willie to pummel Kyle's smooth sphincter. The perfect pair switch it up and Kyle gets to ride the hot hunk along with a sexy, side splitting position before tossing his legs in the air and really opening up. He jacks his rock hard jock as beer can boy bangs his beautiful butt causing Kyle to blast cum onto his smooth six pack. Cook jumps up and jams his giant Johnson in Kyle's cock hungry open mouth.
Shane braces his big muscle body with a hand on the kid's neck as he squirts an unbelievable amount of nut onto pretty boy's perfect face! Ross still looks gorgeous as hell coughing on cum and gagging on his guy's girthy groin. Kyle won't let Cook's cock loose, he just keeps on slurping. This here is why Ross is a twink superstar and Cook, with that massive member of his is THE newest super sized superstar AND the true definition of "bigger is better!"
Scene 5: Boulevard Bareback
Cast: Cameron Parks and Wes Campbell
It's the end of the night and the club is closing but after some heavy flirting that turns into a hot make out session outside, Cameron Parks and Wes Campbell decide to keep the party going in private. Cameron can't wait to get on pretty boy Campbell's cock and by the look of the growing bulge in his drawers, Wes is just as anxious to get his knob gobbled! Parks pulls at the beautiful blond boy's red hot underwear and out flops his gorgeous, engorged groin with a hefty bounce. Campbell grabs Parks by the back of the head and stuffs his cock sucker full of throbbing phallus. Wes lays down with his perky bubble butt looking absolutely scrumptious and goes IN on Parks piece before he has the boy bend over to get at that smooth hole. He eats ass like it's his last meal, spreading the peaches and cream caboose and shoving a few fingers inside the tight tunnel to warm up his boy for the main course of cock.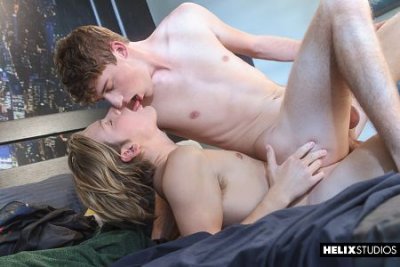 Wet and ready, Parks slides right down on Campbell's cock bareback and immediately gets a hot, raw rhythm going. His perfect peach looks spectacular spread apart as Wes' wang invades his amazing ass. Wes winds his hips, then blasts his bone upward, slapping Cam's can with his big, cum filled balls. Then, Cameron turns around and REALLY gives us a show, beating his meat as Wes wails the inside of his walls. With Campbell still cocked deep inside, Parks lays back and lets a hefty, hot load of cream loose. Even though he got off, Cameron rolls over to give Cam even more ass!
This kid is a fucking machine! Campbell's blond surfer boy locks dangle in his beautiful face as he slams schlong deeper and deeper. A gorgeous camera angle captures Campbell's exquisite caboose, plump but firm while perfectly round and smooth. His nuts start to tighten and he pulls out just enough to give Cam a yummy cream pie. Campbell can't take his eyes off his sticky, white work of art. He plays with his seed, spreading it around Parks' pretty pink pucker before sealing this fantastic fuck with a kiss.