Summary:
Josh Moore and Allen King head up a cast of our hottest guys to fulfill their wildest fantasies! Whether it be being tied up, being blindfolded or taken two huge cocks at once in an epic double penetration, our guys have had their dreams come true!
Scene 1: Allen King & Josh Moore
As Josh Moore lies in bed and watches Allen King lovingly service his thick cock almost to the edge of orgasm he decides to confide his secret sex fantasy. He wants to take Allen to the woods, tie his hands so he can't move and do anything he wants to him. Just as Allen is all ears to hear the fantasy, he's very eager to make it happen! And so Allen finds himself naked, standing between two trees with his arms outstretched and his wrists tied to the trunks.
Josh savors every second of his fulfilled fantasy, kissing Allen and fondling the smooth-skinned from behind and stroking his already hard cock. Allen is clearly enjoying this for himself too. Soon he's bent over as Josh teases his hole with his monster cock and then fucks him like his prized sex toy, sometimes balanced in the air. Allen loves it and shouts it to the sky, but when they slow things down Allen declares he wants to pursue HIS fantasy!
Inside Josh rims and fucks Allen on his back and pounds him so deep and hard that he almost disappears into the bed. Josh corrects that by picking him up and fucking him in mid-air as Allen bounces on his cock. Allen continues riding him as Josh lies back on the bed but adds a new wrinkle by tying Josh's wrists over his head! Josh loves it too and though he's tied and immobile he's verbally dominant. Just as Josh demands, Allen eventually shoots his load and gives him a thick facial. In the end it's Allen in control as he furiously strokes the still-tied Josh to a huge orgasm and milks dry the helpless stud. Two guys both get their "wildest dreams" fulfilled, but...will Allen untie Josh?

Scene 2: Calvin Banks & Michael DelRay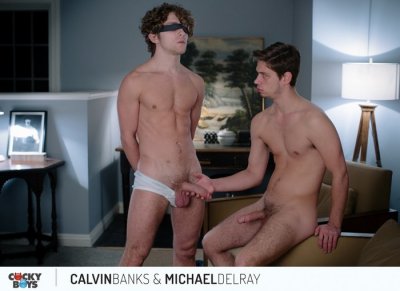 In this new "Wildest Dream" scene Calvin Banks & Michael DelRay explore their kinky sides with some erotic bondage and intense visual deprivation! Calvin is already hard in his tightie whities as Michael blindfolds him and slowly explores his body's trigger points. After teasing his cock Michael kisses Calvin and slaps his hands away when he tries to use his hands. Michael stresses HE is in charge by binding Calvin's wrists behind his back and continuing tantalize his body. Finally he pulls down Calvin's underwear and bedevils him, bordering on merciless edging.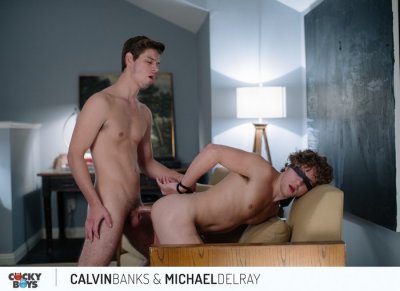 Michael has several ways to tease Calvin's cock and make it swell even bigger and stand out straight with veins bulging..while Calvin begs for more. Even when he begins to suck Calvin, Michael pulls away to keep control. Eventually Michael puts Calvin on his knees to suck him...which Calvin does enthusiastically, still under Michael's control. Soon Michael concentrates on Calvin's ass, bending him over the sofa, rimming and slapping his hard ass as he begs to be fucked. Michael at last stops teasing and slides in his thick shaft all the way. Soon Michael is driving deep into Calvin harder and faster making the bound bottom moan and whimper loudly.
At one point Michael relents and temporarily releases Calvin from bondage so he can look at him. Calvin remains the dynamic bottom, riding Michael's cock and then giving him full oral pleasure. Michael blindfolds and binds Calvin once more, fucking him on the bed with his ass in the air. He growls as he pounds Calvin until he begs to be untied so he can shoot. Michael fucks him on his back until Calvin does shoot an intense load over his body. Michael soon follows and Calvin takes off his blindfold to watch him explode over his torso. As they kiss again they giddily agree this was a good idea, worthy of repeating... with the roles reversed! Another "Wildest Dream" perhaps?

Scene 3: Josh Moore & Taylor Reign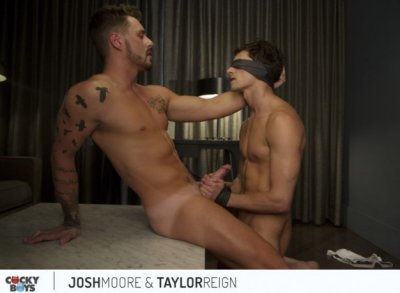 Taylor Reign has long wanted to be manhandled and finally his "Wildest Dream" comes true. In a dark hotel room he's tied to a chair and blindfolded, his hard cock poking out of his skimpy jock strap as he awaits his master. Josh Moore enters the room quietly, slowly stripping down and teasing the sightless Taylor psychologically. He begins a game of silent, sensual domination, deep-kissing Taylor and playing with his rock hard body. Josh plants kisses over Taylor's body and purposely grazes his cock before grinds his own bulging crotch against Taylor's shoulder as he gives him his thumb to suck.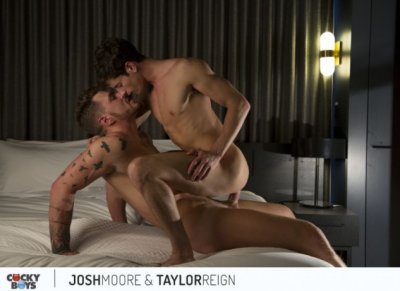 Taylor can feel Josh's foreskin sliding across his shoulder and soon he gets his first taste of cock. Josh progressively gives him more, and a taste of underwear, before he thrusts in giving Taylor most of his thick cock as he holds him by the hair and blindfold. Pleased with the service, Josh gives him a passionate kiss and plays with more of Taylor's half-exposed cock and, without saying a word Taylor's mouth begs for more cock. Instead Josh unties Taylor from the chair and re-ties his wrists over his head in the doorway. Here Josh strips off Tyler's jock, rims him and bites his muscular ass cheek before he teases his crack with the feel of his hard cock.
Josh gives Taylor a little courtesy, "are you ready?" but immediately he fucks him hard and deep...and the silent domination is anything but that. Taylor gets pounded but loves it, telling Josh as much. Still, Josh gives his boy a respite, letting him suck his cock while playing with his hole for round 2. With a foot planted on the floor for support Taylor rides Josh, who soon reclaims the power, thrusting up hard into Taylor. At one point Josh pulls off the blindfold, giving Taylor full use of his senses. Josh lies back on the bed and lets Taylor ride his shaft at his own pace but soon enough Josh picks him up, fucks him in mid-air and plants him back on the bed. Josh relentlessly fucks the cum out of Taylor and then showers his chest and face with his load. Does getting his fantasy fulfilled satisfy Taylor Reign? Not quite. As he says at the end, "We can definitely do THAT again."

Scene 4: Ethan Slade & Grayson Lange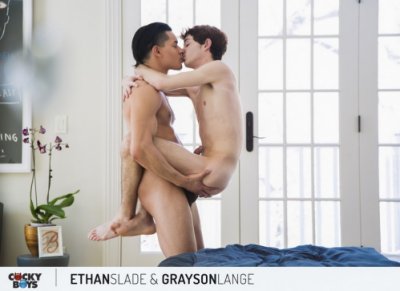 Grayson Lange makes his CockyBoys debut in a new Wildest Dream episode, with Ethan Slade helping him relive an incident from his past. Grayson once crushed on one of his older brother's friends and got a look at him naked, but nothing came of it...except material for his spank bank. Here, Ethan plays his brother's friend and as Grayson often fantasized he sees Ethan jacking off. And when Ethan catches him looking he invites Grayson into his room!

Grayson walks in and goes down on Ethan, who's soon pleased with the eager service and obedience. He gives Grayson passionate kisses of encouragement and Grayson goes back to deep sucking him, but Ethan wants his ass. In a 69 Grayson sucks him while Ethan rims his tight little hole and primes it for his cock. And in one swivel of his body Grayson plants himself on Ethan's cock and begins to ride him.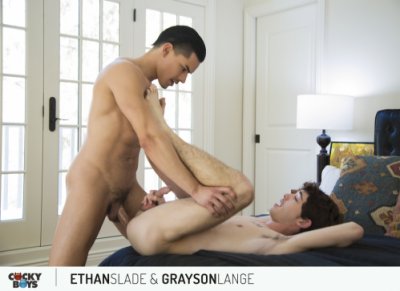 He works himself into an energetic rhythm as he rides Ethan's cock and kisses him passionately. Ethan adds intensity by bouncing Grayson on his cock, keeping up the sex talk, and holding Grayson by the throat. Ethan sits up to thrust into Grayson, hold him close, kiss him deeper and show his control by picking him up to fuck him in mid-air. He plants him on his back to pound him deeper with even more authority.

Ethan finishes off Grayson by moving sideways thrusting into him and in little time his cock works its magic by making Grayson shoot his load over himself. Ethan wastes little time getting up and giving Grayson a thick facial and make BOTH their wildest dreams come true.