Summary:
CockyBoys have got a slate of newcomers here that will make everyone excited. Their exclusives are joined by Ollie, Justin Matthews and Taylor Reign to make Break Him In 2 a definite scorcher!
Scene 1: Ricky Roman & Taylor Reign Flip Fuck!
It's the end of summer at CockyBoys where Ricky Roman & Taylor Reign talk about all the fun times, but also about something they didn't get around to doing: each other! And so, on the cusp of fall the guys finally pursue their pent-up attraction with sex outdoors. After climbing down from a lofty perch atop a ladder tree stand, they make out and instinctively their hands grope their bulging crotches. Ricky can't even keep his shorts on. He slips them down and raises himself up a few rungs on the metal ladder so Taylor can easily suck his hard cock at eye level.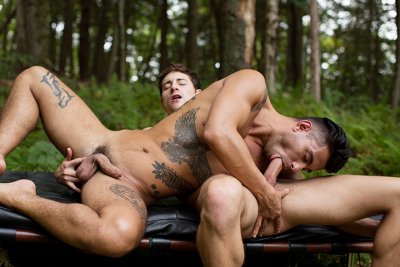 Taylor sucks him deep, enjoying his cock and balls for some time as Ricky holds onto the ladder tighter, moaning with pleasure. In time Ricky wants his turn and climbs down to make out with Taylor and go down on him. He hungrily sucks Taylor who has to hold onto the ladder for support. And Ricky doesn't quit until he brings Taylor right over the edge to give him a facial and a mouthful of cum. This in turn brings Ricky to jack off over a kneeling Taylor and give him a shot of protein. It's all good but Taylor still wants to fuck!

The guys walk through the woods closer to the house and to an outdoor bed. There Ricky returns to sucking Taylor who fingers Ricky's hole, expressing the need to fuck him. Ricky slides down on Taylor's pole and rides him with renewed energy and soon Taylor strokes Ricky's hard cock. Ricky gets close but is slightly distracted by the sprinkling rain. Taylor is so fired up to fuck he doesn't care if it's raining. In fact it's his fantasy to fuck in the rain so he becomes an unleashed power top as he pounds Ricky on his back. Taylor slows it down a bit and as they kiss again he expresses his desire to get fucked.

Ricky has an idea to keep the excitement going by standing Taylor in between two trees with Taylor's outstretched arms holding on to the trunks. Ricky becomes the dominant top, rimming and fucking Taylor as he strokes his cock. Ricky wants to make Taylor cum as he fucks him and his deft stroking brings him to the edge so that when Taylor takes over stroking, he almost immediately shoots a gusher that splatters on the most earth. While Taylor catches his breath he's on his knees and getting his second facial, even bigger than the first! After he sucks up the remaining load from Ricky's cock, they share a cummy kiss. Ahh, the end of summer!

Scene 2: Arad Winwin & Justin Matthews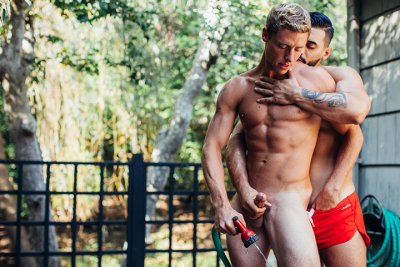 Arad Winwin and Justin Matthews have a joyful day at the beach with fun and affection and some uninhibited nudity and keeps going when they go back to the beach house sun deck. Arad notes it's a little chilly as Justin rinses the sand off his ass and legs but he quickly warms things up by kissing Justin and lightly grasping his fast-growing cock. Arad's mouth travels down Justin's sculpted torso to his irresistible steel hard cock.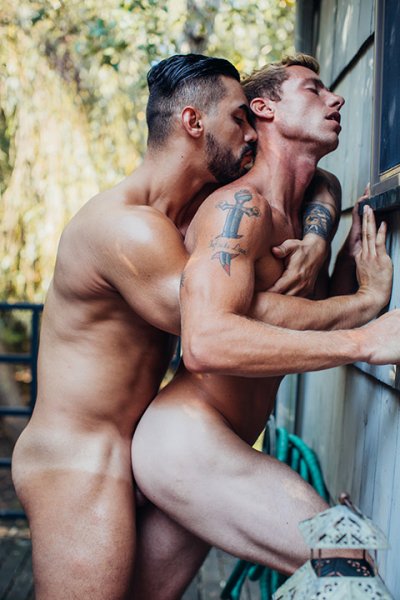 Arad can't get enough of Justin's throbber or his ripped body and before long he has Justin against the wall, necking him and fondling his creamy white rock hard ass. Justin can feel Arad's hard cock against his ass and he slowly thrusts it out. Arad takes the hint to rim Justin and slide his cock in, pressing his body up against him and fucking him deeper and faster. Using his muscles, his hands and deep-voiced whispers in Justin's ears, Arad dominates him totally. Soon he sits back and Justin rides his cock and as they shift and move together, Justin finds that sweet spot deep inside. They find it together again when they fuck standing up, almost edging closer to cumming.

They slow it down on an adjacent outdoor day bed where Justin gets on all fours to suck and slobber on Arad's cock. As much as he enjoys this, Arad keeps Justin's ass in focus, reaching over to play with and finger his twitching pucker. Eventually Arad fucks Justin from behind and they regain their momentum, tightly pressed together. On his knees Justin begs Arad to fuck him harder and as he gets close he flips on his back so Arad watch him shoot. Justin's load spurts out shot after shot of creamy cum scattered over his entire torso. Almost right after an excited Arad shoots his rapid-fire load which lands from Justin's face to his abs. Now it's time to really clean up!

Scene 3: Justin Matthews & Ollie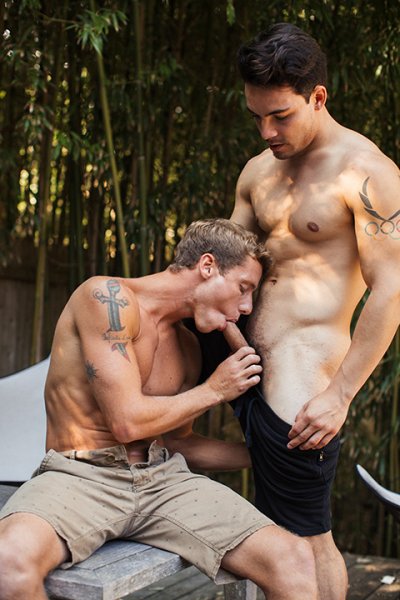 Ollie and Justin Matthews both know what they like and want simply go for it when they're together. While playing on the beach they go under a man-made canopy of beach bramble to kiss and Justin goes right ahead and sucks him. Before long Justin spontaneously takes Ollie back to the beach house where he proclaims he wants more..and again starts sucking Ollie and licking his big balls. Ollie is very vocally happy with the attention and tells Justin as much. He also is very direct in wanting Justin's cock and goes right in to suck him in return.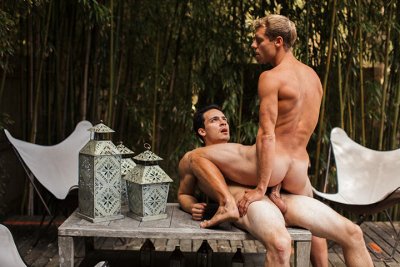 Justin says he can't wait until Ollie is inside him and so after sucking and licking Justin's balls, Ollie gets right to it. He puts Justin on his back and just starts fucking. Justin has to calm the hard-driving Ollie just a little but he also gives his vocal approval to deep-ass fucking. Justin's moans excite Ollie all the more and it takes a little more restraint to keep from pushing them both over the edge.

Justin gets on all fours and Ollie slowly tongue his hole...but he plunges in again for more power-fucking. Soon Justin announces he's getting close but this time it's Ollie who insists on slowing it down. He tells Justin to ride him... the position he wanted to see him in from the start. Justin finds his own momentum and his hole clenches Ollie's thick cock. He grips his cock and strokes it and on his own verbal cue he delivers a gusher of cum over Ollie's smooth muscled body. Ollie rubs it over himself and then jerks himself to shoot another layer on his skin. Now both calm and satisfied they go for what they want once again...to kiss.

Scene 4: Ken Summers & Valentin Braun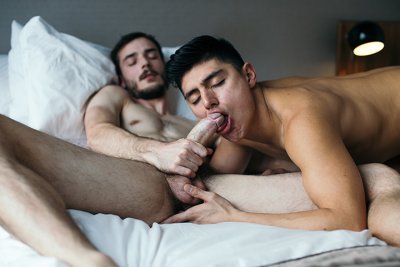 Ken Summers is so happy to finally shoot with Cocky Boys that his enthusiasm practically leaps off the screen! He's also eager to share his scene with Valentin Braun and his love of morning sex. He wakes up hard in Valentin's arms and slowly they exchange soft caresses and gentle kisses. These give way to Valentin fingering Ken and Ken teasing his joyful bed mate's cock and sucking him deep. While still having fun they soon settle in for some seriously sensuous sex.

Ken worships Valentin's feet and returns to sucking him but they constantly return to kissing. Valentin gives Ken's cock some attention too and further excites the already lively lad by sucking his nipples. Then, after one big kiss Ken falls forward on the bed and lifts up his bubble butt. Valentin's lips and tongue devour his smooth hole and soon after probing it with a two finger-probing, he finally fucks Ken whose face exudes pure sexual pleasure.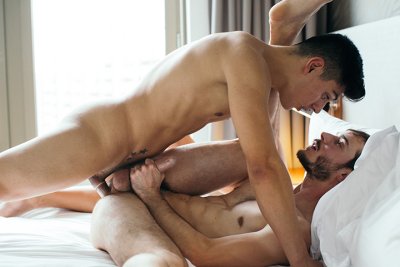 Valentin fucks Ken deep and hard and yet it's still with an element of joyful fun. In the midst of this Ken sweetly asks for his turn and Valentin agrees. He lies back as Ken returns to savoring his cock and probing his hole and then Ken fucks him with authority, showing he has the goods as top and bottom. Ken flips him on all fours and eats him out again before plowing him deep.

They both get close but switch it up once more with Ken riding and grinding on Valentin's thrusting cock. Turning around with Valentin inside him, Ken jacks his load over Valentin's chest and licks it up. And, with his dick still hard Ken fucks Valentin on his back until he shoots his load over his body. Smiling again, this time with post-sex satisfaction and bliss the two snuggle up again and kiss. Ken and Valentin make their case that morning sex is best!