Cocky Boys: All Saints Chapter 1


Summary:
The End Is Just The Beginning...Set against the mystical landscape of New Orleans, All Saints continues and builds upon the unique mythology that fans have come to love in Answered Prayers. Adrian, a grad student (Calvin Banks) has just become a research assistant to a forward-thinking professor (Adam Ramzi) at the Institute of Religious Studies in New Orleans. Since he was young, Adrian has been fascinated by the more magical and fantasy driven aspects of the Bible and is now in the perfect place to explore and hopefully prove some of his nontraditional theories. But the arrival of a lawyer (Carter Dane), representing a major funder of the institute, sets off a chain of events that will soon open up a world of mystery, power, and understanding that will change his life forever. And ever. And ever...

Scene 1: Adam Ramzi & Calvin Banks

On an windy, bitter cold snowy day a familiar face trudges across the drifts on a quest. Although it's hidden by the snow, the searcher thinks he has found the place he's been seeking and sudden atmospheric phenomena seemingly provide the confirmation. But something is dreadfully amiss and the seeker is caught in a whirlpool of terror. And so it begins...

In New Orleans Adrian (Calvin Banks) over sleeps and rushes out the door, walking briskly through quaint neighborhoods on his way to class. He stops only once at the gates of a cemetery when he thinks he catches a glimpse of someone. Adrian moves on, unaware that the hidden figure watches him as he walks away. Adrian arrives at the tail end of the religious lecture conducted by a professor & priest (Adam Ramzi) and proceeds to shine, in spite of being late. Nevertheless, after class the professor re-establishes his authority by sternly chastising Adrian for his tardiness.



Later, Adrian learns from a fellow student, Troy Accola, that he's rumored to be having an affair with the professor. Taken back Adrian corrects the record by telling the story of his meeting the professor in NYC more than a year before. On the street, eager fan Adrian gets the professor/author to sign his book and winds up being invited to his hotel room. Their intellectual discussion connects their minds while an impulsive kiss from Adrian (Calvin Banks) initiates their physical bond. As Adrian reminisces he wistfully tells the student, "It was the best day of my life."

At first the priest is hesitant, but once Adrian removes his collar his mild-mannered demeanor turns to unfettered passion. Pressed up against the wall they kiss breathlessly as they undress and priest Adam's passion burns brighter when he takes out fan Calvin's cock and low hangers. The priest kisses Adrian's creamy-skinned body and sucks him, savoring every inch. Returning the favor Adrian gives the priest deep-throated pleasure he may not have known before.The newly emboldened man puts Adrian on his back to play with his ass every which way he can while continuing to feast on his cock and balls.

Soon the professor has fully resumed his authority and fucks Adrian in a variety of positions and as he does they're progressively bound even closer. As he thrusts deeply into him on his back professor Adam and Adrian are almost locked together. But Adrian (Calvin Banks) desires to ride his cock and almost right after he begins his cock explodes volleys of cum over the priest's chest face. Very soon after he shoots his own heavy load and Adrian is right there to lick his cum and sensitive cock head. In the afterglow they chat again and Adrian casually utters a surprising revelation...

Meanwhile another familiar face sleeps and dreamis with flashing visions of what is to come ...or what has already transpired. And a softly whispered voice instructs him to "wake up"!

Scene 2: Carter Dane & Levi Karter

In part 2 of Jake Jaxson's ALL SAiNTS Carter Dane makes his long-awaited debut in the saga AND he's topping for the first time, taking on Levi Karter as Puck! This is Carter Dane as you've never seen before: a multi-faceted character whose importance to the story will be revealed along the way. Part 2 continues in New Orleans where Carter has unexpectedly fateful encounters with Adam Ramzi (back from part 1 as the professor for the religious studies institute) and Calvin Banks as Adrian, the student/TA to the professor. Also new to the series is Sean Ford in a pivotal cameo.

Cool and controlled on the outside professional man with a dominant side Carter Dane slowly reveals his hidden nature in his chance encounter with Puck (Levi Karter). Carter is intrigued and perplexed by the sweet & seemingly guileless Puck (Levi Karter) and kisses him passionately but he's more interested in dominating the submissive lad. He gets Puck (Levi Karter) to suck him and forcefully makes him deep throat his cock, holding him down twice to gag him harshly.

Puck (Levi) lashes out and breaks away so Carter takes a less blatantly aggressive approach. He kisses Puck on his neck and back and probes his taut hole until he begs to be fucked. Carter takes him from behind and thrusts deep into him, growing more intense as they stand in doorway. Carter reaches his point of no return and puts Puck on his knees to give him a thick facial. Seconds later Puck explodes while on his knees. They cool down & kiss and Carter leads Puck to his bedroom.

As they sit on the floor and chat they kiss again sweetly and continue in this mode, except for one inexplicable interruption. Puck sits on his lap which preludes to his riding Carter's cock. Puck (Levi) briefly takes control, but Carter flips him over and fucks him.. with less aggression and more passion until Puck shoots again. Carter unloads his thick cum over Puck and though they start to cool down again, there's an emotionally dramatic turn. Another side of Carter is unleashed, leading to....

Scene 3: Ricky Roman & Francois Sagat

In ALL SAiNTS part 3 The Banker (Ricky Roman) from Answered Prayers returns, with his life (or what's left of it) again infiltrated by a celestial creature, this time by François Sagat. At the same time tortured soul Carter Dane continues his work at the religious studies institute awakening to the hidden realities of his own existence. He's nudged forward by a vision of a centuries old past life and his connection to Puck (Levi Karter) and by those at the institute: the priest (Adam Ramzi) who opens his eyes to visual perception; his unexpected bond to associate Adrian (Calvin Banks); and by Troy Accola, the student who is more than meets the eye because he uncannily sees the truth...in everyone.

While at the institute Carter Dane is drawn to a case study of The Banker (Ricky Roman) whose life in incarceration is spent writing and drawing seemingly meaningless doodles and masturbating with repeated sexual visitations from the mysterious entity François Sagat...in authoritative guises. Finding credence in the study, Carter arranges The Banker's release to the Van Deerin estate for debriefing on his encounters. In a new life but still imprisoned, François reappears. Desiring Ricky even more, he offers him enlightenment and in exchange Ricky gives him his body.

François lies on top of Ricky devouring him with passionate kisses and in time turns him over to rim him and bring him undeniable pleasure with deep fucking. François is relentless as he turns Ricky over to suck him into submission and gorge on his hole before fucking him into another state of ecstasy. After turning him over to thrust deep into him François returns to making out with Ricky, sucking him, and moving into a face-fucking 69.

François is drawn back to eating out Ricky before he turns him around and simply lets go, fucking him with sheer abandon. At last he reaches orgasm and gives Ricky a thick facial but his desire in unabated as he jerks Ricky's cock furiously to give himself a facial with Ricky's load. And so, François keeps his promise and takes Ricky into the spiral of another reality ...literally.

Scene 4: Boomer Banks, Josh Moore, Ricky Roman & Francois Sagat

Even ancient deities enjoy the pleasures of the flesh as ALL SAiNTS Chapter 1 draws to a close. From the dark, timeless realm of the Anunnaki gods to an institute for religious studies in New Orleans, secrets are revealed, the layers of mystery shrouding certain identities begin to be peeled away, and the spiral of life circles around to the beginning.

At the institute in New Orleans Adrian (Calvin Banks) makes amends with Troy Accola who joins him & an increasingly intrigued Carter Dane to de-brief The Banker (Ricky Roman) on his transformative encounter with Anu (François Sagat). In the build-up to The Banker's tale, Troy's talent is uncovered, Carter is offered another glimpse of his own truth, and Adrian (Calvin) leads them all to the story of the Anunnaki mythology.

In the mystic realm a very important hidden observer watches Anu (François Sagat) introduce his prize The Banker (Ricky Roman) to two feuding brother deities (Josh Moore & Boomer Banks). They feed their cocks to Ricky until Anu (François Sagat) intervenes to have sex with both of perfect creations. Boomer rims and fucks François until he cums over him.Josh and François suck each other before Josh gives him his second fuck and more cum is spilled. However, François remains unsatisfied and impales Ricky on his cock.

Back at the institute the Banker's encounter visibly troubles one of the participants and Adrian (Calvin Banks) offers a shocking reason why the Banker is subject to these mystical encounters...and Adrian gets a surprise of his own!

Themes: Beards, Big Cocks, Feature, Intergenerational, Muscled Men, Religion/Spirituality, Tattoos & Body Ink, Uncut

Shop - Buy Online / Ajouter Au Panier / Bestellen
Please click below to compare prices and availability.

Additional Information

Categories: UK R18 / XXX Gay Adult /

Running Time: 170 mins, Year: 2018

Price: Around £29*

Starring: Ricky Roman, Levi Karter, Adam Ramzi, Calvin Banks, Troy Accola, Carter Dane, Sean Ford, Josh Moore, Francois Sagat, Boomer Banks, Cory Kane, Ben Masters, Max Adonis, Cole Claire, Jacen Zhu

Director: Jake Jaxson

Studio: Cocky Boys

Buy DVDs online at: Simply-Adult.com, Homoactive, Radvideo (USA) & TLAGay (USA)

Gay Video On Demand: Cocky Boys, See also: www.gayvod.co.uk

Member Site: CockyBoys.com

Country: USA, Language: English

Additional info: No Regional Coding

Also available from Cocky Boys: Love Lost and Found

Summary:
Set in the cities of Guadalajara and Puerto Vallarta, Love Lost & Found follows couple Taylor Reign and Cory Kane and their recently-single friend Sean Ford on a mission to play outside their relationship and to help Sean get over his breakup. This beautifully shot series directed by Jake Jaxson and RJ Sebastian features some absolute porn, including Allen King, Levi Karter, Jacen Zhu, and Troy Accola - with a very special appearance by porn legend Francois Sagat!


Also available from Cocky Boys: Wildest Dreams

Summary:
Josh Moore and Allen King head up a cast of our hottest guys to fulfill their wildest fantasies! Whether it be being tied up, being blindfolded or taken two huge cocks at once in an epic double penetration, our guys have had their dreams come true!

Also available from Cocky Boys: This Is Huge (2 DVD set)

Summary:
Over the past ten years CockyBoys has redefined gay porn. They now present the two disc set This Is Huge, featuring the biggest collection of their big dicked and bubble butt exclusives at their very best! With ten scenes, fifteen guys, and over one hundred inches of cock, they're glad to showcase the very best Cocky Boys!

Also available from Cocky Boys: Call Me Lucky

Summary:
Josh Moore leads a cast of hot virile men that all get lucky! Whether it's sharing boyfriends or chance encounters, these guys love the fucking that ensues. Featuring Boomer Banks, Sean Zevran and Vincent O'Reilly.

Cast: Josh Moore, Casey Everett, Vincent O'Reilly, Sean Maygers, Sean Zevran, Boomer Banks

Esmale - UK Gay Adult Shop / Gay Fetish Shop

Esmale (UK Gay Adult Shop) sells a large range of gay adult sex toys including a range of fetish and restraint products, Cock and Ball play items, Whips, Paddles and Slappers, Blindfolds, Masks and Hood and are the UK stockist of Mr B leather and fetish products. They also sell a large range of men's designer underwear, condoms and lube, fleshjacks, jock straps and anal toys. Treat yourself!

Save an extra 10% on top of their already discounted prices with our exclusive code 'GAY10'. Click here to shop

See also: www.gayadultshops.co.uk

Quality Gay Adult Member Sites

Spend £100+ with SimplyAdult to qualify for a free DVD (value upto £20)
When you buy gay DVDs from SimplyAdult, from a choice of over 13,500 titles, if your order totals £100 or more, you can choose an additional dvd from anywhere on the site (upto value £20) absolutely free!
Discount prices & low cost delivery.




Over 150 CockyBoy titles available to stream online or to download!
See also: www.gayvod.co.uk
Popular Gay Membership sites
with their own DVD releases: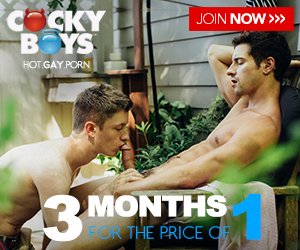 Join CockyBoys.com