Summary:
Welcome to Camp Morecock! It's a new series that plays on the nickname for the CockyBoys country home and which takes advantage of the biggest ever gathering of models for our 10th Anniversary Pool Party! Or as one veteran CockyBoy says,"There's a plethora of delectable creatures all walking around at any time". It's a seemingly endless,fun and joyful summer of swimming,canoeing,hiking,etc as well as quiet times getting to know one another. Then there are the nights by the campfire where the models gather for wienie roasting... and true sex confessions!
Scene 1: Colby Keller & Sean Ford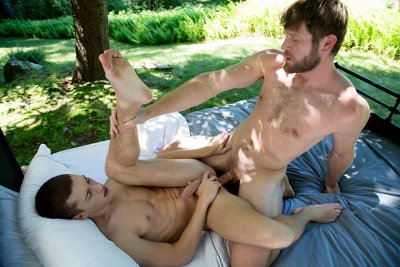 Welcome to Camp CockyBoys! It's a new series that plays on the nickname for the Cocky Boys country home and which takes advantage of the biggest ever gathering of models for our 10th Anniversary Pool Party! Or as one veteran CockyBoy says "There's a plethora of delectable creatures all walking around at any time". It's a seemingly endless, fun and joyful summer of swimming, canoeing, hiking, etc as well as quiet times getting to know one another. Then there are the nights by the campfire where the models gather for wienie roasting...and true sex confessions, a challenge instigated by Sean Ford. However it's Sean who is prodded to go first and reveal his hook-up with his longtime crush Colby Keller!

Flashback to earlier in the weekend when Sean Ford confesses that crush Colby Keller is also his first time with a full-bearded guy and someone he considers "an actual MAN." And it's Sean who does the seducing! While Colby naps on a large bed in the woods, Sean approaches quietly and brushes his cheek along his hairy torso, taking in his musky scent, and caressing his bulging crotch. Colby awakens to make out with Sean who continues to enjoy the feel and aroma of Colby's body before Colby pulls him on top to undress him and enjoy Sean's smooth skin.

Sean nuzzles Colby's crotch and grinds on top of it but soon he does as requested and pulls off Colby's shorts to suck him. Sean makes out with his cock as Colby breathes and sighs heavily, seemingly under Sean's spell. But Colby rises to bring Sean up to his chest while he reaches under Sean's shorts to finger him deeply. Soon he gets Sean totally naked to finger the writhing bottom, tease him with his cock, and then lie him down with his legs bent to rim him. Finally Sean is immersed in the ecstasy of Colby's cocksucking before getting rimmed and teased again. This drives Sean to blurts out, "Quit teasing me. I want that dick."

Colby takes control and gives Sean every inch of his cock, power topping the moaning lad: the full "Keller". He easily moves Sean into several positions, with smooth transitions. From from missionary to getting fucked from behind, and with Colby bearing down, Sean takes it all. As a considerate top Colby lets Sean cum his way, slowing riding Colby's cock and inching forward to shoot his load in Colby's chest hair and beard. Sean also brings him to orgasm, licking his balls as Colby jacks his cock to a sustained orgasm and thick load...of which Sean takes a taste. They lie there in each other's arms enjoying the warmth and pleasure of a summer's day at Camp CockyBoys.

Scene 2: Allen King & Danny Montero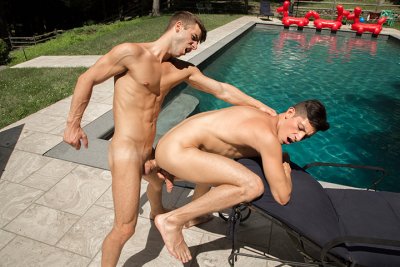 There's lot of fun at Camp CockyBoys and the huge gathering of models adds to it and gives some of the guys a chance to meet each other and make new friends...as well as have secret rendezvous. While everyone is hanging out by the pond and canoeing Allen King has his eye on Danny Montero and isn't coy or clever about getting him alone. He simply tells Danny he needs help blowing up the huge pool inflatables and off they go to the pool. They may not be fooling everyone but there better be results!

At the pool Allen & Danny are more interested in flirting than inflating all the pool toys. They don't even make a dent in the task before Allen gives up and suggests they take a break. Without hesitation a giddy Danny starts kissing Allen and goes down on him and Allen's fatigue magically disappears! In fact Allen is energized by Danny's cocksucking and takes him over to the lounge chair to face-fuck him and suck him right back. bringing a big smile to his face. Showing no signs of slowing down Allen pushes Danny backwards to rim him, tease him with his cock, and get inside him.

Allen fucks Danny hard without any inhibitions and in full control...and both guys are completely happy with the situation. While in this mode Allen turns around and directs Danny to sit on his cock and ride him and they're both unbound and in perfect sync. Allen drives up into Danny like a piston machine and Danny sides up and down with the same rhythm before they both lie back into horizontal cowboy and get close to the edge. Allen takes command again and bends Danny over the back of a chair to fuck him hard again and it's the just the position to push Danny over the edge to jack off a torrent of cum. Allen pulls out and glazes Danny's just fucked ass and they're both spent.

But what about the job of inflating all those jumbo pool toys? This time Allen is really exhausted and so is Danny. However Danny has a time-saving and human-energy conservation idea and soon they're both happy again, floating in the pool with ALL five inflatables! It's pool party time!

Scene 3: Calvin Banks & Josh Moore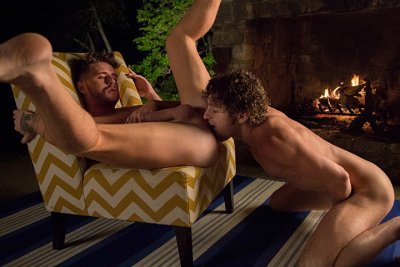 When night descends at Camp CockyBoys, it's lights out for virtually everyone...except Calvin Banks and Josh Moore! They use the cover of night for a secret pool rendezvous, playing with the inflatables, and kissing affectionately in the cool water. However they're soon drawn to the patio and the outdoor fireplace where they resume kissing by the hearth. Soon, Josh pulls down Calvin's speedos and starts sucking the fully hard cock that springs out in silhouette. After getting some juicy head from Josh, Calvin bends down to kiss Josh's torso and suck his thick cock with lusty enthusiasm.

Josh lies back and enjoys Calvin's sucking and soon finds himself under his control. Calvin rims Josh's muscular ass and then fucks him and as his thrusts get deeper and harder, Josh's breathless sighs become louder moans which pierce the quiet night air. Calvin talks in low murmurs but his long, thick cock prods Josh into vocal outbursts. In the midst of this an excited Josh tries an acrobatic position with his torso on the floor and his legs on the chair and Calvin eagerly tries it out to fuck him.

Soon Calvin wants his turn for some acrobatic kama sutra and they use the chair again to balance themselves so Calvin can plant his feet on a reclining Josh's chest and support himself to use his ass and legs to slide up and down on his cock. They get into more sexual acrobatics with Josh on the floor thrusting into Calvin who's balanced between the furniture. Calvin edges himself to a cum geyser, visible even in the firelight. He's quick to position himself for a hefty facial as Josh jacks off while lying on the floor. Calvin treats himself to a midnight snack but there's plenty of cream cum left on his face. They curl up together and rest by the fire, no one the wiser, for now, of their secret tryst.

Scene 4: Frankie V & Taylor Reign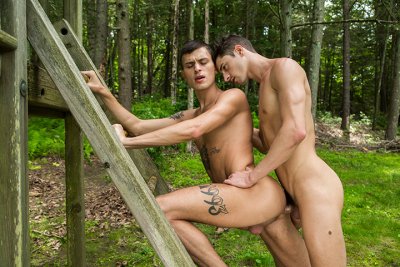 It's time for the Camp CockyBoys Workout! Camp CB offers fun and recreation and for the fitness-minded there's a jungle gym..which Taylor Reign converts into circuit training station for his daily workouts: "I'm always trying to do things that hit as many muscles as possible". Frankie V gets up earlier than he's accustomed to join Taylor, ostensibly for personal training but Taylor gets the message when Frankie reaches into his shorts. And Taylor is more than happy to have some fun before AND during their workout...however little there is of it.

Their irresistible attraction turns every exercise into a foreplay. While Taylor hangs upside down from his makeshift gymnastic apparatus Frankie quickly takes out his cock and sucks it. When Taylor does some decline sit-ups on the steps, he winds up kissing his "spotter" Frankie. As Taylor leans back on those steps as a "focal point" for Frankie's half-hearted plyometric pushups, Frankie makes swift work of taking out Taylor's hard cock and sucking him with no intention of resuming his push-ups. And though Taylor starts to show Frankie some cable flys he takes the time to pull down his shorts and suck Frankie's boner.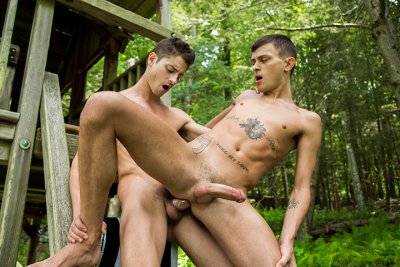 Although Frankie lets go of the cables to enjoy getting sucked, dominant trainer Taylor puts then back in his grips. Taylor gets behind him to rim and then fuck Frankie, who maintains discipline by holding onto the cable grips. Soon Taylor takes trainee Frankie back to the steps to plow deep into him and test their stamina. He then tests Frankie's gymnastic flexibility by making him sit on his cock and ride it. Frankie passes his fitness test with flying colors as he jacks his cock and explodes with a thick, long-lasting cum geyser. At the end Frankie doesn't get post-workout protein drink but he does get a thick protein facial courtesy of Taylor who towers above him. Time to hit the showers!

Scene 5 - Boomer Banks & Jacen Zhu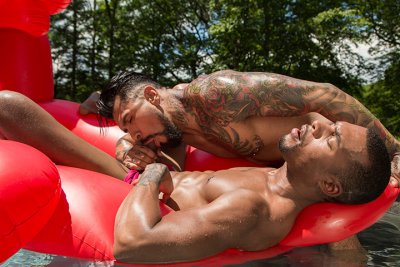 All Boomer Banks wants to do is make use of the lush Camp CockyBoys vegetable garden and picks some salad greens, but horny Jacen Zhu has other ideas. He's just spied on Danny and Allen fucking and now he wants Boomer, so he mischievously interrupts him and playfully lures him to the pool for a "tossed salad". Although Boomer says he isn't in the mood, once he sees Jacen's enticing body floating in the pool on one of the giant inflatables, he changes his mind, if not his serious mood. Boomer steps into the pool to let his humongous cock flop out over Jacen's excited face and eager mouth. He feeds his cock to Jacen who just can't get enough and takes out his own impressive cock to jack off.

Jacen may be playful, but Boomer remains serious in his dominance. He tells Jacen to turn over and after balancing himself on the inflatable, Jacen's bubble butt gets invaded by the full length of Boomer's torpedo. Boomer is relentless in pounding the very vocal Jacen who is insatiable no matter how much teasing and hard fucking Boomer dishes out. Boomer's hard edge begins to soften slightly when takes Jaceb out of the hot sun and into the shade of patio umbrella. While nuzzling Jacen's neck he murmurs, "That felt so good" and proceeds to fuck him standing up, deep and hard as he knows Jacen can take it, but with increasingly affectionate passion.

Jacen takes Boomer to the lounge chair where he saw his camp mates fucking and as Boomer lies back Jacen sucks his cock deeply. Boomer sucks him back but Jacen wants Boomer's cock inside him. He gets on top and rides Boomer's cock and between his breathless sighs and moans Jacen tells him exactly how it feels. Boomer resumes control, pushing Jacen on his back to deep-fuck him into gasping sighs and rock him upright and back down again until he fucks Jacen to an intensely explosive cumshot. Boomer is ready but he coaxes Jacen to turn around and let him shoot over the butt he just pounded. Now, Jacen's ready to eat and as Boomer whispers to him, "Lucky for you I'm a good cook." To which Jacen adds, .."and a good fuck"
Additional Information
Categories: UK R18 / XXX Gay Adult /
Running Time: 130 mins, Year: 2018
Price: Around £30 / $40*
Starring: Frankie V, Taylor Reign, Allen King, Boomer Banks, Colby Keller, Josh Moore, Calvin Banks, Sean Ford
Director: Jake Jaxson
Studio: Cocky Boys
Buy DVDs online at: Simply-Adult.com, Homoactive, Radvideo (USA) & TLAGay (USA)
Gay Video On Demand: Cocky Boys, See also: www.gayvod.co.uk
Member Site: CockyBoys.com
Country: USA, Language: English
Additional info: No Regional Coding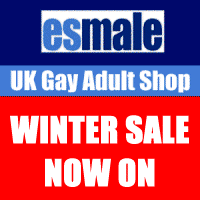 Esmale (UK Gay Adult Shop) sells a large range of gay adult sex toys including a range of fetish and restraint products, Cock and Ball play items, Whips, Paddles and Slappers, Blindfolds, Masks and Hood and are the UK stockist of Mr B leather and fetish products. They also sell a large range of men's designer underwear, condoms and lube, fleshjacks, jock straps and anal toys. Treat yourself!
Save an extra 10% on top of their already discounted prices with our exclusive code 'GAY10'. Click here to shop
See also: www.gayadultshops.co.uk