Summary:
It is all about the Bareback Bromance here! These CockyBoys have famously gotten along with each other and some love to hang and explore each other's bodies. Watch what happens when Taylor and Grayson engage in some wax play or when Mateo and Ricky flip-fuck.
Scene 1: Troy Accola & Nico Leon
Nico Leon wants to stay indoors on a sunny spring day for a good reason: Troy Accola is caressing his naked body. And yet Troy really wants to go out so Nico bargains to keep him inside a little longer. As Troy gives him the "head scratchies" he wants, Nico "negotiates" a longer delay to going outside by nuzzling Troy's underwear bulge and he completes the deal by sucking his cock.
Troy is all in, bending forward to play with Nico's ass and rim him and taking control as he tells him to flip over on his back. Troy then gives Nico more pleasure than he expected with sensual sucking of his cock & balls, followed by a tongue bath and fingering of his tight hole. And when he's primed with a little more spit lube Troy slides his raw cock into Nico to fuck him deep and they BOTH experience eye-rolling sexual pleasure.
Troy enjoys himself as he turns Nico around & thrusts deep into his vocally expressive friend like a power top and turns him over to make out with him like a longtime lover. Troy turns Nico on his side and fucks him deep before pulling out and jacking off a white hot thick load over his hole and sliding some back into him. Finally Nico rolls on his back and in no time pumps out thick cum over his tan lower abs. As they kiss and lie next to each other they're both happy they stayed in.
Scene 2: Taylor Reign & Grayson Lange
Grayson Lange returns for some kinky fun courtesy of Taylor Reign! Grayson is fairly new to bondage and Taylor is eager to show him the ropes...literally. He ties Grayson's legs, binds his wrists over his head, and kisses him and fondles his body and growing cock while he blindfolds him. Visual deprivation coupled with his near-ticklish sensitivity makes Grayson harder and Taylor coaxes his erection more with sucking and gentle stroking. And then he brings out an unlit candle to run over his body in preparation for what's next.
Taylor lights the candle and slowly drips hot wax on Grayson's torso. Grayson flinches as the wax stings and as Taylor continues, he tempers the drippings with soothing kisses. After determining Grayson has done well, Taylor stops and offers him a reward. He gives Grayson a sneak peek at his raging hard-on and feeds it to the blindfolded sub. Grayson enthusiastically sucks and sucks and Taylor is so pleased he lets Grayson use his bound wrists to stroke him. Soon the blindfold comes off and eventually after much sucking and face fucking Taylor removes all the ropes.
Taylor turns Grayson around to rims him and tease him with his cock and finally slides it in raw. They both are unbound now as Taylor pounds a breathlessly Grayson who excitedly thrusts back. When he rides Taylor, Grayson bounces wildly and he keeps at it even Taylor picks him up to fuck him in mid-air. But finally Taylor takes full control drilling Grayson on his back until the eager sub shoots over himself. Taylor responds with an intense cumshot that almost covers the candle wax. They're both spent but not too much to share a loving kiss.
Scene 3: Clark Davis & Wess Russel
Wess Russel celebrates his 21st birthday in a special way befitting this milestone: a flip-fuck with Clark Davis! They've waited a while to finally get together and their pent-up attraction is heightened by instant chemistry that's so strong Clark can't wait to suck Wess. His deep sucking makes Wess' cock fully hard in less than a minute and before too long Wess returns the favor enthusiastically. And this is even though Clark's cock is bigger than Wess realized. Clark loves Wess' interactive sucking and he's just as eager to work over the vocal muscle stud's hole with his mouth & thumb until he begs for cock. Clark's thick cock slowly stretches Wess' hole as requested and before long he's thrusting in deep and hard. Clark slows it down only to learn Wess wants. Soon after, as Clark gets him on his back to fuck him some more, Wess expresses the rare desire to top him! Clark agrees but first he wants to fuck him some more.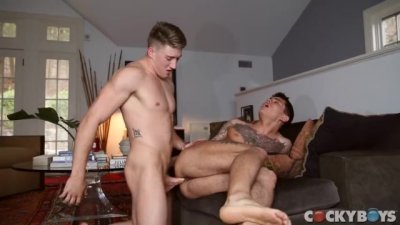 Clark deep thrusts into Wess and makes him moan even louder as his precision fucking hits the bulls-eye and Wess shoots a half-load hands free! Clark still keeps going and even fucks him in mid-air..as he bounces on his cock! Finally though Clark gives Wess his turn to top. Wess fucks him sideways and on his back and shows his previously unseen talent by fucking a skyrocketing load out of Clark. He soon shoots a full thick load over and in Clark's hole.
In the afterglow they're both VERY satisfied and Wess proclaims "Best birthday present ever!" And Clark speaks for everyone bye reiterating the message: "Happy Birthday!" Is there now a new alpha top at CockyBoys?
Scene 4: Ricky Roman & Matteo Vice
New CockyBoys Exclusive Mateo Vice is back for a raw flip-fuck with Ricky Roman! As they make out Mateo quickly sheds his shyness and luxuriates in the pleasure of Ricky's passionate blowjob. His aggressive side comes out as he gets a willing Ricky to sit on his cock and they continue to make out almost non-stop as Ricky rides him.
After a very smooth transition Ricky sits back as Mateo sucks him back with equal passion and soon they get into a elevated 69. While Ricky's cock is buried in Mateo's throat he feasts on Mateo's hole and gets him ready for bottoming. A quick position change and Ricky is soon pounding Mateo at an angle for maximum depth. And Mateo admits he's never been fucked like this!
They keep up their flipping momentum on top of the bed as Mateo drills Ricky from behind and just as easily switches to riding his cock with the same intensity. It's while riding Ricky that Mateo climaxes and unleashes thick globs of cum over his chest. Ricky slurps Mateo's cock and then thrusts up into him until he too cums, pulling out to shoot and slide his cock back in.As they bask in the afterglow Ricky gives Mateo his seal of approval: "You're a star, baby"