Cocky Boys: Just One Night - Gay DVD


Summary:
In New York City, the nightlife is always booming and its residents are always on the go. Just One Night features several of those residents experiencing a connection with a stranger (or not in some cases) for that one unforgettable night in NYC. Sometimes all you need is Just One Night! Sean Zevran and Michael DelRay join CockyBoys exclusives in a feature set in the city that never sleeps.

Scene 1: Levi Karter & Sean Zevran

Since moving from the city almost six years ago, our projects have often been shot in a more pastoral setting -- focusing on our love for the outdoors and the quiet of the country.

From time to time, I find myself in my old stomping grounds of New York City. Often the sights, the sounds, and the general hullabaloo of the place are more jarring and aggravating than they used to be. Perhaps my sensitivities are heightened by growing older and such a contrast from the quiet of my current life. For some reason sounds seem louder to me now more than ever. And there are just some city noises that just ride and rip up my spine, tapping into the most receptive sensors in my brain that signal stress, upset and anxiety.

And it was on just one of those days while I was begrudgingly navigating my way in and out of our old neighborhood, just past the smoke shop where Christopher Street meets 7th Ave, when my ears picked up the sultry purr of a young man: "Ohhh daddddy".

Now, the first thing that hit me was -- "I'm NOT a daddy" -- but when I turned around I saw a group of young Latin boys, each one unique and pulling their own looks, I realized that "daddy" might indeed be a fitting label and I accepted my newfound daddy-hood. While I kept walking, they catcalled me, encouraged by my acknowledgment. As I smiled, the one boy who first clocked me stepped forward--his shirt cut into a crop top--showed off his lean slender torso. His painted nails and made-up face gave him a little pop that made him standout from the rest. And then he yelled out, just as I turned my head back forward, "If I had just one night with you, Papi…what I would do!" I turned back and smiled, flattered, amused and happy to be back in the city.

My look back was a quick one, making sure I stayed on track on the busy hustle bustle of sidewalk traffic. And while I remember the quick sight of the boy's delight on having not been ignored, what I remember the most was the howls of laughter from his companions as they were just as delighted in their friend's success. And though I'm sure they say that to many a man who passes by, I was more than happy to be the butt of the joke, if only to have the aggravating sounds of the city for that moment drowned out by the sound of laughter, followed by a reminder of why I love the city -- the place where anything can happen, where possibilities are endless and just how much delightful TROUBLE I used to find here in JUST ONE NIGHT.

Scene 2: Allen King & Calvin Banks

Sometimes you meet someone special when you stop trying so hard. So it is for Calvin Banks who watches all the fun interaction going on all around him at a club one night but just can't make a connection with anyone. However, later on the subway stranger Allen King appears and they exchange glances and sweet smiles. Calvin gets off at his stop and keeps it cool as Allen follows him to his jeep and climbs in. "You wanna go somewhere?" is all Calvin has to ask and he silently drives Allen to a secluded spot in the country to park and make out.

While he was awkwardly shy earlier at the club, Calvin is much more self-assured and confident with Allen. He merely signals Allen to join him at the front of the car with the headlights on and make out. As Allen goes down on Calvin to give his cock and his big full balls plenty of attention the silent communication dissolves. Calvin freely expresses his pleasure verbally, guiding Allen along the way, reaching over to feel his tight ass and excite him more. At one point Allen hops on top of the bumper to sit as Calvin gives his equally large cock and balls uninhibited oral pleasure. Allen loves it but wants more. Allen hops down and hoists one leg on the bumper so Calvin can rim thoroughly.

Soon enough Allen wants to be fucked and Calvin obliges, working his thick cock in and deep-thrusting as they find that sweet spot together. Allen also anticipates what Calvin wants and sits atop the bumper again so Calvin can fuck him in that position. But soon the excited Allen wants to switch positions again, this time to fuck Calvin. Calvin backs himself on Allen's cock to get fucked but in short order he's also propping a leg up on the bumper to get pounded. Allen's cock drills Calvin who doesn't hold back as he explodes and shoots his load on the ground. On his knees he gets a facial from Allen whose aim is true even in the limited light.

The guys kiss and soon get dressed, ready to part. But Allen has a little confession to make that possibly makes a difference to what happens next after this thrilling one night stand.

Scene 3: Jacen Zhu & Taylor Reign

"I don't want my job to be a graveyard of boys that never call back." As the host of happening late night parties Jacen Zhu keeps things professional and doesn't go after all the hot guys around him. However he makes an exception to his rules with an after-hours invitation to sweet but persistent club goer Taylor Reign. Later as they chat on his well-appointed terrace Jacen remains guarded, but when Taylor puts subtly seductive moves on him, Jacen's lust shatters his rules and he brings him inside where they kiss at length with romantic passion.

Passion takes an unexpected turn when Jacen puts Taylor on all fours yanks down his pants, and buries his face in his musky crack. Remaining mostly dressed, he rims Taylor deeply and takes a verbally and physically dominant role. He slaps his hard cock on Taylor's hole until he begs to be fucked and then with one thrust enters him and fucks him hard and deep. Jacen removes his clothes and making sure he's not too rough on Jacen, proceeds to plow forward. Still, Taylor needs a small break, backtracking to romantic kissing and cocksucking foreplay.

Jacen is pleased with Taylor's cocksucking talents but still pulls out his dominance card to train him in deep throating his long, thick cock. After Jacen strips off Taylor's shirt and observes his control over him he brings his "boy" into the bedroom. There Jacen gives Taylor full, slow-burning oral pleasure which includes sucking his steel-hard cock and toes before sidling next to him for doubly satisfying 69. Jacen moves Taylor on his back to penetrate him once again but before that he sucks his toes on both feet, one after the other.

With his legs back Taylor takes every inch of Jacen as he slides in and resumes fucking him. He increases the depth temporarily with an acrobatic move using the headboard and it brings him so close to the edge that he soon explodes with an intense cumshot over Taylor's torso. Still breathing heavily he turns his attention to bringing Taylor to orgasm by kissing him, feeling his sensitive taint and sucking his nipples. This does the trick and Taylor's cock shoots an even bigger load.

As they lie they together one question hangs over them: Will Jacen add another marker to his graveyard of lost men?

Scene 4: Boomer Banks & Michael DelRay

Boomer Banks heads home after a hot party but he's sure not ready to call it a night. Neither is Michael DelRay. They're both on the prowl, crossing paths at an unlikely spot, exchanging lusty glances and drawing closer. After a few grazing gestures, Boomer takes Michael by the hand to a fire escape outside his building. There they make out and Boomer boldly sucks Michael's cock before taking him up to the roof to suck him more and rim him. At the highest roof level they kiss and gaze at the cityscape, but Boomer gets to the point with dead seriousness: "Do you want to stay here and watch the view or do you wanna go fuck?"

In Boomer's bedroom they waste little time. Michael pushes a delighted Boomer to a chair and pulls off his pants to suck and slightly choke on his cock. An emboldened Michael turns Boomer around and aggressively rims him deeply and effectively, making Boomer beg for Michael to be inside him. He takes control and fucks Boomer, his voice growing deeper the harder he fucks. Acting like this is HIS domain, Michael lies back and orders Boomer to ride his cock...which he does readily. They move together, their moans and grunts filling the air. But at one point Boomer sits up and tells Michael with quiet confidence that it's his turn to fuck.

Barely changing positions Boomer plunges into Michael, making him moan louder with every deep, full thrust. Soon, Boomer reclaims control and with relative ease he turns Michael around to fuck him against the headboard harder and faster. As their bodies grind together they reach the point of no return. Michael sits on Boomer's stomach and with his huge cock almost reaching Boomer's face, he gushes cum in his beard and on his chest. With Michael's face buried under his balls Boomer shoots his own huge load, his intense orgasm extended by Michael sucking his sensitive cock. As they kiss the question remains: Was this hook-up only "just one night"?

Shop - Buy Online / Ajouter Au Panier / Bestellen
Please click below to compare prices and availability.

Additional Information

Categories: UK R18 / XXX Gay Adult /

Running Time: 130 mins, Year: 2018

Price: Around £30 / $40*

Starring: Jacen Zhu, Taylor Reign, Calvin Banks, Michael DelRay, Allen King, Sean Zevran, Boomer Banks, Levi Karter

Director: Jake Jaxson

Studio: Cocky Boys

Buy DVDs online at: Simply-Adult.com, Homoactive, Radvideo (USA) & TLAGay (USA)

Gay Video On Demand: Cocky Boys, See also: www.gayvod.co.uk

Member Site: CockyBoys.com

Country: USA, Language: English

Additional info: No Regional Coding

Also available from Cocky Boys: Camp Morecock

Summary:
Welcome to Camp Morecock! It's a new series that plays on the nickname for the CockyBoys country home and which takes advantage of the biggest ever gathering of models for our 10th Anniversary Pool Party! Or as one veteran CockyBoy says,"There's a plethora of delectable creatures all walking around at any time". It's a seemingly endless, fun and joyful summer of swimming, canoeing, hiking,etc as well as quiet times getting to know one another.



Also available from Cocky Boys: Go Big

Summary:
Go Big or Go Home! That's the usual adage. These hot guys definitely don't go home in this DVD by Cocky Boys. Andy Star, Jack Hunter and Ashton Summers all endeavor taking as much cock as they can without breaking a sweat. These guys are not quitters; they never go home.

Also available from Cocky Boys: Call Me Lucky

Summary:
Josh Moore leads a cast of hot virile men that all get lucky! Whether it's sharing boyfriends or chance encounters, these guys love the fucking that ensues. Featuring Boomer Banks, Sean Zevran and Vincent O'Reilly.

Cast: Josh Moore, Casey Everett, Vincent O'Reilly, Sean Maygers, Sean Zevran, Boomer Banks


Also available from Cocky Boys: Postcards From LA

Summary:
Beautiful & sunny Los Angeles is the backdrop of this series. The beach, the sun and the hot, beautiful hung gentlemen almost make us forget our NYC hometown!

Featuring Riley, Sean Zevran and newcomer Travis Yukarit, this DVD is all about the boy.



Esmale - UK Gay Adult Shop / Gay Fetish Shop

Esmale (UK Gay Adult Shop) sells a large range of gay adult sex toys including a range of fetish and restraint products, Cock and Ball play items, Whips, Paddles and Slappers, Blindfolds, Masks and Hood and are the UK stockist of Mr B leather and fetish products. They also sell a large range of men's designer underwear, condoms and lube, fleshjacks, jock straps and anal toys. Treat yourself!

Save an extra 10% on top of their already discounted prices with our exclusive code 'GAY10'. Click here to shop

See also: www.gayadultshops.co.uk

Quality Gay Adult Member Sites

Spend £100+ with SimplyAdult to qualify for a free DVD (value upto £20)
When you buy gay DVDs from SimplyAdult, from a choice of over 13,500 titles, if your order totals £100 or more, you can choose an additional dvd from anywhere on the site (upto value £20) absolutely free!
Discount prices & low cost delivery.




Over 150 CockyBoy titles available to stream online or to download!
See also: www.gayvod.co.uk
Popular Gay Membership sites
with their own DVD releases: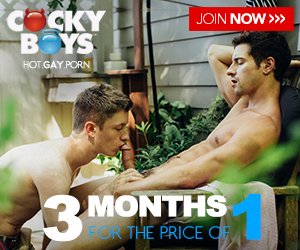 Join CockyBoys.com