Bad Boy Bass - Gay DVD - Studio: VideoBoys - new
Here it is - the ultimate Jake Bass collection! Bad Boy Bass features the first scenes that young Jake did when he was starting out (and before he became the superstar he is today). Even then, there was something so special about him. Maybe it was his cute, devious smile coupled with insatiable sexuality. All we know is that whether it was yesterday, today or tomorrow, Jake Bass will always be everyone's favourite bad boy!
Jock Fuckers - Gay DVD - Studio: VideoBoys - new
Young muscle stud Kobe Cash is back for an in-depth look at his body in action with Jock Fuckers. When Alec's straight room-mate, Kobe, confronts Alec about having sex with guys, Alec claims that even Kobe can get turned on by a guy. Alec throws everything he's got a Kobe to see if he can break his straightness. Lukas Wild travelled to the Nation's capital to have a chance to tap Taylor's ass.
Pierre Fitch: 13 Years In The Biz! (2 Dvds) - Studio: VideoBoys - new
Very few pornstars have had a career like mega stud Pierre Fitch. In the industry for over a decade, Pierre has graced several magazine and dvd covers, worked with innumerable performers and has been the cause of many orgasms. Goofy, funny, and sometimes serious, Pierre Fitch started his journey as a young sexual pup just looking for a good time. He has grown into a hot young sex god that all up and coming models want to work with. Jake Jaxson & Videoboys present Pierre Fitch: 13 Years In The Biz!
Yes Please (2 Dvd Compilation set) - Studio: VideoBoys - new

Yes Please! is a superb two disc set spanning a whopping three hours of man-on-man action!

Cast: Ashton Hardwell, Bobby Long, Diego Diamond, Jason Martin, Jessy Karson, Jimmy Bodine, Joey Lafontaine, Julien Cox, Leo Lafonce, Luda Wayne, Marco Gagnon, Pierre Fitch, Sascha Vistos, Seth Corrigan, Sonny Stewart, Symon Boisdur, Tommy Dubois, Trent Evans, Xavier Powell
Bubble Butt - Gay DVD - Studio: VideoBoys

These tasty tempting twinks from Videoboys have a hard young dick and a sweetest Bubble Butt that just cries out to be slammed. What makes these twink bottoms so special is that they love to get fucked. Watch these boys get satisfied by their young fuck buddies.
Fresh Face - Gay DVD - Studio: VideoBoys

Feast your eyes on new, fresh twink fuckers in the new film Fresh Face from the studio Videoboys! They are new to the industry, never before seen on camera! They talk briefly and seem a bit nervous, but once they start kissing and doling out blowjobs, they really get into it! Smooth chests, slim bodies and fresh, young faces abound in Fresh Face!


Hard At Work - Gay DVD - Studio: VideoBoys
Hard At Work gives a look at a fantasy world where the plumbers are young, cute and horny and quite capable of taking care of their customer's needs. Slim and smooth Jessy is the first to find this out when he gets his toe stuck in the tub drain. Young and handy Symon and Derrick come to the rescue. When these guys get naked, some truly mouthwatering cocks and low hangers are on display.
Hard Boned Twinks - Gay DVD - Studio: VideoBoys
When you're young and hung like Xavier Powell and his friends, raging hard-ons and frantic sex happens reguarly and without warning. This collection of four duos featuring eight of Videoboys hardest, hornies twinks show just how hard twink sex can be. Xavier's cum drenched solo puts the icing on the cake (and on his face).


Hardcore Marathon - Gay DVD - Studio: VideoBoys
Video Boys went into their vaults and found Pierre Fitch's first-ever scene, never before released on dvd. Not only does Hardcore Marathon showcase studly Pierre, it also features hunk-stud Ian Duncan in some of his hottest scenes ever. As you know, sometimes a guy just can't get enough - and Ian Duncan lets all his sexual urges run wild in Hardcore Marathon


Hooked - Gay DVD - Studio: VideoBoys

These sex-crazed boys are so insatiably horny, it seemed only natural to pair them together and watch as they get Hooked. From gentle kisses to hardcore ass pounding, these hook-ups will have you Hooked and wanting more!
Hooked On Cock Hungry Bottom Boys - Gay DVD - Studio: VideoBoys

Hooked on Cock Hungry Bottom Boys brings you hot sex hookups between big-dicked cuties and, well, cock-hungry bottom boys!

Cast: Shane Frost, Andrew Elliot, Cliff Beltane, Chase Nailor, Ken, Dakota, Izack, Alec Winfield

Juicy Cock - Gay DVD - Studio: VideoBoys

Videoboys are all for nice Juicy Cock! In this dvd they bring you some of the best, thickest, and juiciest cocks around. They have all the hot studs that one could ask for!

Cast: Luda Wayne, Arnaud Chagall, Bobby Long, Diego Diamond, Jake Bass, Lukas Wild, Tommy Dubois, Xavier Powell |

Make Him Moan - Gay DVD - Studio: VideoBoys

How can you tell when a bottom boy is really loving the fucking he's getting? When he has a raging hardon and is dripping pre-cum, that's a dead giveaway. But when these Videoboys tops fuck, they're not satisfied until their bottom boys moan with pleasure. Warning: Pay attention to your volume controls while watching Make Him Moan!
Pierre's After School Special - Gay DVD - Studio: VideoBoys
This randy teenager Pierre is one hungry bottom, and the horny kid gets shafted here by a cute collection of his hung schoolmates.

Starring: Pierre Fitch, Benjamin Fischer, Nico Garcia, Jeremy Roddick, Xander Shapo
Pierre Fitch Knock Out - Gay DVD - Studio: VideoBoys
Pierre Fitch has a new passion - boxing. In Knock Out Pierre stars in an all-new scene from Videoboys. He shows off his boxing and fucking mastery with his buddy, the big-dicked jock Cliff Beltaine. Watch seven more of Pierre's best scenes with Videoboys featuring his hottest action as both enthusiastic bottom and hard-pounding top.

Pierre's Freshman Year - Gay DVD - Studio: VideoBoys
With his hot new muscles and massive dick, Pierre is ready to try his skills as an ass pounding top for a change. His college buddies are only too willing to take time out from sports or studying to sneak off and fuck for a few hours!
Playin' With Pierre - Gay DVD - Studio: VideoBoys

International porn star Pierre Fitch is horny and wants to play, so he finds some sexy bottom boys to satisfy his needs. Plenty of rock-hard cocks in Playin' With Pierre find warm wet mouths and freshly-lubed butt holes, leading to loads of cum.

Cast: Pierre Fitch, Shane Frost, Hayden Colby, Johan Lapointe, Tyson Neil
Pounding Ass - Gay DVD - Studio: VideoBoys

Watch Jessy Karson Pounding Ass in this dvd which is packed with hard anal action, featuring some of the hottest ass getting drilled deep by the biggest dicks!

Cast: Jessy Karson, Aaron, Ryan Jax, Sebastien, Tommy Carlyle, Others
Skaterboy Fuck Friends - Gay DVD - Studio: VideoBoys

These Skaterboy Fuck Friends ride the concrete together, but when the sun goes down they ride cock!

Cast: Bobby Long, Ethan Rose, Etienne Kidd, Jimmy Little, Justin Lebeau, Seth Knight, Tony Starr

Snapshots of Shane - Gay DVD - Studio: VideoBoys
Shane is taking his first college photography course in Snapshots Of Shane. Luckily for him, his class is filled with ideal subject matter for the kinds of portraits Shane likes to take! It turns out that Shane's classmates are eager to participate in whatever poses Shane has in mind for them as they display their many talents in six sizzling duo scenes!

Special Delivery - Gay DVD - Studio: VideoBoys
When these delivery boys come knocking, they always deliver the whole package! These lads are utterly cute and totally insatiable - the pride of Canada, with smooth bodies and horse-hung cocks!
Starring: Alec Winfield, Eric Thomas, Fabien Dutroux, Johan Lapointe, JP Jackson, Sascha Vistos

Str8 To Anal 2 - Gay DVD - Studio: VideoBoys

Str8 To Anal 2 is of the opinion that straight guys are great to look at, but sometimes you really want more - a lot more! So when the right straight guy comes along, one who is just horny enough and experimental enough, he gets paired with the gay boy of his choice and you get to watch some of the best fucking you've ever seen!


Straight Boys Fucking - Gay DVD - Studio: VideoBoys
Straight Boys Fucking shows that straight boys might not be good for much when it comes to intimacy with gay boys, but they sure are good at shoving their big cocks into a tight hole! It's downright awkward when it comes to displays of affection, but give them a smooth boy with his tight ass in the air and these straight boys will find a reason to shove it in and fuck them until they cum!

The Three Tenners - Gay DVD - Studio: VideoBoys

It's rare to see this much talent gathered in one room together - and by talent we mean cock meat! Between them, Ashton Hardwell, Jessy Karson and Sascha Vistos - The Three Tenners - have just over 27 inches of cock out on the table and they are ready to play.


Twink Fuckers - Gay DVD - Studio: VideoBoys

These tasty tempting twinks from Videoboys have the hardest young dicks and the sweetest bubble butts to ever get slammed together. What makes these twink bottoms so special is that they love to get fucked. Watch these twink bottoms get satisfied by the Twink Fuckers.


Twink Tales - Gay DVD - Studio: VideoBoys
Twink Tales introduces Bobby Long, who may look sweet and innocent but his hormones are raging and he wants to try everything that involves hard dicks and cum. Bobby and his cast of lean, horny twinks are in that experimental stage where everything is new and exciting and the mere thought of a sweet little ass makes their boners jump to attention. Twink Tales is a penetrating look at the sex lives of some very horny boys!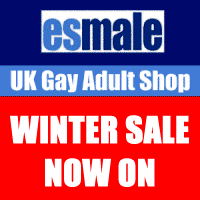 Esmale (UK Gay Adult Shop) sells a large range of gay adult sex toys including a range of fetish and restraint products, Cock and Ball play items, Whips, Paddles and Slappers, Blindfolds, Masks and Hood and are the UK stockist of Mr B leather and fetish products. They also sell a large range of aromas, condoms and lube, fleshjacks, jock straps and anal toys. Treat yourself!
Save an extra 10% on top of their already discounted prices with our exclusive code 'GAY10'. Click here to shop
See also: www.gayadultshops.co.uk