Swim Meat - Gay DVD - Studio: Fucked - new

Dive in balls deep in Swim Meat. Practising every day after school can be hard work, and these horny lads need a release for their pent up sexual tension. What better way to bond with your swim team mates than to slide a big cock inside tight assholes, or ride the cum straight out of a friend's dick? Team mates that fuck together, win together!
Horse Hung Twinks - Gay DVD - Studio: Fucked - new

Don't let these young lads fool you, they may look innocent but there's a monster between their legs! Only the fattest, longest and hardest dicks are chosen to bareback our poor unfortunate bottoms into oblivion. First their ass holes are stretched wide, then fucked deep - left gaping, ruined and full of spunk by horse hung dicks!
Chav Domination - Gay DVD - Studio: Fucked

Down dark alleys, dragged back to their flat or even out in the open for everyone to see; these thugs are looking for young lads to service their fat throbbing cocks! They may steal your money, they may rob your phone, but they will definitely fuck you up the arse before drenching you in spunk!
Colossal Cocks - Gay DVD - Studio: Fucked

Colossal Cocks like you've never seen grace this dvd. Long, thick teen cock dripping with lust! These horny young lads have a concealed weapon of ass destruction. Hanging between their legs are dicks big enough to make your knees weak - but wait until they get hard, because these rough fuckers will stretch your throat and hole beyond capacity. Watch as they leave willing victims screaming in pain and gapping for more!
Cock Hungry Chavs! - Gay DVD - Studio: Fucked

These aren't you average joy riding, gang fighting and thieving chavs – these chavs are so much naughtier than that! Not only will they steal your wallet and give you a black eye – they'll also swallow your cock and wreck your hole! Down dark alleys, in abandoned warehouses and on top of stolen cars; these chavs are fucking each other senseless for all to see!
Double Drilled - Gay DVD - Studio: Fucked

One cock just isn't enough for these horny lads - they need two at time - they gotta get Double Drilled! Spit-roasted, tag teamed and double penetrated is the only way they play!

Cast: Mika Poika, Zaho Sebastian Mann, Florian Hagen, Jaden Idol, Andy O'Neil, Mike Staford, Tommy Erick, Jeff Black, Marco Parelli, Leo Roesch, Rocco Berlin, Michael Finn, Benny Braun, Meko, Jesco
Filthy Freaks - Gay DVD - Studio: Fucked

Sleazy sweaty dirty fuckers! No one is dirtier than the Germans and these horny filthy freaks show you why! Nothing is too fetish or taboo for the FUCKED! lads. So long as their horse hung dicks are balls deep inside another hot chav; they're happy to push boundaries and share every bodily fluid possible.
Fuck Factory - Gay DVD - Studio: Fucked

These young lads fucking like machines! There's an abandoned warehouse just outside Berlin; where the dirtiest young fuckers go to cruise. Behind every wall, around every turn are eager young bottom boys presenting their holes for fucking, or hard chavs with raging fat hard boners! Watch the bottoms scream, the tops dominate and the spunk fly!
Gangbanging Lads - Gay DVD - Studio: Fucked

When one cock just isn't enough these horny lads beg for more and end up with more than they can handle! Spit-roasted out in the open, gang fucked on a poker tableand even forced to take multiple cocks on the bonnet of a car - these boys won't be walking properly for days!
In Public - Gay DVD - Studio: Fucked

These fuckers don't care who can see! Out in the open is the best way to fuck, and these horny hung boys agree! Builders get banged on the job, thieves get rammed on rooftops and hikers suck wood in the forest! The danger of public fucking doesn't bother these lads; if anything it makes them fuck harder and rougher!
On The Job - Gay DVD - Studio: Fucked

Why work hard when you could be fucking harder? They might be paid to do their job, but they're so much better at blow jobs. Fed up of working under the boss, they work the boss inside of them, inch by inch until his heavy balls slap against their stretched ass hole. These lads are horny, dirty and open for business!
Naughty Neighbours - Gay DVD - Studio: Fucked

While the wives are away the men will play! The horny men in the dvd Naughty Neighbours share a street - and now each other's holes. It doesn't take long for our new neighbours to become acquainted, borrowing cups of sugar and swallowing each other's dicks. Best fuck and spunk quickly though - before the family get home!
Pumped Up - Gay DVD - Studio: Fucked

Down at the gym or out on the streets, these active lads are Pumped Up - and that means they're either pumping iron or pumping ass. Sports gear around their ankles, sweat dripping from their chests and a tight hole around their cocks - they pump long, deep and hard!

Cast: Johan Volny, Jan Amron, Luke Pascoe, David Parik, Mats Riem, Adam Daniels, Kirk James
Rough - Gay DVD - Studio: Fucked

Tough, buff & rough! If you're looking for romantic, gentle or vanilla sex – this title is NOT for you! These lads are rough, they fuck rough and they take it rough! With two dirty duos and three filthy threesomes; these bottom boys are taking more than they bargained for as forceful tops rip them a new one! Tied up, pegged, waxed, flogged, pumped and abused until they can take no more!
Street Thugs - Gay DVD - Studio: Fucked

Just when you thought the streets were safe again – these gay bashing thugs are out in force and attacking their victims one hole at a time! Chavs, thugs and hard lads are bored, fed up and horny; patrolling the streets for willing bottom sluts and less willing weaker gangs to use and abuse for their own amusement!
Too Deep - Gay DVD - Studio: Fucked

Some cocks just go far too deep! When horse hung tops meet hungry horny bottoms it means these guys fuck hard, rough and DEEP! Larger than life dicks slide all the way in and go further than any man has ever fucked – and these young bottoms take every inch! Pleasure mixed with pain means it's too deep, but too good to stop!
Wide Open - Gay DVD - Studio: Fucked

These lads aren't just being fucked, they are being fucked Wide Open. Hung scally lads ram their fat, long, hard dicks into eager bottom chavs who take every colossal inch, leaving them sweaty, sore and fucked - but gaping for more! Down at the park or fucking at work, these horny boys cannot get enough oversized cock deep inside them.
Work Force Fuckerz - Gay DVD - Studio: Fucked

They work hard and they fuck harder! These guys may look like your usual builder and blue collar lads, but they're actually rough top looking for some hot arse to fuck! Two paramedics abuse a patient in the back of the ambulance, a builder catch a graffiti artist red handed and gives him a red hole, a hung plumber dominates a lad on a public tram and foremen take advantage of their construction crew on site!
Young Lads with Monster Cocks - Gay DVD - Studio: Fucked

Hung, young and dripping with cum! Ridiculously well endowed and horny as hell, these young lads need to find some relief, and what better way than fucking their mates right then and there? Monstrously thick and ludicrously long cocks are rammed into tight boy holes much to the pain and pleasure of willing young bottoms!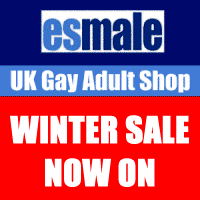 Esmale (UK Gay Adult Shop) sells a large range of gay adult sex toys including a range of fetish and restraint products, Cock and Ball play items, Whips, Paddles and Slappers, Blindfolds, Masks and Hood and are the UK stockist of Mr B leather and fetish products. They also sell a large range of aromas, condoms and lube, fleshjacks, jock straps and anal toys. Treat yourself!
Save an extra 10% on top of their already discounted prices with our exclusive code 'GAY10'. Click here to shop
See also: www.gayadultshops.co.uk