The Men On Edge series from Kink.Com are premium gay bondage and gay BDSM fetish porn dvds that feature dominant gay men subjecting submissive gays to edging, bondage, discipline, pain, pleasure, and humiliation.

Men On Edge 50: Hairy Dude Gets Edged - Studio: Kink.com - new

Drake Temple's first time on Men on Edge and he's a little nervous about what's to come. We tie him up in his underwear and cover his eyes with the blindfold to calm him down. After a little teasing his cock grows in his underwear, begging to be let free. We tear away his underwear as Branden Forrest begins teasing Drake with his tongue.
Men On Edge 49: Edged Against His Will - Studio: Kink.com

Van and Sebastian hide out in a cruisy alleyway waiting for a hot stud to pass by. A few guys walk past but they're not interested, until Mike De Marko happens to stroll by. Van and Sebastian agree he's the perfect guy so they pounce on him and quickly beat him down. Mike finds himself bound with duct tape around his mouth as the two pervs approach.
Men On Edge 48: Poor Steve - Studio: Kink.com

Straight stud Steve Stiffer is new to bondage and is a little nervous about being edged by two dudes. We blindfold his eyes to calm him down and start teasing his cock. Before he knows it Steve's cock gets rock hard, poking through his underwear. We tease him with the hitachi before Sebastian uses his tongue, licking all up and down Steve's cock as he moans in pleasure.
Men On Edge 47: The Huge Load Of Duncan - Studio: Kink.com

Duncan Black is brand new to KinkMen. This hot stud says he's edged himself for a whole day before, but has never experienced bondage. We start him off bound up against the windows with his eyes blindfolded. Once his underwear is torn away, his cock is tied up as we tease him with the hitachi's.
Men On Edge 1: A Straight Fitness Trainer - Studio: Kink.com

Cole is a dynamo of a package, and he's straight too. Arms back on the metal cross we rip his clothes off. When his cock gets hard we teach him about pain and pleasure by working his chest and nipples. Hard cock tied up tight, Cole is suspended and receives a dildo up his virgin ass. The fitness trainer flexes his muscular back as the flogger pounds on it. After being edged all day, this straight stud is begging to blow his massive load.
Men On Edge 2: Cocky New Yorker - Studio: Kink.com

One word comes to mind when thinking of Slate - statuesque. Not so much the sculptures of antiquity but the simplistic and chiselled features of the more contemporary masters. This Cocky New Yorker gets his entire head, including his mouth, wrapped up tight. He receives the edging of his life and blows his massive load. Slate endures harsh post orgasm torment for being bossy all day. That'll teach him! Cast: Slate
Men On Edge 3: Boy Next Door - Gay DVD - Studio: Kink.com

Devin Adams is a hot young stud that you'd pass on the street just wishing to tie up. And for good reason since he looks so good in the ropes. He's had his arms tied to the bed post before but he's about to go much further than that. In a standing position we cut his clothes off and edge his cock, then feed him his own pre-cum. In room 309, Devin is tied to a wooden beam and he's edged over and over again while suspended in mid air.
Men On Edge 4: Blond Surfer Stud - Gay DVD - Studio: Kink.com

Blond surfer stud Gavin Waters' body elicits images of the statue of David. As if his form were sculpted by a true perfectionist. He's tied up with his arms back to expose his bulging chest. The vibrator on his uncut cock gets the pre-cum oozing out of his head and he's made to eat it. Blindfolded with nipple clamps hanging above his ripped abs, he's bound to a chair and edged while sucking a dildo...
Men On Edge 5: Hot Straight Stud - Gay DVD - Studio: Kink.com

Drake Wild - Hot Straight Stud! Wild is a straight guy that's never been tied up before. He's got a cocky demeanor and thinking about his girlfriend all day has made him horny as hell. He gets tied to the metal cross exposing his chest and he starts getting hard right away. We punch his chest, abs, and thighs and work the muscle on his frame while edging him. Suspended horizontally he drools all over the ball gag while begging to cum. He gets flogged instead.
Men On Edge 6 Young Guy With A Huge Cock - Studio: Kink.com

Cody Allen is 19 years old - you can tell by how easy his cock gets hard! Despite his age he's a solid built boy. In Men On Edge: Young Guy With A Huge Cock, he gets tied arms up and legs spread as he shows off his endurance for the flogger. Arms behind his back and precariously balanced on a stool he gets his ass and mouth fucked while edged until cum is at the tip of his massive cock.
Men On Edge 7: Straight Stud - Gay DVD - Studio: Kink.com

Alex Andrews is a wholesome straight guy who's only been tied up a few times with his girlfriend. Now he's stripped and tied up to the metal bars. He gets hard in his boxers and gets the vibrators on his cock and nipples as he squirms from pain and begs to cum.
Men On Edge 8: Beefy Italian Stud - Studio: Kink.com
Fabio Stallone is the hunk in the field working with his hands that you admire from a far. He has the physique of a body builder but his every man charm is what makes him so accessible. Tied up, Suspended on one leg and flogged on his abs, chest, and ass. Fully suspended in the air he gets his face and ass fucked and left hanging, begging to cum. Tied to the bed with his legs in the air and his ass exposed he's fucked with the vibrating dildo. The big man blows his load all over his abs and is made to eat his own cum.
Men On Edge 9: The Bodybuilder - Studio: Kink.com
Marc Dylan's physique defies convention. With his rolling biceps, cut abs, and huge cock it's almost enough to make you forget about his bright smile and boy-next-door charm. We tie him to the sawhorse. Blindfold him, and cut his clothes off.
Men On Edge 10: The Ultimate Next Door Boy Stud - Studio: Kink.com
Tyler Alexander has been a great addition to the Kink Men Stable ever since he subbed for a room of horny gay men on Bound In Public. This 22 year old is not familiar with edging but he's about to be. We put his arms back on the metal pipes, tie him up, and cut off his clothes.
Men On Edge 11: Trent Diesel's Organic Adventure - Studio: Kink.com
Trent Diesel is showing off his perfect physique for you. He removes his shirt right away, presenting his sculpted chest. He is tied to the platform and gets his pants cut off. He's hard already and his dick peaks through his underwear. The stud is tied up Japanese style on the tatami mat with his leg, cock, head, and back all getting pulled different directions. He gets his firm abs and chest flogged and recieves edging with the rope yanking on his balls.
Men On Edge 12 - Gay DVD - Studio: Kink.com

This is Bryan Cole's First Video Shoot Ever and as his cock becomes rock hard, Bryan is stripped naked and bound tightly. The rope around his neck chokes him as he is edged mercilessly. Standing on the wooden cross he is hogged until his ass turns crimson, making it ready for fucking. He is suspended from the ceiling and his ass is violated. His body is subjected to erotic zaps of electricity, his cock is touched, licked and wanked, but they won't let him cum - until they want him to!
Men On Edge 13 (Lance Hart) - Gay DVD - Studio: Kink.com

Lance Hart is straight and he's a bit apprehensive about coming on MOE. Lance loves balls busting so we tied him up and give it a whack. The harder we slap his balls the harder his cock gets. Lance moans and begs to cum as we smack, stretch and squeeze his poor balls. Lance endures edging in all bondage positions and blows a massive load all over himself... not bad for a straight guy!
Men On Edge 14 (Visconti Triplets) - Gay DVD - Studio: Kink.com

The MOE team has to travel all the way to Europe for the Visconti Triplets. Three straight brothers are tied up for the very first time. An abandoned warehouse in Berlin, the Visconti triplets are tied with their arms over their heads as Sebastian and Van work them over. Blindfolded, the triplets' clothes are ripped off and their cocks get hard.
Men On Edge 15 - Gay DVD - Studio: Kink.com

Super hunk Christopher Daniels is new to BDSM and he comes to Men On Edge looking for a challenge. Tied up and blindfolded, Christopher moans as his clothes are ripped off. Sebastian teases Christopher's thick cock. He blows on the stud's blond pubes and slowly licks his hard shaft. We edge him over and over. That just makes him moan and beg to cum.

Cast: Christopher Daniels, Sebastian
Men On Edge 16 - Gay DVD - Studio: Kink.com

Mitch Vaughn is that hot guy at the gym. He's got brown eyes, a broad chest, huge thighs, and a fat cock. We bring him to the roof for all to see as we tie him up and rip off his clothes. He's brought to the brink of cumming under the hot sun. Back inside with his whole body tied up we bend him over and fuck his ass and mouth with a dildo. He gets tied crucifix style to a wooden beam and while suspended in mid air gets fucked with a vibrator. Exhausting his muscles in the position he finally launches his hot load.
Men On Edge 17 California Beach Stud- Gay DVD - Studio: Kink.com

Troy Collins is a ruggedly handsome stud from Orange County. He's curious about bondage and believes that his fighting experience has prepared him for the torment and manhandling...

Cast: Troy Collins
Men On Edge 18 - Gay DVD - Studio: Kink.com

He starts on the stretching back and gets cranked by wrist, ankle and neck. It exposes the titan's huge chest for some manhandling and flogging. Next his massive muscle is supported only by his ankle as we suspend him upside down. We take him down only to edge him some more, tie him and put him back up in the air. Derek fucks his own muscle ass in a painful squat position and begs to cum because of it. Back on the rack we extract the bodybuilder's load and leave him where we found him.
Men On Edge 19: Tickle Torment - Studio: Kink.com

With his eyes blindfolded, we let Atticus focus on his cock as it's teased and played with. Before too long, we cut away his underwear and start edging his rock hard cock. Atticus is caught by surprise when we tease his cock head with two virbators. In a matter of seconds the straight hunk is about ready to blow his load from all the vibrations. We give Atticus a taste of the flogger before seeing how well he can handle a hogtie suspension.
Men On Edge 20: Receiving For The First Time - Studio: Kink.com

Andrew's ass is wide open for us to play with as he's bound to a metal device with a bit gag in his mouth. His huge cock is tied up as we shove dildos in both of his holes and give him a taste of the flogger. Strapped down to a suspended ladder, we tease Andrew's cock, suprising him with the vibrations of the hitachi. When Andrew starts getting feisty to cum, we shut him up with a dildo gag before milking a load out of his giant cock.
Men On Edge 21: A Straight Jock Wants to Play - Studio: Kink.com

Blake has a deep interest in bondage but he doesn't get a lot of chances to play. He comes to Men on Edge to get pushed and have a crazy orgasm. Just one thing though, he's straight. Fully suspended he's brought to the point of cumming and then denied over and over. Tied to a bed, jacked off and dildo fucked in his mouth and ass.

Cast: Blake
Men On Edge 22: Straight Rugby Player - Studio: Kink.com

Colby Jansen is a big guy, a Men On Edge: Straight Rugby Player who's taking some time away from married life to be tied up and edged. In the locker room he's tied tight as he's manhandled and his cock gets hard. A vibrator makes him horny and he gets to taste his own precum. With his nipples clamped and tied to the walls, he is jacked off which makes him pull his nipples as he squirms. He gets the hell flogged out of him as he stands on one leg and begs to cum through the gag.
Men On Edge 23: Straight Southern Stud - Studio: Kink.com

Evan Mercy is a polite straight guy from the South here to play a bit while he's away from his girlfriend. Tied in front of the windows we blindfold him right away and take the vibrator to him. His cock gets hard through his underwear so we cut his clothes off. Begging to cum he's yanked up by his balls on to his toes. In the red ropes he's tied up on one leg as his ass is flogged.
Men On Edge 24: Straight Muscle God - Studio: Kink.com

Robert Axel is a straight muscular stud who is willing to try anything once. He's never been tied up before but he's anxious to find out what edging is all about. He's tied to the metal cross and we cut his clothes off from underneath the rope. His cock gets hard and he gets his first edging. Tied to a wooden beam in the middle of the vast Armory he gets his ass fucked and flogged. We suspend him 20 feet in the air and bring him to the brink of orgasm...
Men On Edge 25: Flexing His Muscles - Studio: Kink.com

John Magnum is one of the most physically fit models we've had on Men on Edge to date. We tie him to a bed and cut his clothes off exposing those bulging muscles and worshiping them. We get his fat huge cock hard, tie it up, beat his chest, and edge him. Next he's tied in a maze of bamboo making him expose his broad chest and flexing his amazingly defined calves. Suspended in the bamboo we fuck his ass and mouth and he begs to cum with a dildo inside him.
Men On Edge 26: Patrick Rouge Cums In Mid Air - Studio: Kink.com

Patrick Rouge is back for his first shoot in over a year and he's in his best shape ever. Having not been around for so long he shows up extremely horny and anxious to get off. He's tied to the lockers straight away and starts to get hard underneath his jock. It only takes him a few minutes to get close to cumming which means a long day is in store for him. We tie his cock to the wooden cross with his hands tied frustratingly out of reach from it.
Men On Edge 27: Dominic Pacifico Edged - Studio: Kink.com

Dominic Pacifico shows up with ten more pounds of muscle added to his sexy bod. He's no stranger to bondage but he's a little nervous about being edged for an extended period of time. Dominic's uncut cock gets rock hard as we rip off his clothes. He takes the corporal well as he's being edged. We shove a dildo up his ass and and in his mouth to send him over the edge. He endures the extreme hogtied suspension as he begs to cum.
Men On Edge 28: Milked On a Barn - Studio: Kink.com

Businessman Morgan Black is taken in back of a truck to a barn in the woods by two strange men. Bound to a post they tear off his suit revealing his muscled hairy chest and get his cock hard. As Morgan is brought to the point of cumming they let his balls ache with anticipation and extend the stretcher making him reel in pain.
Men On Edge 40: Floating In Pre-Cum - Studio: Kink.com

Hung stud Rex Wolfe is pretty vanilla and brand new to bondage. He's bound in front of the mirror so he can see all the rope work on himself. Once his clothes are torn away his fat cock is teased and starts pre-cumming like a fountain. Tied down to the bed, his cock and ass are teased with numerous vibrating toys. After relentless edging and teasing, Rex finally sprays his cum all over the toy in his ass.
Men On Edge 41: An Angel On Earth - Studio: Kink.com

Angel Rock is brand new to KinkMen. He loves being tied up in bondage and has even edged himself before. We tie him to the pillar so he can't touch his cock. Once we tear away his underwear Angel goes crazy to the vibes of the hitachi's on his cock. Angel's cock is rock hard as Sebastian teases him over and over with the tip of his tongue....
Men On Edge 43: Veiny Hung Cock - Studio: Kink.com

Hot muscled hunk Jace Chambers comes to Men on Edge for his first edging session. On his back we tie his hands and legs down and start teasing his cock. As his cock grows we blindfold his eyes to let his imagination run wild. Pre-cum begins to ooze out of his cock once we surprise him with a couple of vibrators massaging his cockhead.
Men On Edge 45: Straight Stud Edged By Two Guys - Studio: Kink.com

In the Men On Edge dvd Straight Stud Edged By Two Guys, Van catches James in the hallway and finds out he's never done anything with a guy. After Van does some convincing, James decides to try Men on Edge. James starts off in simple bondage with his eyes blindfolded as his clothes are torn away. His cock soon gets hard and he is surprised when vibrators are applied to his cock head.
Men On Edge 46: Milking A Muscle Stud - Studio: Kink.com

Beau Warner is a hot muscular straight stud who was a little hesitant to do anything gay, but after a little convincing he decides to give Men on Edge a try. Beau's bound on the bed as we tear away his clothes from under the rope. His cock gets nice and hard as we give him his first edging.
Esmale - UK Gay Adult Shop / Gay Fetish Shop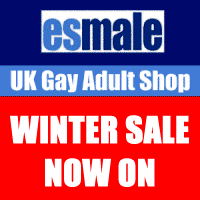 Esmale (UK Gay Adult Shop) sells a large range of gay adult sex toys including a range of fetish and restraint products, Cock and Ball play items, Whips, Paddles and Slappers, Blindfolds, Masks and Hood and are the UK stockist of Mr B leather and fetish products. They also sell a large range of aromas, condoms and lube, fleshjacks, jock straps and anal toys. Treat yourself!
Save an extra 10% on top of their already discounted prices with our exclusive code 'GAY10'. Click here to shop
See also: www.gayadultshops.co.uk

You must be 18 or over. 2) 906 calls cost 50p per minute + your phone company's access charge.
SP = 4D, Helpline: 020 7966 9686.
.3) You must be the bill payer or have the bill payers permission. 4) Call details may appear on your bill.
GBN, PO Box 6991, Leicester, LE1 6YS, UK.
Kink.com Gay Fetish Series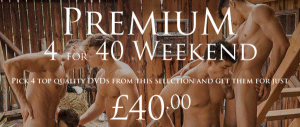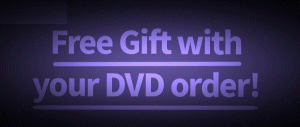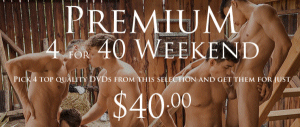 Spend £100+ with SimplyAdult to qualify for a free DVD (value upto £20)
When you buy gay DVDs from SimplyAdult, from a choice of over 13,500 titles, if your order totals £100 or more, you can choose an additional dvd from anywhere on the site (upto value £20) absolutely free!
Discount prices & low cost delivery.
Kink.com Men On Edge