Adventure Fuck - Studio: Boy Crush

The time has come for some adventure! Are you ready to embark on one of the greatest, barebackinest twink riding cum filled adventures of all time? Get ready and saddle up for Adventure Fuck that'll take you to another reality with boys that will satisfy anyones hunger for cock.

Cast: Angel Kelly, Kyler Moss, Andy Kay, Conner Bradly, Patrick Kennedy
Andy Kay's Tryouts 2 - Gay DVD - Studio: Boy Crush

Andy Kay is back again with the stunning sequel to his first epic tryouts DVD. This release features even more hot action with stars like Scott Alexander, Jacob Martiney, Tyler Andrews, Josh Bensan, Dustin Cooper, and more! Andy flip flops with Jacob, takes Tylers straight boy cock, and pounds Dustin and Scott to completion. He even brings back Kyler Moss for a hot DP scene with Josh Bensan. They stick both of their thick twink cocks into Kylers tight hole and give him the ride of his life..
Black XXXMas - Gay DVD - Studio: Boy Crush
These sexy frat boys end of semester bareback fuck-fest turns into a holiday nightmare! The I Phelta Thi fraternity is A tight knit group. Even the sudden mysterious phone calls they receive during their pre-holiday celebrations dont stop them from fucking each others brains out. When the boys start to disappear, they must fight for their lives and tight virgin holes.This intense slasher porn flick is the perfect balance of hot and terrifying.
Boy Crush - Gay DVD - Studio: Boy Crush
Get ready for Boy Crush as eleven smooth young twinks suck and fuck their brains out in six cum drenched scenes. From sizzling duos to ass pounding threeways you are sure to enjoy every sphincter stretching minute. Boy Crush is a must have for anyone with a love of hot boy on boy action!
Boy Crush 2 Passion - Studio: Boy Crush / Saggerz Skaterz

Superb twinkie action from the USA in Boy Crush 2. Catch young super cute Dillon and his just-18 year old friends in hardcore action, with loads of doggie style fucking and one hot threeway!
Cast: Dillon Samuels, Angel Kelly, Cameron Force, Alonzo Phoenix, Conner Price, Andy Kay, Brandon White, Landon Reed, Jamison Harper, Kevin Grey, Luke Anderson, Corey Clark
Boy Crush 3 Virgins - Gay DVD - Studio: Boy Crush / Saggerz Skaterz

Every boy starts out the same: young, fresh, and a virgin. Some get their cherry popped in the back seat of a car, at summer camp, or at home while their parents are on vacation. It's not every day you get to see a real boy's first time and these hot studs can't wait to experience sex while you watch. It took the Boycrush staff over four years to find these innocent virgin boys willing to give it up on camera and now the footage is finally available on DVD!
Boy Crush 4 Power Bottoms - Studio: Boy Crush / Saggerz Skaterz

Check out 6 new scenes of hot raw fucking featuring some of Saggerz Skaterz Studios most popular models!

Over 2 hours of Skater Twink Bareback Action...hot stuff!
Boycrush Prep: Lexx Jammer - Studio: Boy Crush

Few sexy straight boys are able to let go of their inhibitions enough to excel in gay porn, however Lexx Jammer is definitely the exception to this rule. Each one of his scenes is packed with passion and complete with hard fucking with the help of his thick 8-incher. No Boycrush twink can resist screaming at the top of their lungs as Lexx dominates them completely before plowing them as hard as he can. Watch him pound Nathan Stratus, Felix Russo, and Chad Hollywood as well as his first intimate experience with a sex toy.
Blow Jobs - Video On Demand - Studio: Boy Crush / Saggerz Skaterz
Boycrush takes you back to the basics with Blowjobs!, showcasing the oral skills of some of their hottest stars. These guys rim and suck their way to big facial cumshots in every scene and with a hot bonus solo starring Kyler Moss, you can't go wrong with this release. Hot young twinks with an oral fixation, and a craving for spunk!
Boy Crush: Prep - Studio: Saggerz Skaterz

Don't be fooled by Mickey Drake's thin frame in BoyCrush Prep. His cocky smile and gigantic, meaty 11" dick are sure to conquer each bottom he meets. Andy takes Mickey's big dick for a spin, starting on the couch with a fun little interview before moving to the bed for some hardcore action.

Cast: Mickey Drake, Andy Kay, Aiden Ash, Rad Matthews, John Hyde, Connor Terrence, Daniel Claymore, Brett Starr
Boy Crush.Prep Mickey - Studio: Boy Crush / Saggerz Skaterz

Don't be fooled by Mickey Drake's thin frame in BoyCrush.prep Mickey. His cocky smile and gigantic, meaty 11" dick are sure to conquer each bottom he meets. Andy takes Mickey's big dick for a spin, starting on the couch with a fun little interview before moving to the bed for some hardcore action. Next, Rad meets up with Aiden for some passionate kissing, then Aiden ravishing Rad's fat cock for what seems like hours.
Boy Crush: Prom - Gay DVD - Studio: Saggerz Skaterz

LGBT people have made many advancements towards our imminent acceptance into society and one of the most surprisingly effective fronts has been the high school prom. With all the recent news of gays getting banned from or throwing their own unchaperoned proms, there has got to be some serious sex going on.
Cast: Kyler Moss, Conner Bradley, Aiden Summers, Kyler Ash, Giovanni Lovell
BubbleGum Twinks - Gay DVD - Studio: Boy Crush / Saggerz Skaterz
These Bubblegum Twinks are sweet as sugar. They're all about having fun - and they do just that in this unique and very hot dvd. Once they pop these boys just can't stop until they're covered in warm sticky cum!

Cast: Ian Graves, Rany Silva, Miles Pride, Noah Carlisle, Patrick Kennedy, Dean Holland, Timo Garrett, Tommie Reed
Bus Stop Boys - Gay DVD - Studio: Saggerz Skaterz

What's yellow, has four wheels, and is covered in the sticky cum of young boys? The BoyCrush Bus! The crew at BoyCrush Studios has never shied away from the outrageous in the name of creating the hottest bareback twink porn available. Their newest release Bus Stop Boys is no exception!

Cast: Dylan Chambers, Timo Garrett, Andy Kay, Patrick Kennedy, Kyler Moss, Roxy Red, Nathan Stratus
Bustin Beeber: Never Say Never - Studio: Saggerz Skaterz

We all knew that this young twink sensation had a kinky side and on his 18th birthday, we get to see just how far that kid will go in Bustin Beeber: Never Say Never! Bustin Beeber is a barely-legal teen pop star and when another gay rumour circles the tabloids, Beeber decides to do something about it. Starring an incredibly convincing Kyler Moss as Bustin Beeber, this feature shows exactly what this boy's made of as he gets fucked by Scott Alexander along with ass-pounding scenes with big-dicked hotties like Conner Bradley, Patrick Kennedy..
Captain Americock: The Twink Avenger - Studio: Boy Crush

Steve (Austin Ried) is a broke, lazy & unimpressive stoner. When rent is due, he participates in a medical expiriment conducted by Dr. Franko (krys Perez) that transforms him into the powerful & well endowed Captain Americock! Plungin him into a war where he must fight to save the world from Red Skullfuck (Dustin Fitch) & his minions. Also Staring Anthony Evans & Klyer Moss (& more!) THis Parody lets you watch your favorite twink heros fuck each other silly & definitely won't leave you feeling blue.
Every Poolboy's Dream Company - Gay DVD - Studio: Saggerz Skaterz

Every Poolboy's Dream Company tells the story of a popular pool company that helps young, down-on-their-luck boys get back on their feet, or at least on their knees. Jordan Ashton stars as the young company owner who at first hires the sexy Nathan Stratus (along with Timo Garrett and Tommie Reed) to be his next popular pool boy.
Cast: Nathan Stratus, Jordan Ashton, Timo Garrett, Alan Parish, Chad Hollywood, Tommie Reed
Gay Sex and The City - Studio: Boy Crush / Saggerz Skaterz

In Gay Sex And The City, Corey Clark decides to move back to Phoenix. With no plans and no money Corey calls on his local hook-ups and fuck buddies to find a place to stay. Along his horny journey he recalls some of his hottest fucks. After he fails to reconnect with his past tricks Corey ends up fondling new hot twinks.
Fucking Harry Palmer - Gay DVD - Studio: Saggerz Skaterz

An XXX Parody!!!
One boy will do whatever he can, to get laid. This is the story of Harry Palmer, a boy with a flair for magic. He can use his powers for good or for evil, but mostly just to get boys into bed. When his arch-nemesis curses him over his summer break from school, it's up to Harry to do whatever it takes and fuck whoever he has to fuck to reverse it.
Merry XXXmas - Gay DVD - Studio: Boy Crush

The Boy Crush crew is back again this holiday season with another cum-filled twinky release, Merry XXXmas. This sequel out does itself with hot duos like Patrick Kennedy and Ryan Conners and Lexx Jammer and Roxy Red fucking the crap out of each other.
Twink Scouts A XXX Parody - Gay DVD - Studio: Boy Crush

In this hot and steamy parody, five boys and their Scoutmaster (Andy Kay) travel to the woods to camp out, learn about scouting, and explore . . . each others bodies. After setting up tents and messing around in the troop SUV, the boys split up and fuck in the woods, bringing gorgeous views and shoot locations to spice up this already stunning crop of bareback twink-pounding scenes.
Twinks Slammed Raw - Gay DVD - Studio: Boy Crush

Sexy young Boy Crush guys get fucked raw and love it in Twinks Slammed Raw. Cum drenched, ass pounding bareback twink action!

Cast: Rad Matthews, Felix Russo, Patrick Kennedy, Nathan Stratus, Aiden Summers, Josh Bensan, Nathan Clark, Dustin Fitch, Ethan Fox, Giovanni Lovell
Twinks Spanking Twinks - Studio: Boy Crush

Naughty boys getting spanked and fucked raw! Watch these stunning twinks punish each others' tight asses bare!

Cast: Kyler Moss, Blade Woods, Anthony Evans, Dustin Fitch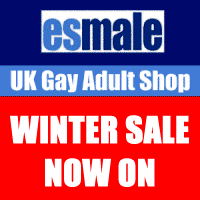 Esmale (UK Gay Adult Shop) sells a large range of gay adult sex toys including a range of fetish and restraint products, Cock and Ball play items, Whips, Paddles and Slappers, Blindfolds, Masks and Hood and are the UK stockist of Mr B leather and fetish products. They also sell a large range of aromas, condoms and lube, fleshjacks, jock straps and anal toys. Treat yourself!
Save an extra 10% on top of their already discounted prices with our exclusive code 'GAY10'. Click here to shop
See also: www.gayadultshops.co.uk