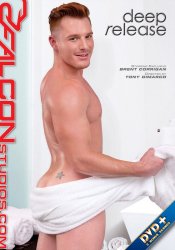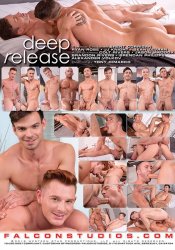 Brent Corrigan
Videography

Summary:
Slip into an exclusive, full-service spa, where the gorgeous, muscled clients and masseurs will do whatever it takes to deliver 'Deep Release.' Tony Dimarco directs nine of the hottest Falcon men as they indulge in sensual oils, soothing baths, and deep tissue massages that quickly lead to intense oral, vigorous rimming, and passionate fucking.
Scene 1: Brent Corrigan and Jason Maddox
Brent Corrigan slips into a luxurious soaking tub; as he relaxes, his cock swells and hardens. Jason Maddox, Brent's masseur, begins the bodywork session with...
Scene 2: Colt Rivers and JJ Knight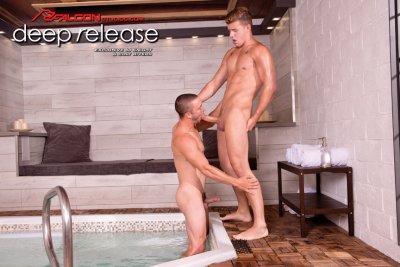 As Colt Rivers soaks his feet in the hot tub, JJ Knight makes himself comfortable on the ledge above. As JJ leans back, the towel wrapped around his waist falls open, revealing his massive cock. Turned on, Colt reaches for his hard cock, and starts stroking to catch JJ's eye. JJ likes what he sees, and his cock swells. Standing up, JJ walks over and offers his enormous cock to Colt's eager mouth. Sucking with his wet lips, licking with his tongue, and stroking with his hands, Colt's expert cock sucking makes JJ shudder with ecstasy. He places his hand at the back of Colt's head, and amplifies the intense oral service. Retreating to the bench, Colt stands over JJ and shoves his own hard meat down JJ's throat. With lots of spit, JJ eagerly gets a taste of Colt's throbbing rod. But the allure of JJ's supersized meat is too much for Colt to ignore for long. He returns to servicing JJ's meat, and brings the smooth, muscled stud to an intense orgasm. As JJ jerks out his load, Colt touches the tip of his tongue to JJ's cockhead, catching as much of JJ's load in his mouth as he can. Standing above JJ's mouth, Colt lets fly blasts of cum that dribble out of JJ's mouth and down JJ's chin. Bending down, Colt makes out with JJ, and his white, frothy cum smears across both their lips.
Scene 3: Ryan Rose and Alexander Volkov
Muscled Alexander Volkov arrives for his spa day, and Ryan Rose lets him in. Alexander strips down, revealing an incredible physique worthy of a Greek god. ...
Scene 4: Sean Zevran and Brandon Rivers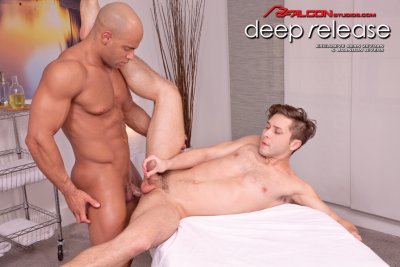 Laying facedown on the massage table in a tranquil, white room, Sean Zevran awaits the expert touch of Brandon Rivers. Brandon slicks up Sean's back with massage oil, working his way from Sean's muscled shoulders down to his perfect, round ass. Flipping over, Sean reveals his massive, throbbing erection. Without hesitation, Brandon reaches down and strokes Sean's hot, hard meat. Opening his mouth, Brandon takes Sean's cock inside his mouth, then slides up to stimulate the sensitive head with his tongue. Wrapping his hand around the base of Sean's cock, Brandon combines his sucking and stroking for a potent oral servicing. Loosening Brandon's pants, Sean reaches around and probes Brandon's tight ass. Brandon climbs up and sits on Sean's face, and Sean eagerly drives his tongue into the dark recesses of Brandon's inviting ass. As Sean thrusts his cock up into Brandon's mouth, Brandon jerks his hard cock. Brandon is eager to get fucked, so he sits down on Sean's huge cock for an intensely deep ride. Stretching Brandon's ass cheeks apart, Sean thrusts upwards, driving his tool faster and faster into Brandon's hole. Switching to missionary position, Sean ramps up speed and intensity with long, powerful pumps. The intense penetration brings Brandon to the point of no return, and he blasts a huge, white load across his abs. Kneeling above Brandon, Sean jerks out his thick load directly into Brandon's mouth, with one final, massive rope pooling right in the middle of Brandon's tongue.
Scene 5: JJ Knight and Brendan Phillips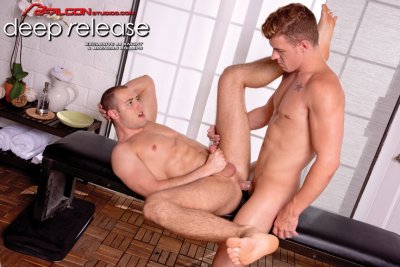 After relaxing in the hot tub, Brendan Phillips arrives to give JJ Knight a rejuvenating salt scrub. When he turns over, JJ's massive cock throbs. As Brendan runs his hands along JJ's body, he gets closer and closer to JJ's meat. When Brendan works out a particular's tight area on JJ's thigh, JJ's cock swells and jumps with excitement. When JJ stands up to rinse off in the shower, he unexpectedly pulls Brendan in with him, pressing his lips against Brendan's with passionate kissing. Stripping off Brendan's wet clothes, JJ presses his enormous cock into Brendan's hand. Dropping to his knees, Brendan gets a taste of JJ's cock stretching his mouth as wide as it can go to accommodate JJ's girth. Out of the shower, Brendan straddles the massage table and opens up his ass for JJ's tongue. When Brendan's hole is lubed and ready, JJ grabs some lube and slides his gigantic cock into Brendan's ass. The intense penetration has Brendan gasping in awe as JJ rams his meat deep down into Brendan's fuckhole. When JJ reclines on his back, Brendan climbs up and lowers himself down on JJ's cock, raising and lowering himself to go on a wild ride. Flipping on his back, Brendan jerks his cock while taking JJ's meat in missionary position. The power of JJ's pounding causes Brendan to shoot a gushing load that spills across his washboard abs. Pulling out, JJ strokes his cock until he blows his load in a series of enormous spurts that shoot across Brendan's torso.
Additional Information
Categories: UK R18 / XXX Gay Adult,
Running Time: 101 mins, Year 2016
Price: Around £30*
Starring: Alexander Volkov, Brandon Rivers, Brent Corrigan, Colt rivers, Jason Maddox, JJ Knight, Ryan Rose
Director: Tony DiMarco
Studio: Falcon Studios (Falcon Pacs 150 onwards (2003 -date)
Buy DVDs online at: Homoactive, Simply-Adult.com, RadVideo (USA) & TLAVideo (USA)
Gay Video On Demand / Downloads: Falcon Studios, See also: www.gayvod.co.uk
Member site: Falcon Studios
Country: USA, Language: English
Additional info: No Regional Coding