Summary:
Life's pretty awesome for Tom Faulk. The carefree 24-year old spends his days drinking beer, smoking weed and going balls-to-the-wall with his motocross buddies - pulling stunts, jumps, burnouts, and tearing up the acreage around his uncle's ranch with dreams of going pro. Drunken parties, testosterone induced brawls, brutal grunge sex, and a pissed off probation officer bring everything to a head. With the help of his cousin (Brent Corrigan) and his uncle (JJ Knight), Tom realizes it's time to leave his Texas Neverland for the real world. The only question is… can he do it?
Scene 1: Sean Duran and Tom Faulk

There's nothing better than Texas BBQ, especially when it's served up by the motocross hunks out at Tom Faulk's place. Sean Duran arrives with his stripper girlfriend Ahslee (Axle Rose) and things start to go a little crazy. Shots of tequila lead to burnouts on the patio and an impromptu strip show that gives Tom an idea. He bets Sean he can fuck his girlfriend harder than he can and all three head to the moto-barn. Sean is all in for a tag-team but Ashlee flips the script… she wants to watch them get it on.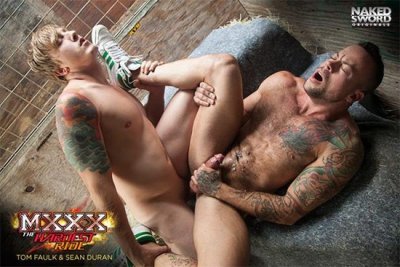 Tom and Sean jokingly accept the challenge but it's clear a little peck on the lips isn't what Ashlee has in mind. Reluctantly they start to make out and jerk each other off. Horned up, Sean fucks Tom's face then gets on his knees to suck his buddy's dick. With his cock wet and hard Tom decides to give Ashlee what she really wants and slams his rock hard meat deep in Sean's muscular ass. They fuck hard until both guys blow their loads, leaving them both drained and a bit confused. What the fuck just happened?
Scene 2: Ryan Rose and Pheonix Fellington
Away from the pack Pheonix Fellington confides to Brent Corrigan that Brent and Tom's uncle JJ gives him the creeps and he thinks Ryan Rose is a spoiled pretty boy who gets everything handed to him on a silver platter. Brent defends uncle JJ but agrees 100% about Ryan. They head back to the gang where Ryan Challenges Pheonix to a race, cockily offering him the good bike. Mid-race Pheonix dumps Ryan's bike, pissing off Ryan who obviously cares more about his $10,000 bike then his teammate.
The argument heats up until Pheonix calls out Ryan for being a punk bitch and Ryan moves in. He grabs Pheonix and shoves his tongue down his throat, followed by this big hard dick. Pheonix crawls up on a picnic table and and opens his big juicy ass for Ryan's hot mouth and raging boner. The 10K grudge fuck goes on until Ryan cums all over Pheonix's twitching hole. Looks like Ryan really does get everything he wants.
Scene 3: Johnny V and Gabriel Alanzo
The guys decide to stir up some trouble and take off speeding through the streets of Leander, Texas. Tom Faulk and Gabriel Alanzo cut through the Texas mini-mart parking lot and see their parole officer, Johnny V, enjoying a cup of coffee. Wise guy Tom zooms by and knocks the coffee cup out of the officer's hand – and its on! "Mr. Johnny" jumps in his generic government issued car and starts chasing the boys on their bikes. Tom ditches him but Johnny's on Gabriel's ass – literally.
Gabriel tries to ditch him on private property but his bike stalls, giving Johnny enough time to jump out of the car and knock him off his bike. Officer Johnny strong-arms Gabriel on the hood of his car then drag him behind a shed where he teaches him a lesson – a lesson on eating ass and sucking cock. Johnny sniffles Gabriel's cries as he shoves his dick in his ass and fucks him then pulls out and shoots his load all over the sexy motocross rider's face. Nobody makes a fool out of "Mr. Johnny!"
Scene 4: Brent Corrigan, Tom Faulk, and JJ Knight
Reality sets in on the ranch. The guys know if they don't win the motocross competition all will be lost and they don't even have the money to enter. Inside Uncle JJ Knight is buried in bills and has reached the end of his rope with Tom's irresponsible behavior. When the too butt heads Tom does what he does best – puts on his helmet and takes off on his bike. Brent Corrigan sees the fight and comes over to do what he does best – console his horse-hung uncle with his hot mouth and tight hole.
The incestuous duo take turns sucking dick but Brent knows what Uncle JJ wants. He spreads his ass-cheeks and JJ dives in, first with his wet tongue then with his legendary 10-inch cock. JJ pounds Brent mercilessly until they both drain their loads on the workout bench. Regardless of what happens to the ranch, these two go their happy ending.