Summary:
A-list newlyweds Calvin Banks and Dante Colle enlist realtor-to-the-stars, Falcon Exclusive Josh Moore, to help them find their dream home. Known to have access to the best properties (and one of the biggest dicks in the business), Josh shows them the gorgeous Amityville Mansion. Surprisingly, the spacious estate is in their price range... so what's the catch? Is it bad plumbing? Termites? Or something much more sinister? Order this bareback Naked Sword DVD now!
Scene 1: Calvin Banks, Josh Moore, and Dante Colle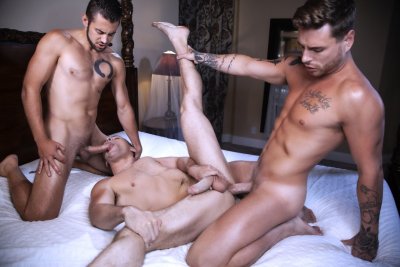 Realtor-to-the-stars Josh Moore takes newlywed house hunters Calvin Banks and Dante Colle to see one of his most impressive listings, a mansion in Amityville with an unusually low price tag. When the newlyweds question the condition of the home, Josh tells them the urban legend that the mansion was once a gay whore house and is haunted by the sex-crazed Amityville Whore. The couple accepts the offer and Josh tells them that his unorthodox commission is 1% for each inch of his meat, a substantial 9.5". The couple discusses their options briefly and all three of them rush upstairs to the bedroom. Dante and Calvin make sure their agent is happy when they unbutton his pants and take turns wrapping their lips around his massive, uncut cock. Dante struggles to get all the way down to the base but Calvin is quick to show them both how to deepthroat Josh's cock. All three take turns sucking cock until Calvin is fed both cocks from above. Josh lays down on the bed so Calvin can get on top to let Dante work his mouth and tongue around their stacked holes and cocks. With Calvin's hole slick with his husbands spit, Dante slides his raw cock into Calvin's ass while Josh feeds Calvin his uncut meat. Dante and Josh keep spit-roasting Calvin until the studs lay back to let Calvin bounce back and forth bareback between cocks, riding them deep. They take turns pounding Calvin in multiple positions until all three studs unload at the same time all over Calvin's body before Dante and Josh shove their throbbing cocks back in his used hole. In the end, Josh scored a hot sex session and earned his commission
Scene 2: Cade Maddox and Taylor Reign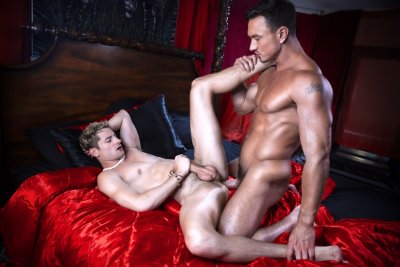 Now securely at home in the allegedly haunted mansion, Dante Colle and Calvin Banks lie in bed and laugh at the thought of being covered in "demon semen." Calvin dozes off and his dreams take him back to the Amityville Whore House in 1985. Cade Maddox is on the phone lying to his wife while Taylor Reign is lounging in bed. To comfort Cade, Taylor offers up his big cock to play with instead. Cade unzips his pants and Taylor wastes no time getting the lengthy cock down his throat. Taylor keeps working Cade's thick cock while Cade undresses, pumping his dick in Taylor's warm mouth. Taylor moves down to his knees and takes a deep face-fuck from Cade's girthy member. Exploring his gay temptations even further, Cade bends Taylor over the bed to open up his smooth hole with a deep rimjob. Cade loves the taste of Taylor's hole on his tongue and works his fingers in, priming it for his bare cock. With Taylor still bent over the bed, Cade gives his hole a few slaps with his cock and shoves his meat, deep into Taylor's crack. Cade starts out slow before grabbing Taylor by the hips and drilling his hole deep with powerful, raw thrusts. They move all the way onto the bed so Taylor can lay flat and take a brutal, bareback pounding from his straight buddy. When Taylor wants the Reigns, he climbs on top of Cade to impale his deep hole on Cade's throbbing cock. Cade asserts his dominance again when he rolls Taylor on his side, and makes him bite the pillow from his powerful thrusts. Ending on his back, Cade keeps pile-driving Taylor until he fucks the cum out of his begging cock. Seeing Taylor wearing his own load sends Cade over the edge so Cade pulls out and drenches Taylor with his thick ropes. To seal their deed, Cade licks up the loads from Taylor's abs and snowballs it into his open mouth.
Scene 3: Adam Ramzi, Calvin Banks, and Dante Colle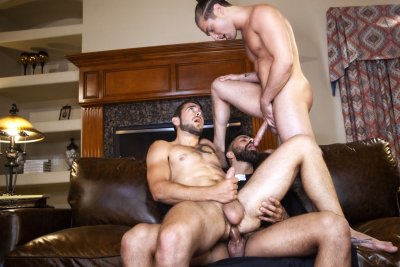 Dante Colle and Calvin Banks are abruptly woken up with a shower of "demon semen." Mortified and disgusted, Calvin decides he's going to find a Priest to bless their new home. Father Adam Ramzi arrives at the mansion and lets the couple know he can help them out for a price. After the discussion of payment is out of the way, Father Adam starts to bless the house in an attempt to rid it of the demons that possess it. Father Adam tells Dante and Calvin, for $500 more, he'll rid their house of the Amityville Whore and fuck them both good. They agree and start making out on the couch. Father Adam stands and lifts his robe to reveal his uncut cock for Dante and Calvin to service. Adam completely disrobes and Dante focus on sucking his cock while Calvin takes the backend and eats the Father's ass. The Priest returns the blessing with a sopping wet hummer to the horny married duo. He services both of their cocks before bending Calvin and Dante over the couch to work their holes with his tongue and fingers. Adam starts to work his bare cock into their holes, switching back and forth between the two studs, fucking them deep. The husbands watch each other get fucked by Adam bareback until Dante and Adam bend Calvin over and spit-roast him. With Adam down his throat, and Dante up his ass, Calvin is loving all of the extra attention. Dante wants some more of the Priest cock and gets on top to ride his thick holy stick. Calvin helps out his husband but jacking him off while he rides Adam until he dumps his load all over the floor. Calvin hops on for his turn riding Adam's thick meat until he blasts his load all over the Priest. Adam makes sure to lick up and drops left behind on Calvin's tip before stroking out his own load to feed the couple. Father Adam claims the house is "clean" before all of the furniture starts shifting on its own. Now that he got his money, Adam reveals he's not a real Priest and bolts out of the house. What are Dante and Calvin supposed to do now?
Scene 4: Drew Dixon and Colby Tucker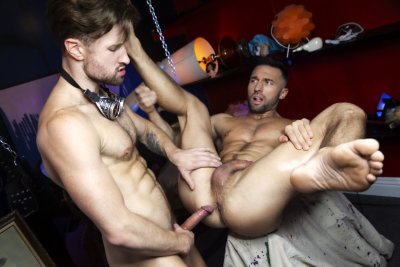 In a desperate attempt to cleanse their new house from all its evil, Dante Colle and Calvin Banks call 'The Ghost Guyz', Drew Dixon and Colby Tucker, to have a look around. When the ghost hunters start investigating, they make their way to the attic. While trying to find ghosts, they hear a demonic voice scream, "suck his cock!". Overcome by an inexplicable power, Drew is coaxed down to his knees and suddenly finds Colby's cock in his mouth. The ghost hunters can't believe what's happening, but also can't seem to stop. Drew works his ghost hunting buddies thick stick up and down his shaft and down to Colby's balls. Colby somehow wants a taste of Drew's uncut meat and sinks to his knees to savor every inch Drew can feed him. Eager for more, Colby bends over some junk in the attic, prompting Drew to bury his tongue deep into Colby's hole. He works Colby's crack until it's slick with spit so he can slide his bare cock into Colby's butt. Bent over doggy-style, Colby takes the rough pounding from Drew with pleasure. Drew keeps drilling Colby deep, mounting his ass hard, until Colby wants to go for a ride on Drew's raw member. Colby rides Drew down to the base before getting on his back and taking deep strokes from Drew's cock. Drew keeps drilling his buddy's hole until he shoots his thick load onto Colby's spent ass, then slides his cock back in. With Drew back inside his ass, Colby dumps his onto his heaving abs. After they both finish, Drew and Colby are harassed by the demonic voice again, yelling "GET OUT!"
Scene 5: Brock Banks and Link Parker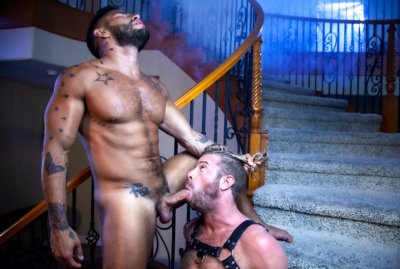 The Gardener Brock Banks is tending to the mansions yard when he hears a disturbing noise emanating from the house. He looks up only to see The Pig, Link Parker, a beefy stud in a leather harness, jock and a pig mask, standing on the mansion's terrace. The Pig summons Brock inside. Overcome by an eerie attraction, Brock enters to find The Pig at the top of the spiral staircase. The Pig saunters down and thrusts the bulging leather jock in Brock's face. The leather and man musk of The Pig gets Brock wanting more and he quickly pulls out The Pig's huge hard cock, taking it all the way down his throat. While Brock is managing his meaty cock, The Pig is helping him out of his clothes, and Brock eventually rises up to kiss the masked stud. Link removes his mask and lays back for some more making out, before welcoming Brock's hefty, uncut meat into his mouth. Balancing on the staircase, Brock delivers his dick deep in Link's mouth and then sits his hot Puerto Rican bubble-butt on Link's face. Returning Link's favor of an intense rim job, Brock opens Link's legs wide so he can eat his hole deep, before drilling him bareback. Wanting to give Link the ride of his life, Brock lays back on the stairs so Brock can ride reverse cowboy and then they flip it to doggie and the climb the stairs with a trust for each step. Finally, Link, back on all fours, pushes his inviting white ass onto Brock's dark cock until he milks a load out of it, leaving a pool on Link's ass. Brock eats half of it and shoves the other half back in with his dick. They share a cummy kiss, an evil laugh fills the house and Link disappears, leaving Brock completely perplexed. What in this house is of the natural world and what is supernatural? Find out when the scene fast forwards one year later!
Additional Information
Categories: UK R18 / XXX Gay Adult
Running Time: 170 mins, Year 2019
Price: Around £30*
Starring: Adam Ramzi, Calvin Banks, Taylor Reign, Dante Colle, Cade Maddox, Josh Moore, Colby Tucker, Drew Dixon, Brock Banks, Link Parker
Director: Chi Chi La Rue, Mr. Pam
Studio: Naked Sword Originals
Buy DVDs online at: Simply-Adult.com, Homoactive and Radvideo (USA)
Video On Demand / Downloads: Naked Sword Originals, See also: www.gayvod.co.uk
Member Site: NakedSword.com
Country: USA, Language: English
Additional info: No Regional Coding