Summary:
The studs are all asking 'About Last Night'. Find out just what happened when this bachelor party squad got lit and let it all hang out with super-hung husband-to-be JJ Knight. The bachelor party gets rolling on a party bus and it doesn't take long before this crazy night in Vegas gets seriously sexed up. These horny, ripped men throw caution to the wind and let loose for the sake of cocksucking, ass-rimming, hole-pounding action!
Description / Review:

Scene 1: Topher DiMaggio and Ryan Rose


Ryan Rose hired go-go dancer Topher DiMaggio for his friend's bachelor party, and Topher's so good that Ryan can't keep his hands off him. Ryan is turnt up with Topher, and the action starts getting extra heavy! As the music bumps, Topher grinds his massive bulge against Ryan's ripped body, and Ryan figures why not go with it since he's footing the bill. Ryan leans back and enjoys the thrilling sensation of Topher's tongue running up and down his chest. Unleashing Ryan's cock from his white briefs, Topher goes down for a deepthroating blow job. Ryan thrusts excitedly as Topher wraps his thick lips around Ryan's tool. Pulling Topher close, Ryan returns the favor by impaling his face on Topher's hard tool.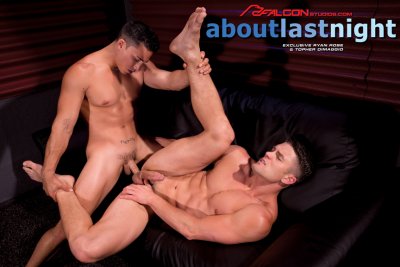 Eager to go all the way, Ryan turns around, giving Topher full access to his perfectly firm ass. Topher lubes Ryan up with a slick rim job, then moves in for a deep dicking. Mounting Ryan doggy style, Topher delivers a full-throttle pounding that hits Ryan in all the right places. Moving to the black leather couch, Topher sits down and Ryan moves into position to sit on Topher's meat. With Ryan's powerful legs suspending him in midair, Topher thrusts up into Ryan's hole. Rolling over and assuming missionary position, Topher drives home his meat as Ryan busts his nut. Pulling out, Topher jerks his cock until his white hot load explodes over Ryan's rippling abs.
Scene 2: Colt Rivers, Sebastian Kross


Sebastian Kross, searching for the bathroom in the packed club, accidentally stumbles into the alley. Click: the door locks behind him. 'Fuck!' he exclaims, no chance of getting back in now. He pulls his dick out to piss in the alley when Colt Rivers leaves the club, heading for his car. Seeing Sebastian's thick cock, Colt seizes the opportunity and extends an invite to hang out at his place. Sebastian accepts, and once inside, they waste no time getting down to business. Sebastian strips off his clothes, revealing ripped abs, his colorful chest tattoo, and his rock hard cock. Awed by the display of raw masculinity, Colt eagerly wraps his lips around Sebastian's throbbing tool. But Sebastian wants more than fucking Colt's face.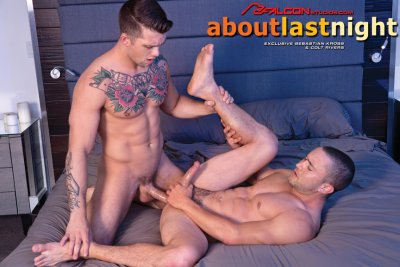 As Colt rolls over on the bed, Sebastian pushes his face deep into the crack of Colt's ass, using his tongue to spread slick saliva. When Colt is lubed and ready, Sebastian slides his dick into Colt's tight hole and commences a fervent pounding. They move to a sit fuck, with Colt using his beefy legs to ride Sebastian's rod. The rim of Colt's ass stretches with each thrust as Sebastian keeps up his anal assault in missionary position. Colt grasps his cock and blows his wad across his chest with Sebastian still inside him. Then, Sebastian unleashes his own massive cumshot, which forms deep puddles on Colt's abs. They rub their slick cocks together and then collapse side by side, reveling in the afterglow.
Scene 3: Alex Mecum, Jacob Peterson


Jacob Peterson walks alone towards the bachelor party bus he took to the club with his buddies. The driver, Alex Mecum, lets him in and asks, 'Where are the guys?' 'They're out having fun,' Jacob replies, clearly feeling left out. Alex joins Jacob in the back of the bus to keep him company, and Jacob shows Alex some pics he took on his phone, including one of Jacob's buddy Ryan Rose getting his dick sucked in the club! When Alex hands Jacob's phone back to him, he leans in for a kiss, and Jacob reciprocates by grabbing Alex's bulge. Opening his fly, Alex pulls out his huge, thick, throbbing erection, and Jacob uses his tongue to provide expert oral service. As they strip down inside the party bus, Alex reveals his ripped body and furry chest; Jacob shows off his smooth swimmer's bod.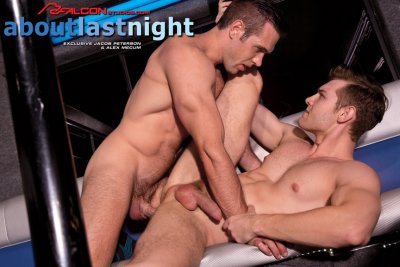 Wrapping his lips around Jacob's uncut meat, Alex eagerly swallows every inch of it. After getting his dick sucked, Jacob turns around and gives Alex the chance to taste his sweet hole. Rising to his feet, Alex uses the tip of his cock to tease Jacob's tight hole, then presses in until his cock is balls deep. After pounding Jacob's ass doggy style, they move to a seated position with Alex on the bench and Jacob riding him. Alex picks up speed, stretching Jacob's hole with every thrust. Putting Jacob on his back, Alex grinds his dick into Jacob's sweet spot. Grabbing his cock, Jacob strokes until hot, white cum overflows from his foreskin. Alex jerks out a massive load, shooting multiple ropes through the air and drenching Jacob's chest and cock with spunk.
Scene 4: Brent Corrigan and JJ Knight


After a long night of bachelor partying, Brent Corrigan finds his buddy JJ Knight, the groom, crashed out on the couch. It's early in the morning, and they've barely slept, but that doesn't stop them from having one last fling before JJ's married off to someone else. Brent pulls back the blanket and opens his mouth wide to get a taste of JJ's monster cock. Reaching into his buddy's briefs, JJ fondles Brent's throbbing boner.


After JJ uses his mouth to moisten Brent's cock, they rub their dicks together as they kiss. Turning around, Brent parts his amazing ass cheeks and JJ dives in face first. With JJ's tongue wedged in his hole, Brent moans and shudders with pleasure. Now on the floor, Brent gets in doggy style position and JJ mounts him with vigorous thrusting.


They grind together, taking turns providing the momentum for their intense penetration. JJ gets back on the couch and Brent climbs on to ride JJ's cock. Thrusting up from below, JJ's massive balls swing through the air. Rolling over into missionary position, Brent grabs his cock and strokes himself as they reach the point of no return. With JJ still inside him, Brent shoots a white hot load. JJ stands up and sends jets of white cum into Brent's open mouth. After Brent sucks every last drop of cum from JJ's cock, they press their faces together in a final cum-covered kiss.
Scene 5: Jacob Peterson, JJ Knight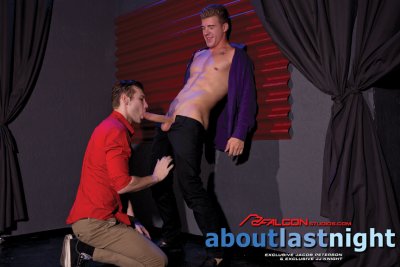 When the party at the club gets a little too wild and crazy, JJ Knight retreats to the back room to chill. JJ's friend, Jacob Peterson, comes in to check on him and help him relax. Falling to his knees, Jacob takes out JJ's dick. With his right hand wrapped around the base, Jacob opens his mouth and sucks on the sensitive tip. As JJ supports himself against the wall, Jacob manages to get JJ's monster cock even deeper down his throat. Trading places, JJ pulls out Jacob's uncut rod and gives him some oral pleasure in return. JJ's back leaning against the wall and strokes his girthy member as Jacob licks JJ's balls. As his eyes roll back in his head, JJ unleashes enormous jets of cum that splash across Jacob's chest. Still on his knees, Jacob works his uncut cock with his hand, his foreskin rolling over the sensitive cock head and providing intense stimulation. When he reaches his climax, Jacob's cum balloons inside his foreskin until it overflows in massive, gooey drops that splatter onto the floor.