Summary:
Ready for a sexual adventure? Get onboard with this international group of horny, hunky Falcon guys who meet up in the Bay Area for a 'Wild Weekend' enjoying San Francisco gay pride, summer weather, and uninhibited sex! They've arrived in California ready to let loose, celebrate their sexuality and share it with each other. Get your front row seat and an up-close-and-personal view in the two-part, steamy Falcon event, 'Wild Weekend'.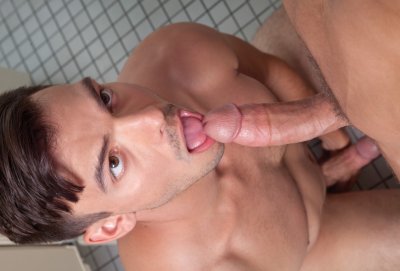 In 'Wild Weekend, Part 1,' world-famous underwear model and all-American jock Ryan Rose has some impromptu San Francisco head with Jason Maddox on the Embarcadero before meeting up with his buddies and heading north to the river. At the vacation house, Euro studs Ken Rodeo and Brute ignite controversy when they say that American guys aren't as sexually liberated as Europeans. When Ken challenges American Wesley Woods to hook up on the first night, Wesley is taken aback at first, but then goes about proving him wrong by giving Ken a heavy pounding and a creamy facial. See what happens when desire and competition fuel a 'Wild Weekend' of hot hookups and uninhibited action!
Description / Review:

Scene 1: Ryan Rose, Jason Maddox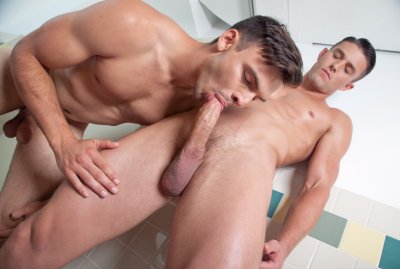 Roommates JJ Knight and Wesley Woods stroll through the Castro. All around them, San Francisco is gearing up for Pride. The guys are headed up to the river for a chill weekend getaway with some friends, including JJ's college roommate Ryan Rose, who's now the hottest male underwear model in the world! Over coffee, JJ tells Wesley about the one time he and Ryan got drunk and sucked each other's dicks in college. Meanwhile, as Ryan himself cruises the San Francisco Embarcadero, Jason Maddox cruises for cock on his phone. After sharing some sexy pics, Ryan and Jason meet up in a public restroom for spontaneous cock sucking. Jason uses his tongue to stimulate Ryan's sensitive mushroom head. Trading places, Ryan impales his face on Jason's meat. As Jason thrusts his hips, his big nuts bang against Ryan's chin. Switching once more, Jason deepthroats Ryan's cock with steady, intense strokes that bring Ryan to orgasm, shooting his milky load all over Jason's face. With Ryan's cum streaming down his cheeks, Jason jerks out his load onto the bathroom floor. They kiss, pull their clothes back on, and Ryan makes his way to meet up with his friends. JJ and Wesley return to their place to find JJ's cousin, Brute, waiting on their doorstep. He just arrived from London with his Austrian friend, Ken Rodeo. Ryan rolls up and the guys all trade introductions. Wesley is really excited to meet Ryan, but Ryan seems more interested in Brute and Ken. What will happen when they all get to the river?
Scene 2: Ken Rodeo, Wesley Woods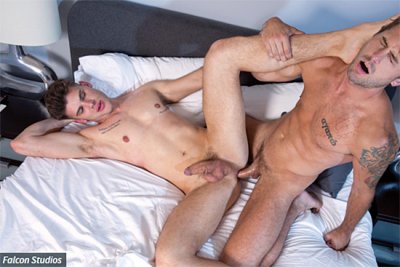 The crew is chilling over pizza and beer at their vacation house on the river, settling in after the drive up from San Francisco. Ryan Rose asks European studs Brute and Ken Rodeo why they decided to come visit. Ken says that they wanted to see what San Francisco Pride was all about, and Brute adds that they want to 'shag as many blokes as possible.' Ken says that he views American guys as a challenge - because they're more uptight sexually! The Americans protest, proclaiming that they're just as sexually liberated as Europeans. But it's late, and the guys head to bed without resolving their debate. Later, as Wesley Woods is undressing for bed, he hears a knock at his door. It's Ken, and he wastes no time telling Wesley, 'I want you to fuck me!' 'That's very to the point,' says Wesley, feeling a bit shocked, but something about Ken's assertiveness really turns him on. They start making out, and Ken goes down on Wesley's cock. Moving into a 69 position, Wesley eats Ken's ass while Ken continues sucking Wesley's dick. Ken jerks his cock and rides Wesley's face while moaning with pleasure. 'Fuck, you taste good!' exclaims Wesley. Wesley leans back on the bed, and Ken sits on Wesley's cock and rides it like a cowboy. They switch to doggy style, and Wesley gives his cock to Ken with long, powerful strokes: all the way in, all the way out. Rolling on to his side, Ken makes his hole extra tight for Wesley to fuck him sideways. Moving to missionary, Ken strokes himself off while getting fucked, blasting his creamy load on his stomach. Wesley jerks his load out into Ken's open mouth, dripping cum on his chin, and bends down to taste his load on Ken's lips.
Scene 3: Dustin Holloway, Paul Canon


Dustin Holloway and Paul Cannon have been making eyes at each other all weekend, but so far they haven't acted on it. As they strip down to their white briefs and step into the hot tub, they trade a knowing glance. Their feet touch at the bottom of the spa, and their cocks swell in their wet briefs. Paul, with his dirty-blond hair slicked back, leans in and locks lips with dark-haired Dustin. Pulling down Paul's briefs, Dustin unleashes Paul's rock-hard cock and deepthroats the entire shaft. Relaxing into the depths of the hot tub, Paul enjoys an underwater blowjob as Dustin relentlessly services Paul's throbbing meat. Dustin, emerging from the water, spreads his ass for a thorough rimming. Rising up, Paul rubs his cock in the groove of Dustin's perfect ass, and Dustin is eager to take things to the next level.

Exiting the tub, Paul lies down on an outdoor lounge chair and Dustin straddles him. Lowering himself down, Dustin sits on Paul's cock and goes for a wild ride. Paul's huge balls, hanging low in the summer heat, rise and fall as his body throbs with sexual excitement. Flipping to missionary position, Paul grabs Dustin's cock while simultaneously fucking his hole, and the sensation brings Dustin to climax, drenching his stomach in puddles of semen. Paul then fires off rope after rope of cum, shooting all the way up to Dustin's shoulders in a spectacular orgasm.
Scene 4: Riley Burke and Braxton Bond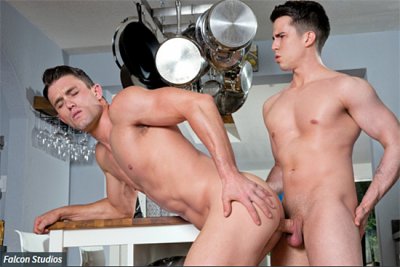 As Ryan Rose makes coffee in the kitchen, English hottie Brute makes his move for Ryan's morning wood. They start to kiss as Brute grasps Ryan's stiff cock. Pulling off Ryan's shorts, Brute takes a mouthful of Ryan's throbbing meat. Ryan's perfect body is on full display, and his washboard abs ripple. Stripping off Brute's clothes, Ryan uncovers the Euro stud's thick, uncut cock, and alternates between impressive deep throating and tonguing the inside of the foreskin. Ryan leans over a table and spreads his cheeks for Brute to tongue Ryan's tight hole. With Ryan's ass begging to get fucked, Brute thrusts his cock deep in Ryan, doggy style. Moving to a chair, Brute sits down and invites Ryan to ride his cock. With sweat starting to glisten on their skin, Ryan grinds his big cock into Brute's chest as he fucks himself on Brute's girthy meat. Turning around, Ryan jerks his cock while riding Brute's, spewing a giant load on the floor. Ryan gets on all fours and sticks his ass up in the air to be Brute's target, and Brute jerks out a massive load that splatters Ryan's ass with wet, white cum.
Scene 5: Josh Conners, JJ Knight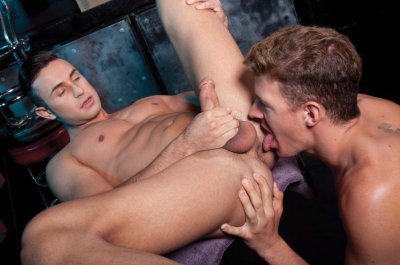 At the gay bar near their Russian River vacation house, JJ Knight and Wesley Woods are gossiping about their friends' hookups. So far JJ hasn't gotten any action during the weekend, but as Wesley reminds him, 'The night's still young!' After taking a piss, JJ exits the bathroom and finds Josh Conners cruising the hallway. They lock eyes and retreat to a dark corner, where Josh slips off JJ's shorts and inhales his massive boner. Eager to explore Josh's ass, JJ bends him over, spreads his cheeks, and dives face-first into Josh's eager hole. After an intense tongue-fucking session, JJ stands up and thrusts his massive cock in doggy style, using a bit of spit for lube. Josh's sexy bubble butt ripples with every impact of JJ's energetic fucking. Flipping over to missionary position, Josh jerks his cock as JJ pounds relentlessly. As they approach orgasm, Josh kneels on the floor, making himself the target for JJ's load. With massive spurts, JJ launches his cum and coats Josh's neck with drippy semen. The epic cumshot sends Josh over the edge, and he splashes his load onto the floor of the bar. After trading their final kisses, JJ makes his way back to hang out with his friends. 'You smell like sex!' exclaims Wesley boozily. JJ notices his cousin, Brute, hanging off of Ryan Rose, who was JJ's best friend and roommate in college. JJ asks Wesley, 'What's up with them?' 'While we were asleep earlier, they fucked!' slurs Wesley. 'Can you believe that?' JJ doesn't take the news well; he slams his beer down and storms out, leaving his best friends stranded at the bar!