Summary:
Taylor Reign is the type of pup that goes after what he wants and gets it! This star took a break a while ago and has now come back even fitter and hornier in Taylor Made. Joined by muscle men Ricky Roman, Ashton Summers and Jimmy Durano, Taylor and these guys make the hardcore sucking and fucking in these scenes scorching hot. Long may he reign!
Scene 1 - Arad WinWin Fucks Taylor Reign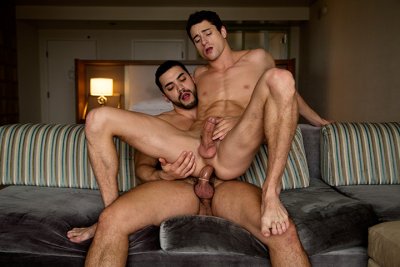 What to do on a cold and rainy day in L.A.? Seattle boy Taylor Reign is used to rainy weather but he isn't used to being inside with horny an bored muscleman Arad WinWin. Arad is just his type, a big muscle jock who Taylor hopes will manhandle him and tell him what to do. Fortunately Arad, who usually likes to cuddle and chill out watching TV, has the same thought. While lying on the bed in his jeans, Arad plays with his cock as Taylor hangs out by the balcony, his hands in his jeans bemoaning the weather and once Taylor says, "Yeah, it's still raining. I don't know what to do today" Arad solves the problem by motioning Taylor over to the bed to join him. Taylor Reign wastes little time using his lips on Arad Winwin to worship his smooth muscled body and lovingly give him a blowjob. And Arad's forceful side gets ignited quickly too as he uses his hands on Taylor's head and vocal commands make sure that Taylor stays down on his cock and balls. Taylor gives in easily and Arad uses his hands to play with his shapely ass, give him a spank or too and work some finger-fucking action before Taylor's ass is in his lap. Arad's relatively quiet dominance results in Taylor getting rimmed and sitting on Arad's face as commanded. In a series of almost seamless transitions Arad moves from rimming Taylor to sucking his cock, getting into a tight 69, and standing up Taylor to play with his butt once before turning him around to sit on his cock in a cowboy position. Taylor's perfectly shaped ass and impressive v-taper are on full display as he rides Arad who thrusts up to meet his bounces. And in another smooth move they kiss again and Taylor is on his back getting Arad's cock in missionary position...with a few variations. They're totally focused on each other with their eyes and mouths reaching one more transition. With Taylor in a reverse cowboy riding Arad's jackhammering cock, his muscular body writhes and twists and Arad brings him closer by stroking his long, hard cock. Finally with almost every muscle in his body tensed and flexed Taylor shoots explosively and while he's still spurting, stroking his cock and milking it dry, Arad pulls out, pulls off his condom and quickly shoots off his geyser of a load that lands on Taylor's torso, his abs and crotch mixing with Taylor's cum. As the two spent studs finish with a loving kiss the old weather metaphor becomes true once again; When it rains, it pours.
Scene 2 - Ricky Roman Fucks Jae Roze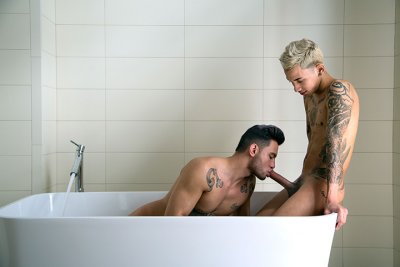 Meet Jae Roze: CockyBoys' newest pint-sized Latino with a contagious smile and a wealth of positive energy. He may actually remind you of Ricky Roman when he first started out as a CockyBoy -- a sweet guy with tattoos so pretty they look painted on, and of course, a streak of charisma and passion that runs so deep you can't help but fall in love. And that's why it made perfect sense to pair Jae up with Ricky for his debut sex scene (at CockyBoys and porn altogether)! Around Jae, Ricky really showed a different side to him... a much more dominant, older brother-type personality that was extremely hot. Though Ricky might have one gorgeous ass prime for a good fucking, he definitely knows his role around a young new face eager to get initiated into the Cocky canon. He guided Jae during every step of the process, and was completely surprised by the enormous size of Jae's cock! As the saying goes, big things really do come in small packages, and Ricky wasn't going to give Jae a proper plowing until he gave his cock a proper blowing first. Jae, too, was completely enamored by Ricky's similarly long, uncut rod and was quick to reciprocate the favor.
Finally, the guys moved to a sparse bathroom and slid into the tub to get cozy. After some passionate kissing, handjobs, and more sucking, Jae propped one leg up on the side of the tub as Ricky slid his cock inside him for the first time and began pounding away. They found their rhythm almost immediately and decided to retreat back to the bed for some more blowjobs (they seriously couldn't get enough of each other's cocks!) and finally for a proper fuck in true missionary where Ricky jack-hammered Jae almost to the point of no return! For the grand finale, Jae wanted to be on top... certainly proving how well he knows how to ride a cock! He blew his load within minutes, and then generously used his hand to jerk the cum out of Ricky's cock shortly afterward. A total ball of energy and charm, Jae's looking like he's got a lot to offer to CockyBoys -- one of which will hopefully be using that amazing cock of his on another tight bottom!
Scene 3 - Jimmy Durano Fucks Alessandro Haddad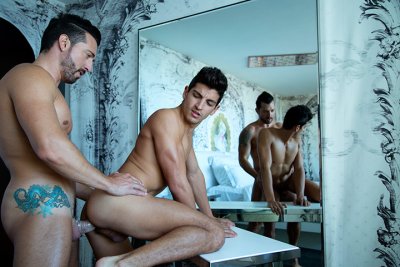 Alessandro Haddad is already making quite a splash here at CockyBoys. After getting properly initiated by Jack Hunter, Alessandro is ready to put those bottoming skills to use again. With those dark features, that irresistible accent, and that cute face full of expression... there's so much more to him than meets the eye. Raised in a small town without many gay people, Alessandro describes what it was like for him to finally embrace his sexuality. Now 24, he's built up so much confidence that he's a natural pro at fucking on camera, eager to share with the world his most intimate abilities. He says he's always had a thing for older, bigger guys because they "know what they are doing." And if there's one guy who fits that description, it's Jimmy Durano. The chemistry between the two is immediate and extremely hot -- Alessandro certainly knows what he likes! After flirting in their underwear, Jimmy invites Alessandro over to the bed where he strips off his underwear and gets a good grip on that perfectly round ass. Jimmy loves taking the reigns, especially on younger, smaller guys like Alessandro. He instructs Alessandro to suck him off and then get on top of him so he can eat his ass. Already very turned on, Alessandro scoots forward and begins riding Jimmy's cock gently at first and then harder and harder. He lays back on Jimmy's torso where Jimmy happily does the thrusting. The wall-to-wall-to-ceiling mirrors only makes the guys more passionate, loving the feeling of total exposure. Eventually, Jimmy leads Alessandro to a nearby couch allowing him to pound him even deeper. Jimmy pulls Alessandro close to him so he can see his face contort while picking up the pace. After almost pushing Alessandro over the edge, Jimmy decides he wants Alessandro to see for himself how rough he's taking it and brings him directly to the mirror. Drilling him from behind with lots of dirty talk and little mercy, Jimmy quickly makes Alessandro shoot his load only inches away from the full-body mirror. But Jimmy isn't done yet -- he turns Alessandro around and pulls him back to the bed to help him get off by licking his balls. It doesn't take long before Jimmy explodes too, looking deep into Alessandro's eyes staring up from his crotch.
Scene 4 - Justin Matthews Fucks Ashton Summers
It's been awhile, but Justin Matthews is back and better than ever. With his rock-hard abs and equally rock-hard cock, he's more than ready to make one lucky and unsuspecting bottom run for his money. Good thing Ashton Summers and his perfectly round bubble-butt are ready and primed for the task. The two start off with a passionate flare as Justin and Ashton kiss fervently, but things fire up quick. Justin pushes Ashton's warm, small mouth down onto his huge cock and then reaches around for Ashton's hot, hungry ass.
The two can hardly control themselves when Justin begins sucking Ashton's cock, getting him hard and all set for the pounding that's up ahead. Justin then stuffs his rock-hard cock into Ashton's tight little ass leaving both of them breathless, sweaty and on the brink of not one, but two, really explosive cumshots.