Summary:
Jake Jaxson puts some of the most beautiful young men in this volume for the world to see! Newcomer Andreo Matteo is inducted by Josh Moore. Cory Kane's big dick stretches Grayson's tight hole & Troy & Sean have a flip-fuck for the ages. Enjoy!
Scene 1: Sean Ford & Troy Accola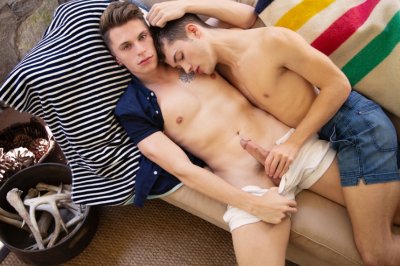 For Troy Accola & Sean Ford the carefree and often nostalgic joys of summer at Camp CockyBoys include afternoon naps..and waking up from them in a very special way. Sean finds Troy snoozing on the sun porch and simply can't resist planting sweet but deliberate kisses on him to wake him up...in more ways than one. Troy is more than happy with this greeting especially as Sean unzips his shorts and indulges in full oral pleasure with Troy's cock and balls. While Troy luxuriates in this, he's also naturally compelled to reciprocate by kissing, undressing and lovingly sucking Sean.

When Sean reaches over to finger Troy's warm hole deeply, it ignites Troy's even more passionate cocksucking and gives Sean ideas for his next move. And he spells it out by whispering to Troy "I wanna fuck you so bad". First though he lies Troy down to thoroughly rim his smooth hole and tease him with his cock. This excites both of them so much Sean eases right in to fucking Troy deep. Sean is totally into topping Troy but it's also totally natural for him to want Troy to be inside him.And so they easily switch roles.

Troy orally lubes up Sean with some targeted rimming and soon Sean is sitting on his cock riding him so deep in a cowboy and reverse cowboy that Troy's big cock is barely visible. Sean & Troy get so into this position that Troy is on the edge, BUT he wants to cum with Sean inside him! And so Sean fucks Troy on his back almost in full control when he strokes Troy's cock. Soon Troy pumps out a thick load as Sean thrusts into him. Seconds later Sean sits between Troy's legs and with a little balls massaging from Troy, he cums on his abs. They rest in each other's arms grateful for their time together today...and likely for the rest of the summer.

Scene 2: Josh Moore & Andreo Matteo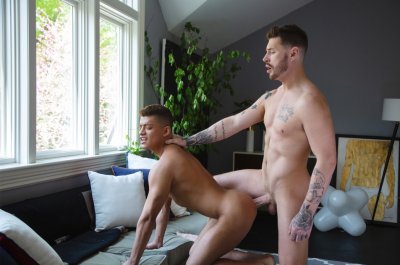 We're excited and happy to introduce Andreo Matteo as he makes his adult debut with CockyBoys! He's welcomed by Josh Moore with sweet, sensuous passion...and the dominance Andreo desires. Andreo starts on Josh's lap and they kiss as Josh's hands glide over his body and when the time is right Josh stands with Andreo's legs wrapped around him. Multi-tasker Josh unzips and takes out his cock and as he puts him down, Andreo takes the challenge and swallows him to the root. Josh is impressed by how Andreo pleases him and keeps on going deep-throating him through teary eyes.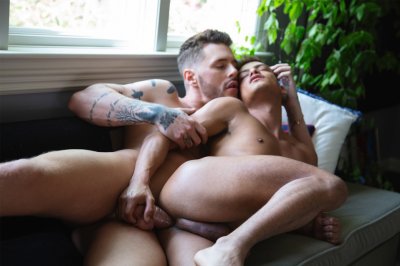 Josh gives Andreo a break and kindly wipes away his tears and kisses him before sucking him in return. But Andreo soon desires to again please Josh while acrobatically offering up his bubble butt. As Andreo continues to suck deeply, Josh rims and finger fucks him and goes one step more to showing his control by holding him upside down in a standing 69. He lets Andreo down to rim him some more and tease him with his cock but they're soon both ready to go all the way.

Andreo eagerly obeys Josh's direction and once he starts getting fucked from behind he thrusts his ass back on Josh's cock with unleashed energy. The harder Josh fucks, the more vocal and uninhibited Andreo gets. He rides Josh mostly to please him but Andreo really is in heaven as Josh pounds him from the side in total control. Finally with Josh pounding him and Andreo working his ass deeper he pumps out a big thick load. But Abdreo isn't totally satisfied until Josh cums and gives him an big facial. As he licks Josh's cock and kisses him, Andreo expresses his first time with a satisfied smile " I loved it "
Scene 3: Levi Karter & Mateo Vice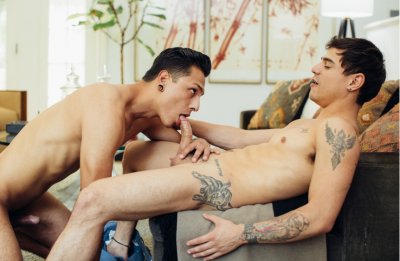 Mateo Vice makes his CockyBoys debut with Levi Karter and when they meet and chat it up there's a vivid connection and affectionate sexual chemistry that easily leads right into their scene and just grows stronger. As "host" Levi sits Mateo down and sucks him deep almost immediately and it isn't long before they switch places and Mateo is gagging on Levi's cock. But Levi gravitates back deep-throating Mateo and revving him up o start taking more control.

After holding Levi's throat on his cock Mateo turns him around to rim his bubble butt and tease him with his cock. Levi is more than ready for it and Mateo gives him every inch. Mateo thrusts in hard and deep and seeing that Levi can take it, he kicks it up a notch with half-piledriver. Levi isn't even close to being done. He moves with authority and mounts Mateo's cock to ride him deep and really lean back into it. And just when it looks like he's reached the point of no return, they switch it up!

Levi gets Mateo on his back, rims him and soon he's all the way in. With their bodies pressed together, they make out as Levi fucks him so intensely he breaks into a sweat AND, they're still not done! They switch places again and Mateo fucks Levi on his back, taking control with a little choking and jacking off Levi's cock. Mateo finally hots the spot inside Levi and fucks a skyrocketing load out of him that hits Levi in the face. With Levi kneeling before him Mateo pumps out a thick load that Levi only gets about half..but it's still HUGE and goes everywhere. At the end you'll be hard pressed to find two happier guys.

Scene 4: Cory Kane & Grayson Lange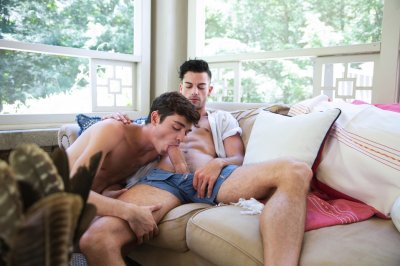 Summer At Cocky Boys includes the annual pool party bringing models from near and far to finally get the chance to meet each other. For Grayson Lange he has his eye on Cory Kane , but he has to wait until guests are leaving to get alone time with him. Grayson finds Cory in the sun porch playing with his cock and after a little spying on him, Cory invites him to join in. In no time Grayson opens up wide and take as much of Cory's thick cock and stroke the remaining inches with his hand.

Cory enjoys Grayson's considerable efforts and gives back by having him sit on his face for deep rimming and cocksucking. Soon Grayson works his ass down Cory's body and, with a little effort, slide down on Cory's waiting cock. With his feet planted on Cory's thighs Grayson can ride his piston-thrusting cock. However, a subtly aggressive Cory takes back control and pounds Grayson on his back....which Grayson loves.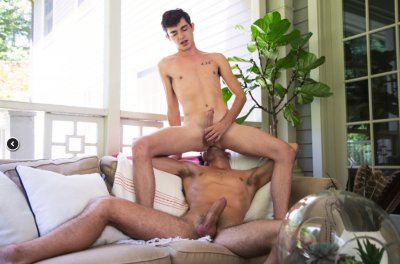 Just as abruptly Cory wants Grayson back riding his cock and that's just fine with him. He's soon bouncing deep on Cory's cock and keeps going and going until he busts a nut all over Cory's abs. With his thick load still dripping from his hand Grayson determinedly sucks Cory again and readily slurps up all the cum that Cory strokes out. They've waited a long time for this and guess what? They're ready for round 2!