Summary:
There's something about Jack Hunter's beautiful blue bedroom eyes that just says, "don't worry, I'll take care of you". That - and the fact that Jack Has A Big Fat Dick!
You'll want to kiss his sculpted chest and lick his rock-hard abs. However when he takes out his big meaty dick, you're sure that it won't fit, - but that won't stop you from trying. Jack and his big fat cock indulge in two hours of red hot action!

Scene 1: Jack Hunter + Danny Montero
Today is a special day because we are welcoming our newest Cockyboy exclusive - Danny Montero - into our Cockyboys family and as he says - "This is kind of a big deal." Danny joined the whole crew in Vegas for Hustlaball and while hanging out with all the boys in the club he couldn't help but notice one of the Cockyboys in particular - Jack Hunter. Jack was dancing shirtless in the middle of the dancerfloor and Danny admits that all he could see were Jack's piercing blue eyes and ripped body. Of course Jack was enjoying the attention and it was obvious that the chemistry between these two was growing by the minute as they sat down and started talking. A few minutes later Danny's hands were touching Jack's shirtless body all over and the two start to make out right in the middle of the dancefloor. Being the gentleman that he is, Jack walked Danny to his room once the club closed and promised him that he'll be back in the morning.
Early in the morning, Jack shows up ready to feed Danny what he has been fantasizing about all night long and the two waste no time. Danny begins to suck Jack's cock by the window for all of Vegas to see and soon enough finds himself bent over the chair with his ass up in the air and Jack's face shoved right between his cheeks. Jack continues to tongue-fuck Danny's hole until it's all nice and wet and ready to be plowed real good. While still bent over the chair, Danny begs for Jack's cock and it's not long before he finally gets it. Jack shoves his cock all the way in and begins to pound Danny as hard as he could take it. No chair position is off limits as long as Jack's cock is going in as deep as Danny could take it. Finally they move to the bed for the grand finale where Danny rides Jack so hard that he shoots his massive load all the way into Jack's wide open mouth while still riding him. While covered in Danny's cum, Jack shoots his creamy load onto his abs. Now that's the way to welcome in the new boy!
Scene 2: Colby Chambers + Dillon Rossi
It was snowing pretty hard outside the morning Dillon Rossi awoke from a deep slumber to see the handsome Colby Chambers gazing out the window in nothing but his trunks. Seriously... what better site to see when you first wake up than the tall and gorgeous man you just spent the night with standing at your windowsill, the morning light reflecting off his every muscle? Being the charmer that he is, Dillon coaxed Colby back over to the bed where he peeked inside his trunks, peeled them down, and began kissing his lower torso. This really got Colby revved up, so he climbed on the bed where Dillon pulled him close for a slow, sensual kiss.
Colby then began playing with Dillon's firm, perfect ass. He rimmed and finger-fucked him gently, priming him for his cock. But before the main event, Colby couldn't just dismiss Dillon's large, thick cock standing to attention. He moved up Dillon's body where he kissed his neck, then shifted his body around so he could give Dillon the perfect blowjob while offering his cock to Dillon's eager lips at the same time. They established a perfect sixty-nine position but Colby's energy kept increasing... and before long he was full-on skull-fucking Dillon! With Dillon's eyes just about watering, Colby finally released his cock and gave Dillon an upside-down Spiderman-style kiss. After that, Dillon could only murmur, "I want you to fuck me so badly."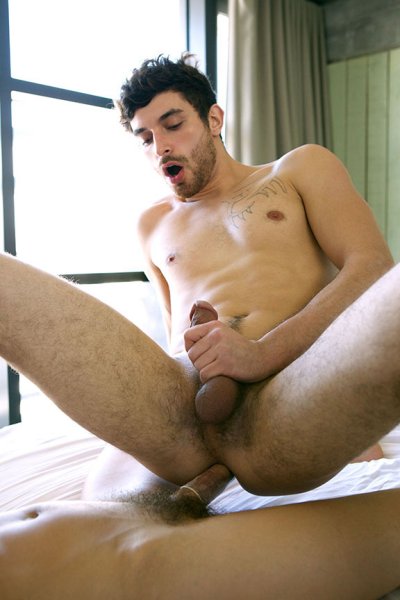 Soon enough, Dillon was on all fours while Colby ate his ass once again before plowing his cock swiftly inside Dillon. You know guys have perfect chemistry when they can just get right into it, rough and rowdy, perfectly in sync with one another. They were both moaning and egging each other on, adding to their intimate doggy-style rhythm, Colby pulling back tufts of Dillon's disheveled bed hair. Dillon then got on top of Colby where he rode him like a pro, his cheeks spread wide. Colby wanted to take complete control as they both neared climax, though, so he flipped Dillon on his back and jack-hammered him in old-fashioned missionary -- pulling Dillon's ass further in the air so he could go in as deep as possible. This led Dillon to an upside-down position while Colby was full-on standing up against the bed's backboard, conveniently presenting Dillon's face as the perfect landing area for Colby's load. It just kept on spurting out of Colby until Dillon's amused facial expression was well-covered. A short while later, Dillon shot a big load, too, with Colby sweetly (and literally) lending him a helping hand.
Scene 3: Brandon Jones + Allen King
Brandon Jones and Allen King come from very different backgrounds, which almost always makes for some very hot chemistry. And these two did not disappoint! Brandon's a very smooth talker, while Allen can pretty much charm the pants off any guy with his cute smile. While Brandon is usually versatile, he knew from the moment meeting Allen that he wanted to top him hard!
After some hot groping and kissing, Allen pulled Brandon's underwear down to his thighs and got to work sucking on that sexy cock the second it popped out. Allen's a very sensual guy, especially when it comes to blowjobs. And while Brandon can be sensual too, it was clear that he was not going to grant the kind of mercy Allen was expecting! Brandon ripped off Allen's pants and began rimming him which led them both to a hot sixty-nine on the couch. Then Brandon propped Allen up on his knees so he could tease Allen's hole with that long, uncut cock of his.
Brandon then began pounding Allen from behind, so comfortably that Allen turned his neck so the guys could keep kissing. But Brandon wanted all the control and kept fucking him harder and harder. Allen then laid back on the coffee table so Brandon could ram him missionary style -- telling from the gorgeous smile on his face, Allen was in heaven! Then Brandon sat back on the couch, allowing Allen to ride his dick like a cowboy. And that's what set them both over the edge. Allen was moaning and getting drilled so fast that he quickly blew his load all over his own torso. Brandon rewarded him shortly after, his cumshot exploding on Allen's pecs!
Scene 4: Gabriel Clark + Mike Gaite
As we all know, Gabriel Clark loves to dominate so it's not often we see him with a guy that's comparable to him in stature and physique. But new CockyBoy Mike Gaite has just about the same amount of muscles and scruffy facial hair, so for a moment it seemed like Gabe had met his match! But after chatting with Mike for a little bit about a recent trip to Europe, different languages, and golden showers (err... Thailand's national flower of course), Gabriel finally coaxed out the words from Mike.
"I'm versatile..." he said. "But I prefer bottoming." With a twinkle in his eye, Gabriel knew he had just received the green light to plow the hell out of Mike. So they stripped naked and sucked each other's cocks, Gabriel going down on Mike slowly but then full on skull-fucking Mike when it was his turn to get sucked. There was also quite a bit of nipple play (one of Mike's weaknesses), before Gabriel pushed Mike over on all fours and began pounding him doggy-style.
By the sounds he was making, Mike was definitely not expecting the fuck he was getting from Gabriel. Gabriel was plowing him so hard that the slapping of Gabriel's pelvis to Mike's butt nearly drowned out Mike's moans. Mike then leaned back on Gabriel and rode his cock hard, with Gabriel pulling at his nipples throughout. But for the finale, Gabriel wanted to pound Mike in his favorite position -- Mike's ass in the air with Gabriel's hands tight around Mike's ankles. After several deep thrusts, Mike shot his load upside down -- some of it even getting in Mike's beard! That was Gabe's cue to finish himself off, so of course he hovered his dick over Mike's mouth and rewarded him with one of his world-class facials.
Scene 5: Caleb King + Matthew Parker
These Montreal boys can get pretty kinky sometimes, and Matthew Parker is no exception! After finding himself in front of a mysterious door in the basement of a sex shop, his curiosity got the best of him and he walked in to find a movie-theater style chair, some porn playing on a TV, and a square shaped hole in the wall. After jerking off for a bit, it didn't take Matthew long to figure out what was going to happen next -- lo and behold, a beautiful uncut cock poked out directly in front of his face which he happily engulfed. With no indication of the man behind the cock, there's just something so sexy about glory holes!
Little did he know the cock belonged to Caleb King, one of the most brutal tops in town. Everything about Caleb oozes with sex -- his tall muscular body, just the right amount of scruff around his jaw, and of course, his surprisingly aggressive fucking abilities. And when Caleb finally opened the door to Matthew's room, Matthew knew he was in for a hard pounding! Caleb pulled him out into the hallway and made Matthew suck his cock some more, this time so they could make eye contact. Then he flipped Matthew around, pulled his cheeks apart, and gave him a long, wet rimjob before fucking him hard up against the wall.
Matthew couldn't stop moaning, but then Caleb led him back to the room so he could give him a more intimate fuck in the chair where he was just sitting. He started plowing him face to face, but then Matthew got on top of Caleb and continued to ride his thick rod until he shot his load. Taking things full circle, Caleb forced his cock back into Matthew's mouth until his cock exploded all over Matthews hungry lips and scruff. This was definitely one hot, hasty, and downright sexy fuck!