Summary:
Tall and broad-shouldered with a deceptively lean-muscled body, Justin Brody uses his strong body, hard cock and subtly dominant nature to make an impact with his scene partners. We love his dominance, his charisma and most of all, his big fat cock. Hung boys Cory Kane & Dillon Rossi join him in showing other dudes the ropes. Enjoy!
Scene 1: Justin Brody Hammers Tegan Zayne
Come along on a first date with Tegan Zayne and Justin Brody, two introverted but hardly shy souls who make a connection and pursue its intimately sexual depths. Taking things slowly, they spend time together, appreciating each other's qualities, and return home to explore their physical attraction. When Justin bends down to kiss Tegan, his head nestled in his lap, he soon finds that treating him in a sweet, lovingly tactile manner is what sets loose the vocal and playfully sexual young man. In return, Tegan gets into Justin's pants and eagerly sucks his already hard cock as Justin gets naked. Tegan's pants come down too, his furry ass exposed and his affectionate cocksucking is rewarded with Justin's fingers plumbing his tight hole and finding the button which turns up Tegan's volume control.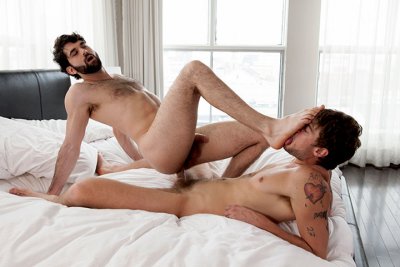 Taking their first date to the bedroom, Tegan Zayne plops down and his beautiful butt springs up for Justin Brody. In turn Justin rims Tegan with the same total and affectionate passion Tegan gave his cock. Justin's mouth and tongue travel from Tegan's furry crack to his cheeks where he kisses and nibbles his way down his legs and back to his ass again. Tegan continues to express himself vocally, through his facial expressions, and body language while the relatively soft-spoken Justin lets his actions do the talking. He teases Tegan with his cock but soon impales him with his ever-hard penis, plunging deeper as he holds down the loudly moaning bottom whose ass remains elevated.

Justin and Tegan make their first date memorable with variations on several sexual positions. At the same time they remained focused on each other with gazes locked and their lips often gravitating together. When it seems that Tegan has found his groove riding Justin and is ready to blow, they shift gears. Justin lies Tegan on his back to suck him and bring a warm smile of appreciation to his face. With hardly a change in position Justin transitions from oral service to top man, fucking Tegan on his back, hitting his button again and making him cum like a small geyser. Justin slides up to give Tegan's hairy chest splashes of cum and after Tegan gets a taste from the tip of Justin's cock they share satisfied loving kisses. Are there more dates in their future? Time will tell...

Scene 2: Summer Fun with Dillon Rossi & Justin Brody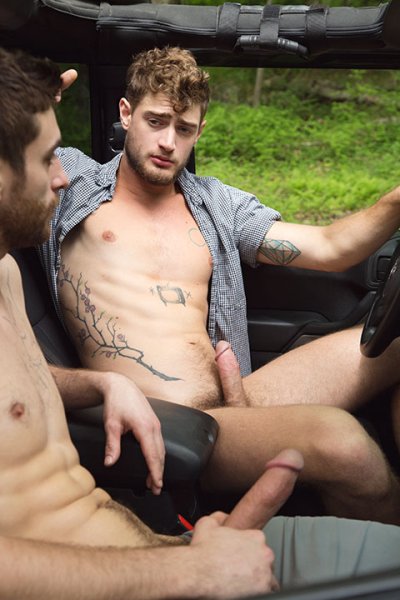 Justin Brody and Dillon Rossi have two of the most sumptuous, delicious cocks we've seen. Paired with their handsome faces, hot bodies, and down-to-earth personalities, they're definitely a couple of catches!

This scene starts with Dillon talking about how he loves to run outdoors, and the feeling of his dick rubbing against his shorts as he jogs—that VPL (visible penis outline) of his big cock swinging back and forth is definitely hyptonizing! Justin passes by in his wrangler, the two of them checking each other out. Apparently they've been cruising each other for quite a while. Dillon starts talking about his fantasy—how Justin will pull over, tell him to get in the jeep, and they'll fuck, right there, in the car and in the woods. We can definitely relate—haven't you ever had a fantasy of a person you've passed by on the street, or your neighbor, or co-worker?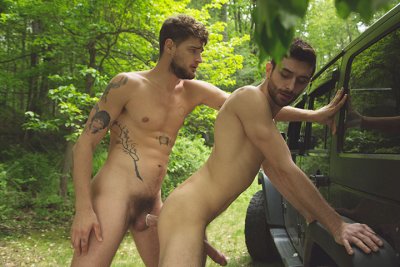 We're taken for a ride as Dillon's fantasy plays out. Dillon gets into the passenger seat, and the two guys pull out their big, bulging dicks, making out and stroking each other. Justin starts deep-throating Dillon's cock, and as they make out, Justin says how he noticed Dillon cock flopping around in his shorts when ran, saying, "I have a big dick too."

You can tell Dillon is so ready, and he replies, "Oh fuck, I want to feel it inside of me." They get out of the car, and first Dillon starts sucking Justin, then Justin flips him around and starts rimming Dillon's hot ass. Once he's ready, Justin slips his cock into Dillon's ass, and they quickly start fucking every which way in the woods—Dillon riding Justin's dick, sliding his ass back and forth on Justin's rod, then Justin throws Dillon on the front of the jeep and fucking Dillon till he shoots his load all over himself, and shortly therafter Justin squirts his load all over Dillon.

Thanks Dillon for letting us play out your fantasy!

Scene 3: Ricky Roman & Cory Kane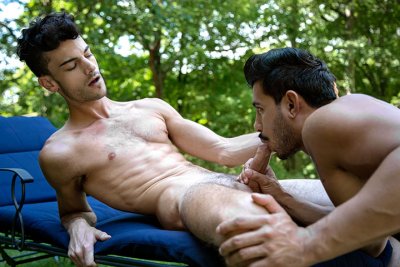 Ricky Roman and Cory Kane have been exchanging dirty pics on Snapchat for a while now and they were both eager to get it on in real life. They got together by the pool and immediately started making out before stripping down and letting their horny desires run wild.Ricky has been dreaming of cory's enormous uncut cock and he pulls that monster out of his pants and swallows as much as he can take. Gently licking the entire length of cory's shaft before swirling his tongue around the swollen cock head. Cory's rock hard cock doesn't lie and it's obvious he loves every minute of it! He lets Ricky feast on his dick for a while then pushes him back on the pool chair to return the favor. Sliding every inch of Ricky's own sizable cock down his throat while looking deeply into his eyes. These guys are totally into each other and they're showing it with every movement they make. Ricky just lays back and gets one of the best blowjobs of his life before turning cory around and sliding his cock into his tight little asshole. All the way to the balls with a single stroke that just leaves cory moaning.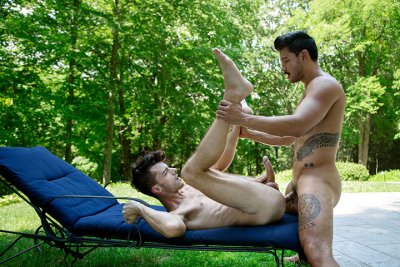 Ricky fucks Cory long and hard on his back as Cory gently strokes his own enormous cock. Driving his cock deep inside his body while his balls slap back and forth on his ass. But he has to slow things down so he stands Cory up and mounts him from behind.These two beautiful young men fuck standing up by the pool then Ricky lays back on the pool chair and Cory sits on his cock. Riding that tool as his own uncut cock slaps against Ricky's chest. Bouncing up and down and trying to get as much of that cock as possible. But Ricky wants at cory's huge uncut cock so he pulls out and sits on that monster. It takes a pro to get a cock that huge in his ass but he has no problem and before you know it he's riding Cory's cock and bouncing up and down on his thick shaft. His own cock rock hard in his hand as he gets off on getting fucked by such a big dick.

The spin around and Ricky climbs on top of cory so he cock can go even deeper in his ass. Riding his buddy to the edge of cumming then slowing down. Making it last as long as possible. He pulls off and tells cory, "I want to fuck the cum out of you!" And Cory can't wait. Ricky mounts him from behind and within a couple of strokes cory's moaning gets louder and louder until the cum starts to fly and he coats the pool chair with a huge load of jizz. Ricky pulls out just in time to paint Cory's face with rope after rope of perfect white cum. Cory licks his lips and tastes his buddy's seed before Ricky bends down and licks up some of his own cum then kisses him square on the lips. Mixing his jizz and spit into one wet passionate kiss that leaves them both smiling. Job well done!

Scene 4: Topher DiMaggio Fucks Ricky Roman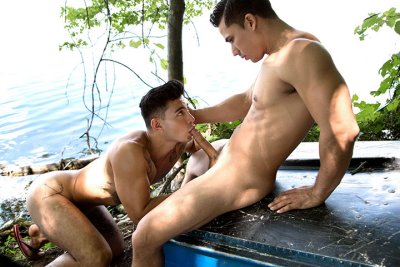 Topher Dimaggio has been away from Cockyboys for a while and he couldn't wait to get back and drill his best buddy Ricky Roman. These two have known each other for a few years now and like to get fucked both on and off camera. Today they met up near the lake to take their desires to the next level.

They start off talking about how long they've known each other and how much they just get along. It's clear from the start that Topher and Ricky have a natural relaxed chemistry and before you know they're making out and groping at each others shorts. Topher starts the action by sucking Ricky's rock hard cock. Ricky's a little worried someone is going to spot them in their spot by the lake and keeps checking around to make sure they're safe. But Topher's expert mouth makes him forget his worries and he sits back and enjoys the feeling as his buddy sucks his cock. Ricky gets on his knees and swallows Topher's enormous cock all the way to the balls. Topher takes control and pumps his hips as he fucks his buddy's face with confidence. Ricky doesn't hold anything back and before you know it Topher is leaning back in pure ecstasy as Ricky works on his beautiful pecker.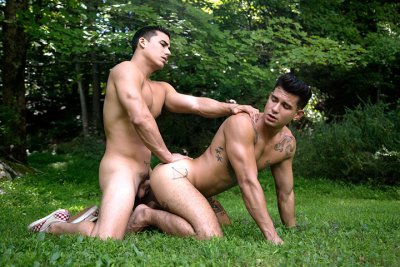 Topher flips Ricky around and rims his buddy before realizing they're a little too exposed in their current position so they gather up their clothes and head deeper into the forest. As soon as they get to the clearing Topher bends Ricky over a tree stump and slides his cock into Ricky's ass with one confident stroke. Ricky just looks back as his ass is filled with his buddy's cock and the pleasure plows through his body. They switch positions and Ricky climbs on top of Topher's rock hard dick. Bouncing up and down on that rod while he looks directly into his buddy's eyes. The two move over to the grass and fuck doggy style while a chorus of crickets chirp their appreciation.

Topher pounds Ricky's ass relentlessly until Ricky can't take it anymore and announces he's going to cum. He sits up with Topher's cock still pounding his ass and shoots a huge load of cum all over the grass. Grunting and panting as Topher's cock continues to provide the sublime pleasure that pushed him over the edge. Topher is ready to go so he pulls out just in time to blast Ricky's back with another gigantic load of jizz. They kiss each other sweetly on the lips as Topher tells Ricky, "I miss that..." and the two collapse on the forest floor.