Summary:

Everyone's had a young neighbour who's captured their heart – not to mention their cock! – and with a selection of boys next door like Gabriel Clay, Timmy Williams and Jamie Calvin to savour, you can rest assured that this is one ass-splitting, ball-busting adventure that you're not gonna forget in a hurry.
Indeed, there's nothing shy and retiring about these lads once they've got a mark of the situation; with each one armed with an animalistic libido, not to mention the kind of equipment between the legs to ensure satisfaction each and every time.
The result is a top-notch, five-star bonanza that takes the dream of the boy next door to a whole new fucking level; topped off by a tsunami of cum that'll leave you begging for more!
Scene 1: Easter Scene
Cast: Bren Bar, Timmy Williams
Brunch turns into a really passionate sex adventure once these fresh twinks decide to undress and touch one another. They seem pretty passionate and intimate, on the edge of shoving those big dicks they have into one another's thirsty mouth. A perfect start for what's to become a deep bareback anal shag both of them will remember. Good rimming and deep anal while both moan and shiver of true passion. A really hot twink special after a good breakfast.
Scene 2: Up To The Stairs
Cast: David Hollister, Jamie Calvin
There's no hanging about for these two beauties, that's for sure – and little wonder given how much the iconic David Hollister and blond bombshell, Jamie Calvin, are clearly into each other. Seriously, these lads literally can't put each other down; as they snog their way around the house, before 69-ing on a conveniently placed chaise longue. All of which soon results in young Jamie plonking himself down on his mate's gorgeous ramrod; riding it for all he's worth in a succession of positions, including over a nearby balcony. No question about it, this is a top notch performance from both buds; with an impressive torrent of ball-juice being blasted out from both dicks to guarantee satisfaction from even the most demanding viewer!
Scene 3: Conor & Gabriel
Scene 4: Aiden Borg, Casper Randall, Finn Harper, Patrik Roa
Bonus Scene: Sleeping Beauty
Cast: Chris Young, Tim Law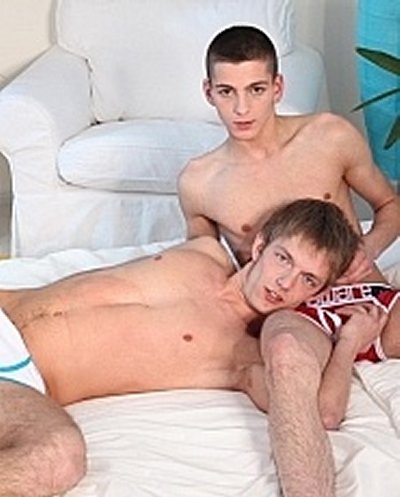 It's really no fucking wonder that Chris Young is feeling as randy as hell. After all, if you had a boyfriend as cute and fresh-faced as Roy Lust then you'd almost certainly be gagging for the next hard fuck yourself. Unfortunately for the lad, however, his puppy-eyed lover is fast asleep in bed – and doesn't look in any hurry to get up. Until, that is, Young proceeds to whip out his cock for a wank. Seems like Lust isn't quite as unconscious as he'd have everyone believe, and before you can say "I'm a cock whore!" is slurping on Young's meaty ramrod like a true professional. It's a turn of events that will almost certainly appeal to all of you out there who love the prospect of watching two horny pups rutting like wild animals – and believe us, you're not gonna be disappointed. Lust, in particular, is a veritable gift before the camera, stretching his legs to encompass Young's thick raw shaft to an almost breathtaking angle. Can the human anatomy really achieve such contortions? Apparently so, as Lust gets royally banged by his compatriot, before both lads spew the contents of their heavy balls over each other, rubbing their uncut knobs together in the resultant goo.