Summary:
Taxis are an essential part of life in the city – and nowhere more so than in Prague. But this team of drivers offers its clients a service that no other taxi company provides, taking every possible opportunity to help visitors to the Czech Republic relieve their sexual tensions! The result is a hot, fucking spunk-fest that sees STAXUS favourites, Sam Williams and Dick Casey, entertain the likes of Ray Mannix and Ryan Torres on their "ride" of their lives. Culminating in Florian Mraz giving a real-life mystery pick-up a one-time trip to porn Nirvana!
Description / Review:

Scene 1: Horny Fucker Sam Williams Gives Hot Twink The Ride Of His Life!
Cast: Ryan Torres, Sam Williams
Also available: Donkey Dicks 6 (Compilation Gay DVD)
If you've ever wondered what it's like to give or receive a blow-job whilst sat in a drive-through car-wash, then wonder no more! Sam Williams takes Ryan Torres on a trip to the country – via a nearby garage – and soon discovers that his passenger has a taste for the risqué. As a result, a brief session of fellatio ensues, with Torres making the most of the opportunity to slurp on the taxi-man's gearstick! But it's not until the two lads make it to the woods that the action really intensifies; with Torres once again making a beeline for Williams's dick, this time in the boot of the car.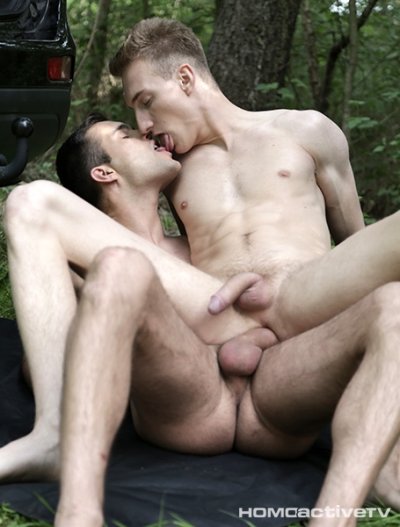 To be fair, by this point it's pretty obvious that the young fair-headed buddy is positively gagging for his companion's big fat knob – a fact that's only underlined by the eager way with which he slurps on every aching inch on offer. Indeed, Torres is soon pouting out his arse like a bitch on heat, gasping for Williams to first finger his hot, wet hole and then follow on through with his cock – an invitation that a lad like Williams is never, ever gonna turn down!
The look of sweet contentment on Torres's face when he feels his pucker being filled with all that man-meat is a picture in itself; and it's not long before the filthy-minded pup has positioned himself on the swollen pole cowboy-style and is riding it with his rump for all he's worth. Given this level of raw intensity, it's perhaps not exactly surprising that the fellow is soon creaming like a fuckin' whore; before Williams knocks out his own pent-up load moments later, leaving Torres to finger the resultant spooge onto his buddy's lips. Magic!
Scene 2: Ray Mannix Gets Commissioned To A Hard-Cocked, Spermy Ride!
Cast: Dick Casey, Ray Mannix
Also available: Big Boys Don't Cry (2 DVD Compilation)
Also available: Naked Beauty, Cum Outside (Compilation)
Director John Smith sends Ray Mannix out on a mission – take a car for a spin, track down Dick Casey on his way to the shopping mall and have sex with him. Whether or not Casey is in on the ploy is open to debate, of course; but what ensues is a fantastic, arguably risqué escapade that will almost certainly have you tugging at your zipper even before Mannix has pulled up in a lay-by and the two fellows are reaching for their dicks. What ensues is a brief but sensuous exchange of blow-jobs – the guy being blown keeping a keen eye out for anyone who might disturb them – before Mannix revs up the engine once again and the two beauties head for a quieter place to consummate their overriding lust.
Cue the introduction of a semi-derelict building for the second part of this coupling, which very quickly sees Casey rimming and fingering his buddy's tight little ass; prior to him burying the entire length of his handsome, uncut pole right up his butt. It's a move that, not surprisingly, has Mannix gasping and groaning in delight; as Casey eventually drills the fellow down onto the floor and continues to bang away at the blond boy's pert little pucker like a demon possessed!
As a result it's probably not at all surprising that the horny bottom is soon on the verge of sticky ecstasy, with Casey actually wanking his mate off as he carries on fucking. A cascade of jizz hits the floor as a result; but it's arguably nothing in comparison to the flood of man-batter that bursts out of the end of Casey's bell-end soon afterwards, coating the stud's abs with a stream of tasty sperm!
Scene 3: Drive-Through Frolis Result In Car-Seat Suck & Hot Twink Fuck!
Cast: Ray Mannix, Roman Smid
Also available: Let's Play With Ray Mannix
It's a world-first for STAXUS as Ray Mannix heads for his local drive-through McDonalds, having picked up his buddy, Roman Smid, from the nearby bus-stop. It marks an unusual, but curiously fascinating, start to what eventually proves to be a fantastic pairing; although the hardcore action doesn't actually start until Mannix finally finds a quiet cul-de-sac, whereupon Smid whips out his cock from the confines of his sexy pants. It's a move that's only ever destined to have one effect on a lad like Mannix, who immediately dives down into his buddy's lap so that he can slurp down every inch of meat on offer.
But the really uninhibited performance doesn't begin until both boys are safely back home; with Smid clearly only too eager to first rim and then finger his pal's ass. Not that a lad like Mannix ever needs too much stimulation prior to a good fucking; and within a few moments he's laid out on the sofa with his legs akimbo so that Smid can do the business. And do the business he does, pounding into that hungry little hole like a being possessed; before the horny little bottom decides that the whole experience can be improved still further by him sitting down on Smid's dick so that he can sink every beautiful fucking inch deep into his guts!
No question about it, Mannix quite literally rides that fucker for all he's worth, and it comes as no surprise at all – excuse the pun! – when he squirts out a fine wad of goo as a result. Clearly hyped to the max, the boy then finally underlines his sluttish credentials by jerking and smearing Smid's wad all over his face!
Scene 4: Florian Mraz Gives His Real-Life Mate A Jizzy Taste Of Gay Porn!
Cast: Florian Mraz, Passenger X
Also available: Mega Cocked, Mega Loaded Compilation
For those who might think that gay porn is all just a little bit bland, boring and predictable, here's a scene with a big difference. Passenger X is not a coached model or even a wannabe star. He's an ordinary member of the public who knows Florian Mraz and was persuaded to experiment with his mate in his car. It's a total one-off and we very much doubt that he's ever going to appear in front of the camera again – worse luck! – but suffice it to say that Mraz makes the very most of the opportunity, and we've a sneaking suspicion that you kinky bastards are just gonna love it!
To be fair, of course, the fact that it's Mraz who's providing the supporting role makes this scene a sure-fire winner from the start. He's cute, he's cheeky, he's alarmingly disarming – what's there not to like about him? As such, his passenger doesn't really stand a chance right from the off; and, having exchanged a bit of banter whilst Mraz scuttles through the Czech countryside, it's no time at all before the two dudes are parked up in a quiet spot so that the passenger can engage his lips on the driver's already well-swollen ramrod.
The look of satisfaction on Mraz's face is almost worth the price of the scene in itself; and matters only intensify once the pair have headed off to a nearby apartment to take the experience to the next level. Suffice it to say that it isn't long before Mraz's mate is enjoying his first (and possibly last) on-screen anal; with Mraz ploughing into that tight, fresh hole with all the rigour and energy you'd expect. All of which leads, of course, to a very spunky finale from both horny lads. Some things – thank fuck! – are wonderfully unsurprising!