Summary:
Thirteen young guys and a boy doll in 6 scenes. Cute little arses with cheeks spread for fantastic fat cocks. Superb facial and across the ass cum shots. Total filth.
Another wonderful bareback film from Vlado Iresch and his dirty minded crew. This time the theme is cybersex.
Description / Review:
Scene 1: On-Site Maintenance To Cameron Jackson's Webcam - And His Big, Fat, Uncut Cock!
Also available: Bareback Big Meat (2 DVD Compilation)

In the first scene, award-winning Jackson receives some on-site maintenance to both his webcam and big fat uncut cock by dark haired Filipi. As Filipi deepthroats him, Jackson is reaching over and fingering his shaved butt hole. Jackson fucks him on his back, all fours, on his side and eventually Filipi impales himself on the blond's cock and bounces up and down until Jackson cums over his back and arse.
In the second scene, dark haired Johny Hunter (odd name for a bareback performer!) gets sucked, rimmed, fingered and fucked by blond Dorsy on a pool table. These two are probably the youngest performers at 18 years old.
The next scene has Manchini and Kean in the waiting room of a doctor's surgery. Joe explains his problem is a permanent hard-on. After some mutual cock sucking, Kean shags Manchini. We don't get to see if Kean's hard-on subsides after he blows his load.
Then Jackson and Arner each have a solo jack off as they watch each other via webcams.
Scene 5: Interracial Threesome Leads To A Face Splattered With Spunk!

Also available: Bareback Big Meat (2 DVD Compilation)
Also available: Cum Facials (2 DVD compilation)

The fifth scene is a threesome with enormously hung Cuban Viva, blond twin Capier and dark twink Lee. They chill-out with a little dope, and this develops in to a 3-way jack off party. Both boys stretch their jaws on Viva's uncut whopper before they suck each other. They then move into a 69 with Viva sticking his chocolate fingers in Capier's cute arse and stretching it for Lee's cock and then his own. Capier ends up with two facials.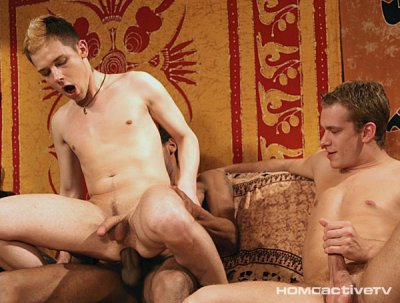 The final scene is another threesome (or four-way if you count the plastic doll). One of my favourites, smooth, tanned Badell who has blond hair, along with young muscle stud Corner, discover slim Gregory shagging the arse off a boy doll. His big fat cock has just deposited its load of hot frothy spunk in the latex hole and it is dripping out. All 3 suck each other's cocks before the other two prepare Gregory's hole. Badell rims him and Corner fingers him before he gets spit roasted. Badell withdraws just in time to shoot a big load over Gregory's gaping hole. Badell then pushes his cock and the chunks of spunk back in. Then, without any cuts or scene changes, Corner replaces Badell's cock with his own and pounds Gregory's hole which is still wet and slippery with Badell's spunk. To finish the scene, Gregory's very fat cock spits its load over Badell's face, Corner pulls out of Gregory's hole and unloads on his balls and Badell greedily sucks both cocks clean.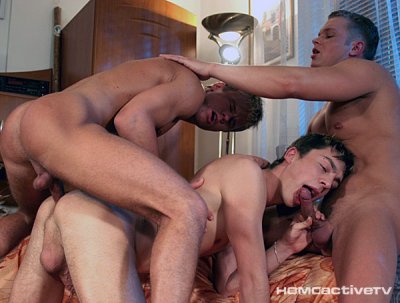 These dirty fuckers never fail to get me horny. A terrific film at an amazing price. Don't hesitate to buy it.