Summary:
Should you hide behind the sofa? Or should you be brave and confront the 'horrors' of this fabulous Scream parody face-to-face? Whatever you decide, make sure your zipper's down and your cock's well-lubed, as a collection of gorgeous jizz-hungry dudes (Julien Heath and Robin Few included) ride raw and wild for your pleasure. Not for the faint-hearted – but definitely for the horny!
Description / Review:

Scene 1: Cute Innocent Twink Gets Fucked In Every Hole By Horny Assailant!
Cast: Christian Elliot & Luis Bigdog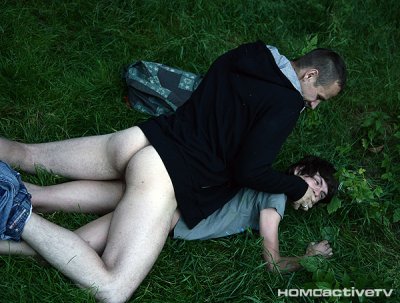 Walking through the woods on your own isn't to be advised, especially when there's a sex addict on the prowl – in this instance, Luis Bigdog, whose prized sexual organ is almost as big as his ferocious sexual appetite! Needless to say, young Christian Elliot has a dream where he ignores all such sense and reason, and discovers that his cute little twink ass pays the ultimate price as a result. Unable to repel the assailant, he quickly finds Bigdog's meaty, uncut shaft pounding away at his pucker – though more observant viewers will note that Elliot's resistance is perhaps not as strenuous as you might expect. Then again, why the surprise? The thought of having Bigdog's ramrod stretching your fuck-hole is more than enough to get most guys' juices flowing, and Elliot's protestations can't disguise the deep-seated pleasure that he's clearly experiencing down on the woodland floor. Ultimately, however, it's Bigdog who walks away from the encounter with the biggest smile on his face, having blasted the entire contents of his balls over his victim's over-stretched arse.
Scene 2: Cock-Crazed Campers Enjoy Open-Air Fucking & Mega-Squirt Bonanza!
Cast: Julien Heath & Nick Cox
Julien Heath and Nick Cox are a couple of happy campers, savouring the delights of the great outdoors – an experience that has a distinctly aphrodisiac effect on the pairing. After all, it's not many moments before the two lads are pulling down each other's shorts and tugging on each other's beefy, uncut knobs – a sight that we just know you're gonna love! Cox, in particular, is more than adequately armed when it comes to carnal warfare – indeed, the sight of young Heath slurping up and down the entire length of his pal's shaft is one that'll have you pulling on your own boner with unquestionable gusto.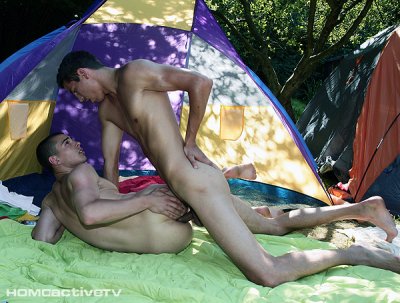 Don't blow your gasket too early, though. There's the unmistakable pleasure of seeing Cox rim Heath's hungry little hole from beneath to enjoy; plus the equally unforgettable sight of Heath taking every inch of his fellow camper's cock up his ass. As always, cute Heath is a complete slut when it comes to performing on camera, and quite literally takes dick in every position; but it's Cox's cum-shot that steals the show. A mega-squirt bonanza that ought to win an award!
Scene 3: Two Cum-Laden Youngsters Sneak Away For A Jizz-Frenzied Fucking!
Cast: Daniel Wood and Cley Ozzborn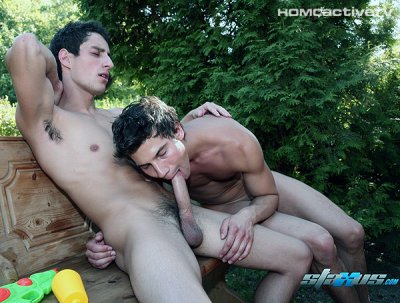 Cavorting in the water on a sun-kissed day with all your friends is something that surely appeals to most of us, but when you're young and your balls are full of cum and constantly demanding relief, it's not surprising that you have to take the opportunity to sneak away from such pleasures to savour more intimate encounters. That's certainly the way that Daniel Wood and Cley Ozzborn feel about things, as they pull away from the main group to engage in a little sexual exercise on a woodland bench. The size of their hard-ons as they strip away their trunks merely confirms just how hot and horny these two lads are, and it's no real surprise that they're quickly taking turns to blow each other off. A few minutes later and the oral action has been superseded by the sight of Wood thrusting his raw shaft into Ozzborn's over-eager fuck-hole – a furious session that culminates in Wood rupturing his nads into his mate's man-cunt. Not to be outdone, Ozzborn switches roles and proceeds to bang away at Wood's hole like a boy possessed; but it's Wood who spurts a second time before Ozzborn finally delivers a deliriously pent-up load of jizz over Wood's pert young ass!
Scene 4: Another Poor Cutie Feels The Mammoth Force Of An Alpha Male's Cock!
Cast: Luios Bigdog & Glen Cover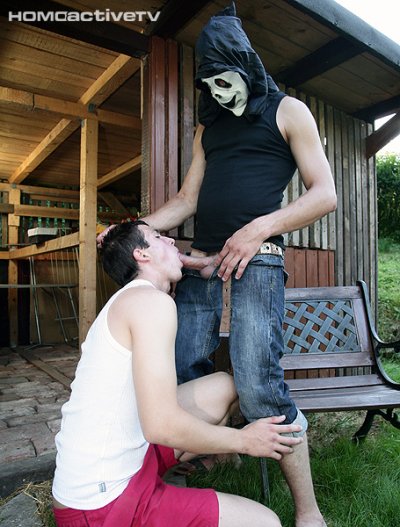 Luis Bigdog – as ever, masked and horny! – strikes again; this time on poor Glen Cover, who's busy minding his own business, pegging out some clothes, when the sex fiend forces the lad to start sucking his cock. In reality, of course, such a scenario would surely never appeal; but as a piece of fantasy it's hard not to enjoy the sight of this cropped-haired assailant face-fucking his young victim. Not that a man like Bigdog is ever gonna be satisfied with just a bit of fellatio. No, you know right from the start that this guy's not going to be happy until he has the full length of his bare, uncut hose pulsing away deep inside the cute young bottom – a mission that he accomplishes with not uncharacteristic gusto. Before you know it, Cover's got his legs stretched apart and is taking every inch of his assailant's knob-end like an experienced trooper; eventually culminating in him lying down next to Bigdog's crotch and opening his mouth so as to savour every last drop of the Alpha Male's ball-juice. The lad, it seems, is a slut who was begging to be fucked – a fact that's only confirmed by the way he dumps his own load when ordered to suck on Bigdog's cum-sloppy shaft!
Scene 5: Under-The-Canvas Fornication Courtesy Of A Pair Of Heavenly Twinks!

Cast: Christian Elliot & Ryan Philips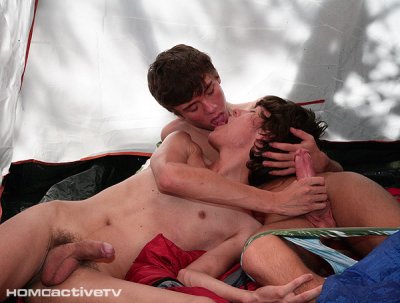 Christian Elliot is still somewhat bothered by the dream that he had concerning Luis Bigdog, but that doesn't seem to put him off making out with his boyfriend, Ryan Philips, in their tent. Indeed, if anything, the thought that they are actually being watched by this mystery predator appears to encourage both boys even more. Before you know it, these two young cuties are greedily feasting on each other's cocks like their very lives depended on it, lying top-to-toe beneath the canvas and slurping on all that meat with unmistakable relish. For Elliot, however, there's clearly only one thing that's really gonna help dispel the fears that he's currently experiencing and that's the feel of his boyfriend's cock deep inside him – something that's painfully apparent by the eagerness with which he parts his legs to Philips' advances. Then again, who can blame him? Philips' has a beautifully shaved cock that would warm the cockles of even the coldest heart; and the sight of these two smooth youngsters fucking away is guaranteed to have you spurting almost as much as the lads themselves!
Scene 6: Meet The Young "Seeder" Desperate For An Ass-Load Of Cock & Jizz!
Cast: Ropbin Few and Falco White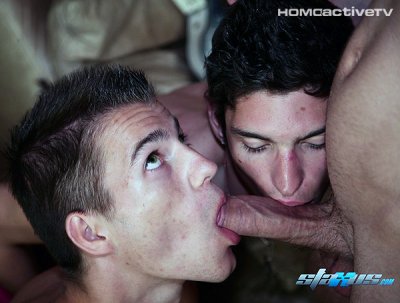 Anyone who's watched a STAXUS movie before knows that Robin Few and Falco White are two of the biggest cock-sluts on the planet, but on the evidence of this scene they might have something of a rival in town in the form of Robin Seeder. Star of BAREBACK EMOCORE, this cute youngster doesn't take much convincing when Few makes an advance, that's for sure; whilst White promptly abandons his previously voyeuristic position to spark a truly unforgettable threesome. Before you know it, all three lads are taking turns to gorge on each other's cocks; though it's ultimately Seeder's pucker that gains the keenest attention, most notably from Few, who seemingly can't wait to bury his shaft inside that warm, wet, inviting crack. Mission eventually accomplished, and Seeder's finally writhing around on Few's pole whilst (the now brunet) White buries his shaft into Seeder's mouth to achieve the sort of raw spit-roast that this magnificent movie deserves. Little wonder that the jizz eventually flows like water, with Seeder getting both an arse-load and mouthful of cream from his rampant fuck-buddies. As finales go, it's definitely one to remember!