Summary:
A blisteringly hot film. Emphasis here is placed on ass-play, rimming in particular, and kissing which adds to the intensity. Gorgeous performers, notably Billy Brandt and Cameron Fox.
Description / Review:
Scene 1: Jackson Price and Cameron Fox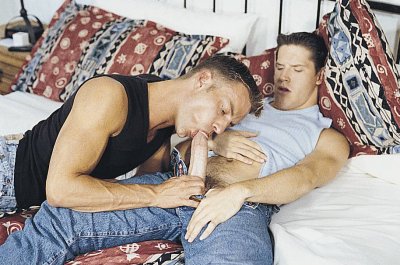 The film begins with an introduction by the cute boy-next-door Jeremy Jordan, who is working at a gay resort in Palm Springs, California. He will introduce each scene and first begins with "two guys in room 35... who haven't left the room since they checked in". They are the dark-haired, gorgeous Cameron Fox, looking more studly and less preppy than before, and Jackson Price, who is slightly older, muscular, blond and tanned. In a slow build-up, Jackson literally worships Cameron's long, fat dick, whilst he fingers his own ass. Somehow, Jackson takes every inch of Cameron's huge dick down into his throat before Cameron fingers Jackson's hard, round ass. Very hornily, Jackson sucks greedily on Cameron's fingers when Cameron takes them out of his ass. Then Jackson lifts up lifts up Cameron's legs so that he can lick his pale, gorgeous pale ass. Cameron's moans softly as Jackson licks upward, from his asshole to the tip of his dick, and back down again, finally rising up to kiss Cameron so that Cameron "taste his ass". Very hot. Cameron goes back to finger-fucking Jackson before delivering a hard power fuck, first doggy-style, then with Jackson impaled on top of him, urging Cameron on. Lying down, facing each other with their legs entwined, they both shoot out creamy loads.
Scene 2: Billy Kincaid, Nick Young, and Vince Ditonno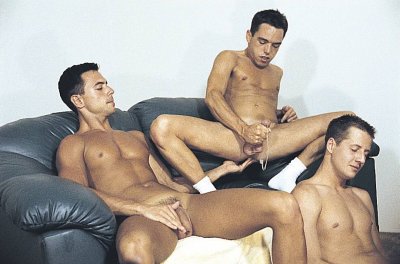 The second scene begins with the boyish and innocent-looking Billy Kincaid jerking off to the in-room porn. He's interrupted when Nick Young (tall, blond) takes Vince Ditonno (deeply tanned, cute, brown-eyed) round to view the apartment. Vince immediately begins sucking on Billy's dick, and Billy goes to work on Nick's. All three get theirs, and Nick's long, uncut dick gets a lot of attention from both of the dark-haired guys. Nick fucks Vince passionately, driving into him from behind as Billy kisses him and strokes his body. Billy then sits on Vince's engorged dick, clearly excited as Nick eagerly watches the penetration. They all jerk off together, Nick shooting a big load forcefully over his chest. However, the highlight of the scene come before the fucking, when Nick feverishly eats Vince's ass, as Vince kneels and sucks on Billy's dick. This brings Billy to Vince's ass as well, and they both go wild, forcing their tongues along and into Vince's ass -Nick from behind and Billy leaning over Vince's back. They have to nuzzle and push each other's head away in order to get to Nick's ass, and only stop eating to kiss (deeply), before each returns to Nick's ass. Nick in turn moans with pleasure from the intensity of their asseating. The heat seems really genuine in this scene, and all three performers appear completely engaged throughout
Scene 3: Eric Leneau, Jason Branch, and Jon Galt


In the third scene a threeway takes place between Eric Leneau (lean, dark-haired, cute, gorgeous ass, majorly hung), Jason Branch Branch (older, studly, hairy, super-hung) and the grizzly Jon Galt. In a hot scene that includes a lot of oral action, Eric's ass receives a lot of attention from the two older guys. When Jason fucks him from the front, Eric remains rock hard throughout.
Scene 4: Jeremy Jordan and Billy Brandt
Also available: The Best of Billy Brandt (Compilation)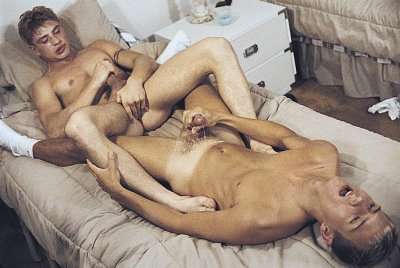 In the final scene Jeremy Jordan walks in on his sleeping roommate, Billy Brandt, who is wearing a pair of white briefs. The scene begins tenderly, showcasing the dark-blond Billy's normal-but-gorgeous body, as Jeremy strokes and caresses him to a full hard-on. The lithe, tanned and mischievous-looking Jeremy finally sucks on Billy's big, thick dick, as Jeremy kneels at the edge of the bed, his baseball cap still on. Things get really heated when Jeremy slips a finger into Billy's round, meaty ass; Billy finger fucks himself too, and removes his own fingers so that he can suck on them. When Jeremy eats Billy's ass, Billy goes wild, panting, grunting, yelling: "oh Jeremy... eat that ass... ahhh... spank me". Fervently, Billy lifts his own legs up and apart to help Jeremy get to his asshole. Jeremy stops his meal only so that they can kiss, and the horned-up Billy then rips apart Jeremy's t-shirt. Billy wastes no further time and pushes Jeremy down, lifting up his legs so that he can eat Jeremy's ass - through a pair of white briefs. He pushes them off and forcefully tongue-fucks Jeremy ("ooh yeah... you like that.... me eating it... stick my big dick in it"). Here Billy seems like a horned-up (and verbal) straight boy eating pussy - with real intensity. They kiss again and Billy dry humps Jeremy, telling him "I want your ass". Jeremy finally gets his dick sucked, then Billy piston-fucks him from the front, again like a straight boy. Billy yells out as he pumps his dick deep into Jeremy and even manoeuvres, mid-fuck, so that he falls onto his back, bringing the still-impaled Jeremy on top of him, as Jeremy jerks his rock hard dick. Both finally cream out their loads, facing each other with their legs entwined. This is a truly explosive scene, made so by the chemistry, energy and vigour of both the youthful performers. (See also: The Best Of Billy Brandt or The Best of Jeremy Jordan)
This is a brilliant film, one of the best that I have ever seen. If you are into gentle ass play and rimming (which features heavily throughout), this is for you. The guys are almost uniformly gorgeous and sex is excellent throughout, at times breathtaking in its intensity, sensational in its depiction. A perfect film.
We have also offered links to other titles featuring cover boy Billy Brandt