Summary:
See what makes Billy Brandt a true Falcon Legend in The Best of Billy Brandt! Eight scorching hot, full-length scenes from some of Falcon's greatest titles of all time make this collection a must own.

Scene One from - Absolute Arid
Billy Brandt is sitting against some massive rocks in the Australian desert, while he works on his own massive tool. He finishes off with an impressive climax.
Scene Two from - No Way Out
Cast: Billy Brandt and Michel Mattel
Travis Wade (in a non-sexual role) orders best friends Billy Brandt and Michel Mattel outside into the heat and burning sun to fuck and suck each other till they shoot their hot loads into a glass for inspection. The two friends have no difficulty easing into each other; the dripping sweat and sweltering heat add to the intensity of their friendly fuck. Billy wastes no time in taking the lead and plows his thick hard piece deep into Michel's hungry hole. Michel rides and bounces around on Billy's cock with nothing but pure submission and enjoyment and has no objection to emptying his load into the shotglass. Billy soon follows with his own healthy deposit.

Scene 03: - Absolute Arid
Cast: Billy Brandt and Dylan Reece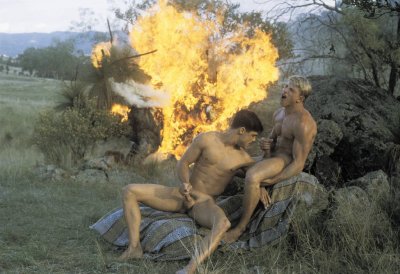 In the Australian Outback, Dylan Reece sucks and rims beautiful, blond Billy Brandt and then Billy buries his face in Dylan's ass. Billy spreads Dylan over a boulder and fucks him with his big cock until Dylan can't take it anymore.


Scene 04: from Aim to Please
Cast: Billy Brandt and Jeremy Jordan
Jeremy Jordan awakens dozing Billy Brandt with his own brand of expert oral skill and devotion. Billy returns the favor by opening up and burying himself deep within the warmth of Jeremy's hole.

Scene Five from Absolute Arid Featuring Billy Brandt and Sean Kirby


Sean Kirby is giving Billy Brandt a blowjob, which by his moans you can tell he's enjoying. Then Billy works Sean's asshole with his expert tongue. Billy thens fucks Sean on the sack of grain in the barn, ending a perfect Australian adventure.

Scene 06 from No Way Out
Cast: Billy Brandt, Travis Wade, Anthony LaFont, Sebastian Gronoff, Kevin Pearce, Cameron Fox, Colby Taylor, Michel Mattel, Karl Tenner and Jeremy Jordan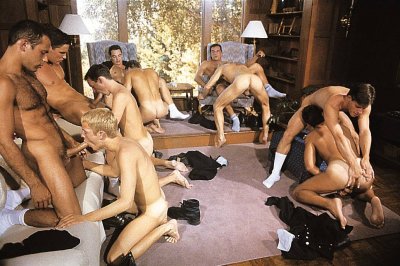 Travis Wade instructs his horny taskmasters - Anthony LaFont, Sebastian Gronoff, Kevin Pearce and Cameron Fox - to undress and then orders the seated slaves to suck their cocks. Sebastian turns Jeremy Jordan over and begins a rimming rollercoaster as other slave drivers join in. Travis bends Colby Taylor over, sliding his cock deep in Colby's ass. Sebastion slides his enormous tool into Jeremy's butt, Anthony tops Karl, and Cameron sandwiches Michel Mattel between his cock and Kevin Pearce's mouth. The free-for-all heats up as slaves and slave drivers switch and swap and flip and flop...fucking and double-fucking in as many ways as possible. Finally all ten horny studs stroke out their loads creating hot pools of cum.

Scene 07 from From Top to Bottom
Cast: Billy Brandt, Erik Rhodes and Mike Roberts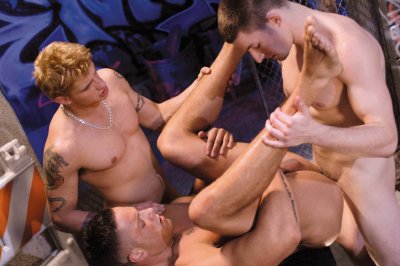 Billy Brant submits to Erik Rhodes while Mike Roberts watches and jerks himself off. Erik warms up Billy by sitting on his cock a bit first.

Scene Eight from- Alone With Volume 4 Featuring Billy Brandt

A scene from the celebrated "Falcon Alone With" series featuring Falcon favorites up-close and personal!

How could anyone resist fresh-faced innocent Billy Brandt? Especially when we find him just waking up, shaking off the cobwebs and still tangled in his sheets? He begins massaging his dick, staring languidly into the camera with a pouty come-hither look. He pants and coos as he wanks away, tickling his asshole and cupping his balls. He gets up on his knees and steadily continues to stroke himself, then lays back down again to work his meat more vigorously. He finally shoots his wad then sinks back down, all spent and dreamy-eyed.